Details

Published on Monday, 02 August 2010 08:30
Throughout the 70's, there was one song that was a huge hit on Chicago radio: "Lake Shore Drive" by the Chicago-based trio, Aliotta-Haynes-Jeremiah. The song was an ode to Chicago's famous lakeside stretch of road with the same name. An homage to driving along the Windy City's beautiful lakefront on a Friday night. The catchy song with the hooky lyrics and piano solos that sweep upon you like Lake Michigan waves on a breezy evening captured the ears and hearts of Chicago radio listeners for years.
"Lake Shore Drive" was originally released as a single in 1971 and the lead off track on Aliotta-Haynes-Jeremiah's album, also named "Lake Shore Drive." The song was not an immediate hit, but slowly built up on Chicago radio. One local radio show started playing it, gaining a very positive response. Other shows and stations soon followed. The song worked for many radio formats on both AM & FM, from Top 40, to album rock, to softer hits, and even some talk shows would play the tune. In 1975, it had a resurgence on the Chicago airwaves, becoming a hit again and causing the single to be re-released. Throughout much of that decade, the song was a staple of Chicago radio.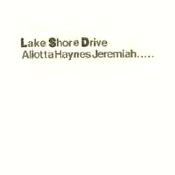 Obviously, a well done song about Chicago is going to be a hit within Chicago. However, the song had a much further reach than just Cook County, IL. It was a major hit in Milwaukee, Indianapolis, and other Midwestern markets. It was a massive hit in St. Louis. For a while in the early 70's, the song was arguably bigger in St. Louis than it was in Chicago. Numerous other parts of the country enjoyed this song, as well. As it turns out, many towns with a lake in it or bordering it, have a street called Lake Shore Drive, allowing this song to be personally connected to by many.
The single and the album never made it too high on the official Billboard charts, but still sold remarkably well and over an extended period of time, especially in Chicago.
The band, Aliotta-Haynes-Jeremiah, was made up of three men, one from Chicago's suburbs, one from southern Illinois and one from southern Wisconsin. The three singer-songwriters honed their craft playing all around Chicago, Milwaukee and the Midwest. One frequent venue for them, Chicago's famous Ratzo's bar, was even mentioned in a lyric in "Lake Shore Drive," when they sang
"From Ratz on up to riches..."
referring to the club.
When making a list of Chicago songs, "Lake Shore Drive" is always included in that list, often right up at the very top. With the possible exception of some cover versions of Robert Johnson's "Sweet Home Chicago," no other song about Chicago has been so beloved by Chicagoans in recent memory. More than a song and more than an anthem, "Lake Shore Drive" is like an old, dear friend that instantly warms the heart just thinking about it.
The song's familiar chorus goes:   
"And there ain't no road just like it,
  Anywhere I've found.
  Runnin' south on Lake Shore Drive,
  Headin' into town.
  Just slippin' on by on LSD,
  Friday night trouble bound."
While many in the country, especially those unfamiliar with Chicago's landmarks, thought the song was a veiled reference to the hallucinogenic drug LSD (ala the controversy that surrounded The Beatles' "Lucy in the Sky with Diamonds"), absolutely no drug reference was meant in the lyrics according to the band. It was a simple song about Chicago's Lake Shore Drive, nothing more. Another cut on the same album, and the flipside to most pressings of the single, called "Snow Queen" was indeed a drug reference, though, which just added to the misunderstanding. Both songs were recorded at the same recording session at the old Paragon Recording Studios on Huron in Chicago.
The song is coming up on its 40th Anniversary, yet it continues to get a great deal of airplay. Here in Chicago, WLS-FM and WDRV-FM often slip the song into the rotation. On occasion, it can be heard on other stations like WXRT-FM and WJMK-FM. On the
new charity CD set by WLS-FM
that comes out tomorrow, "Lake Shore Drive" is one of the featured classic tracks. Almost 40 years after the fact and the song still thrills audiences.
A couple of years ago, the original master tapes of the recording of "Lake Shore Drive" were found at Paragon. Skip Haynes, who wrote and sang lead on the song, obtained the tapes from them. Shortly after that, Skip accidentally misplaced the masters. They were found again just over a month ago, and then digitally converted. While doing the digital conversion, Skip Haynes came up with a brilliant way for fans to better enjoy this beloved song. Skip has made it so he can customize the song for anybody who wishes to hear their name, or the name of a friend or loved one, seamlessly inserted into the chorus of the song. This is a tremendous & unique gift idea for any fan of this Chicago classic.
Here is a sample of what he can do, as he customized the song, inserting "Larz" into the it:
Anybody's name can be inserted into the song, too. While it may be a bit early to be thinking about end of the year holiday gift giving, it is a great gift to give to somebody as a surprise or better yet, a gift to give to yourself.
Skip Haynes has set up a
webpage
that has all the simple details on how to obtain this rare gift for yourself or someone you know. There are four different packages to suit your needs: an MP3 only, an MP3 plus personalized CD recording, the MP3 plus personalized CD plus the newly remastered "Best of Skip Haynes & Aliotta Haynes Jeremiah" CD, and the deluxe package which has all of the above plus Skip Haynes' book "Road Stories or What's A Nice Guy Like Me Doing In A Band Like This?" All of the packages are reasonably priced and will bring a large smile to the face of any fan of "Lake Shore Drive." That website of Skip Haynes' is
LakeShoreDriveMusic.com
. On that webpage, the "Best Of..." CD or the Skip Haynes' book can also be bought individually.
Note: If you do indeed place an order (and why wouldn't you?), insert "1-CRM" into the code box on the checkout page, so Mr. Haynes will know you came from this site.
I spoke with Skip Haynes to see how the sales have been going. He has been genuinely blown away by the incredible response so far. Perhaps he was too close to the situation or perhaps it is because he has been away from the music business for a while, but he didn't realize just how much the "LSD" song of his has touched so very many people.
As sales of this new customized song continue to pour in, it raises the possibility of a reunion of Aliotta-Haynes-Jeremiah. The three have not played together in decades, but this new interest in the song has them strongly considering coming back home to Chicago (all three now live in other parts of the country) to do a show in the Fall. "Lake Shore Drive" as not been performed live by all three gentlemen since the 70's. A reunion show in town would be quite an event, and all three are now open to the idea.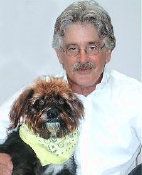 Skip Haynes has continued to keep his hands in music since the breakup of the AHJ band. He has put out a few solo albums, including "Chicago Songs," where all the tracks were about Chicago life in one way or another. Most recently, he has been focusing on his other passion, which is helping animals. Haynes owns the Laurel Canyon Animal Company, which is a record label that creates music and videos about, for and with animals. He also has created other audio/visual materials involving wildlife, self-help and the ecology. You can see all that he has been recently working on at his website,
Skip Haynes Online
.
Skip Haynes's passion for helping animals and musical work in that direction has allowed him to be on the Chicago radio airwaves once again, this time as a guest on "Steve Dale's Pet World" on WLS-AM. He was a guest there not too long ago and should be once again later this month.
Despite all the great work Skip Haynes has done in the 40 years since AHJ recorded their first album together, it is that one simple song -- a song he wrote just for a friend and never thought it would be recorded or performed in front of an audience -- a song about
"a road I'd like to tell you about, lives in my home town"
-- a song called "Lake Shore Drive" -- that he will always be fondly remembered for. Now he has put the icing on the musical cake by allowing this song that is the personal favorite of so many, to become even more personal.
"And there ain't no road just like it..."
And there ain't no song just like it, either.
(Ignoring the double-negative, of course.)


Click on the image above for more information on how to
get your own customized "Lake Shore Drive" song!