Details

Published on Thursday, 06 March 2014 22:00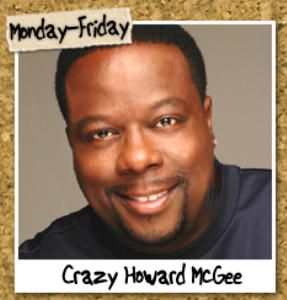 For many years, Crazy Howard McGee was a Chicago radio phenomenon. McGee is a Chicago native, who started his radio career down at Southern Illinois University's WIDB-FM. He signed on with WGCI-FM as a weekend jock in 1993. He soon after moved to weekday middays and then afternoons on WGCI-FM. In January of 1998, he became the host of 'GCI's morning show. Ratings were... "crazy." McGee was at or near the top of the ratings each ratings period. WGCI-FM 107.5 was as big of a smash sensation as it had ever been. Locally and nationwide, credit was given to McGee, along with WGCI-FM executives Elroy Smith and Marv Dyson. In the summer of 2007, despite sky-high ratings, Crazy Howard McGee and his morning show staff were released by Clear Channel Radio as part of a cost-cutting mass firing and replaced by a nationally syndicated show. WGCI-FM's ratings fell and have only recently begun to recover close to the level it once was with McGee on the air.
Since being pushed out from WGCI-FM, Crazy Howard McGee has not returned to Chicago's airwaves, outside of being part of a short-lived weekend brokered show with an attorney on a suburban signal in 2009. He continues to have a strong following and fanbase in Chicago.
In his first interview in years, McGee talks about his remarkable time in radio, some of the people that helped shape his career, sports, the food business, and much more.