Details

Published on Thursday, 06 June 2013 11:48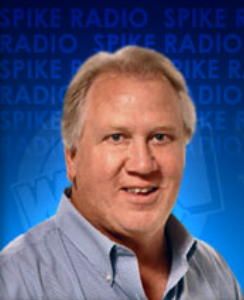 Spike O'Dell was one of the most popular radio hosts ever in Chicago and certainly of the last couple of decades. After 10 years working in the Quad Cities (plus a little time in Charlotte, NC), O'Dell came to WGN-AM in Chicago in May 1987, working afternoons. In early 2000, he took over the morning show for the station, where he stayed until his retirement in December 2008. Since that day, he has been enjoying his life with his family down south.
Mr. O'Dell talks to CRM this week about his successful radio career and what he is up to now...
----------------------------------------------------
CRM:
You started doing radio at East Moline, IL's WEMO-AM when you were in your early 20s. What lured you into the radio business?
O'Dell:
I was always interested in the world of radio. As a kid, I actually passed the test for a HAM radio license but couldn't afford a radio to transmit. In the back of my head I thought it would be cool to work on the radio but never thought I'd actually do it. After I ran out of money and left college, I got a job at the International Harvestor Plant in Rock Island. I was a guard and spent a lot of 2nd and 3rd shifts in a guard shack listening to the radio. I remember thinking to myself that those guys on the radio sound like they are having more fun at their job than I was at mine. While reading the paper one night, I noticed an ad for a broadcasting school in town. I thought "what the heck... I'll give it a shot." Two years later I left my job at the factory and went into that whacky radio biz full time.
CRM:
Growing up on the Illinois/Iowa border, where you able to listen to Chicago's powerful AM radio stations?
O'Dell:
Oh yeah! Loud and clear! The 2 people that made me answer that ad and go to school were Fred Winston and John Landecker. I loved listening to those guys!
CRM:
Spike isn't the given name on your birth certificate (it's William), yet you have always been called by that. Where did the nickname come from?
O'Dell:
It comes from what happened the night I was born. My Mom was dancing to a Spike Jones record on the jukebox and her water broke. My Dad said "we better get you to the hospital in a hurry before that little Spike arrives!" I've been Spike ever since. The first day of school the teacher was calling out our names and she wanted to know where Bill O'Dell was. I thought I had a cousin in my class with me!
CRM:
You worked at four radio stations in your first ten years in the biz -- one in East Moline, IL, one in Charlotte, NC, and two in Davenport, IA. What finally brought you to Chicago's WGN Radio in 1987?
O'Dell:
In 1987, I won Billboard Magazines "Top 40 Air Personality of the Year" award. (In the medium market category) After that, the phone rang off the hook. I was getting offers from everywhere. The thing was... I was being well paid in the Quad Cities. Over 6 figures a year... and that was unheard of in a market that size. The places that I had always dreamed of working couldn't match what I was making in Davenport, Iowa! I came home one day and my wife said that some guy named Dan Fabian from WGN in Chicago wanted me to call him. I wondered what he wanted because it surely couldn't be about a job. What I was doing and what WGN was doing was two totally different things. I went up to see him a couple of days later, and that night when I got back home the phone was ringing. He offered me the job just that quick. The money I was offered was actually less than what I was making in the Quad Cities (when you figure in all the perks...), but it WAS WGN. Arguably the best radio station in the nation at the time. I couldn't believe it.
CRM:
Was coming to the big city after spending most of your life in much smaller markets a culture shock for you?
O'Dell:
It wasn't as bad as I thought it was going to be. I was bound and determined to stand my ground and not let anything or anyone get to me. The management at WGN did a great job of slowly easing me into things. I didn't realize it at the time but they did it right. Sure... I took some shots, but don't get into this biz if you can't take a little heat.
CRM:
After over a decade of success in the afternoons on WGN-AM, you were chosen to become the station's morning show host after your friend and co-worker Bob Collins, suddenly passed away. While being named as the top personality at one of the top radio stations in the country would normally be an incredible dream come true, this honor had to have been quite bittersweet for you, given the circumstances that the morning show vacancy occurred. How did you handle that emotional experience?
O'Dell:
It was bittersweet for sure. I was just numb. The toughest thing I ever did in my life was my show the afternoon that Bob died, and his show the morning after. While it was no secret that I wanted to do the morning show someday, (hopefully after I had earned it in the normal way...) I obviously never expected things to occur like they did. I never had the chance to prepare myself mentally for taking over the reigns of what many considered to be the best job in radio. For the first year or so, I felt like I was just filling in for Bob. Everything that I did or said on the air was compared to the way Bob would have done it. I don't blame management really. They were really nervous. They had just lost the franchise. But, the micro managing was really starting to get to me. I kept telling them that I was NOT Bob... I am SPIKE, and this is the way SPIKE does it! I CAN'T be Bob! We are two different people! I slowly turned the corner on that issue and made the morning show mine after a while. There were a lot of people that just didn't think I was up to the task. I heard the whispers and rumors in the hallway. That is not a new thing to me. Everywhere I went in radio I had to prove the critics wrong. But, thankfully, all I ever did was win. I LOVED to prove the naysayers wrong! I was determined not to sink the ship. The ship did not sink, and actually did pretty well while I was there.
CRM:
In addition to handling the morning show hosting transfer with grace, you also often had to show your depth as a broadcaster, when major news events happened while you were on the air. I believe you were working when news broke of Bob Collins' plane crash, Mayor Harold Washington's death, and even during the terrorist attacks of 9/11/01. How difficult was switching your style from entertaining an audience to informing and comforting them at extreme news times?
O'Dell:
People always tell me that I should write a book about my experiences on the radio. If I ever DID, it would be entitled "I Was On The Air When...," because of all the huge news stories that seemed to break when I was on air. Again, obviously the biggest for me personally was Bob's death. I actually knew that Bob had died very early on, but couldn't say it on the air out of respect for his wife Christine. She had not been notified yet. All the other stations had the news but we kept mum. That was one time I didn't care if the station up the dial beat us to the story. I was also on when the Mayor died... The Oklahoma City Bombings... The O.J. verdict... 9-11... and several other big stories. I admit, it was not an easy thing for me to adjust to an all news mode at first. But after a while, I actually found myself enjoying the thrill of uncovering something about a story that no one else had. When you have a first rate newsroom and a great producer, they can really help to make a rummy like me sound good. I can see why the best reporters get an adrenaline rush when they are in the moment.
CRM:
When you signed your final contract with Tribune Broadcasting in 2006, you said that you would just work those two years and then retire. Being the kidder that you are, I'm guessing that nobody took you seriously at that time.
O'Dell:
I'm a man of my word. If I say it, I mean it. I don't know why people didn't want to believe that. Those who I worked with closely knew that I was leaving at age 55 for years. I was never one to play things out in the media for my benefit. Contracts and in-house problems were family business…they were not for the whole world to know. If a reporter got the story, so be it. They did their job well. But it just amazed me when some reporters would talk about my final contract with catch phrases like "inside sources say... or, those close to him say...." I always wondered to myself why didn't the reporter CALL ME? Isn't that Journalism 101... call the source first? Only one reporter ever called me, and I gave him the story! I would have gladly told anyone what I could if they had only asked me! I remember reading one column that said something like "O'Dell says he is leaving at the end of this year... don't bet on it." I just sat there smiling and shaking my head.
CRM:
For a lot of radio personalities, the job is so in their blood that they work until the microphone is eventually pried from their cold, aged fingers. You, however, decided many years ago that it was going to be retirement time when you were only 55 -- and stuck to that decision. You clearly loved working in radio. How were you able to hit the brakes at your predetermined finish line?
O'Dell:
Yes... I did and still do love radio, but it wasn't as tough as you think for me. My son calls me the poster boy for early retirement. The radio biz was getting pretty goofy my last few years. We had one PD that gave us a list of words we could no longer say. Really?! I remember one memo said that we could no longer use the word "degrees" when it came to talking about the weather. Seriously! That's a couple of silly examples of the goofiness. Besides, I still had a plan to leave while I was young enough to enjoy life and do things while I could. A lot of people think I knew something about the drastic changes that were soon to follow after I departed. Nope. I knew nothing about the coming of the so-called "Dark Era of WGN." All my friends there were calling me Houdini for knowing how to get out of the mess! You are right about people staying too long. I never wanted to be there longer than I should be. I always told my wife that if I was not sounding as good as I should, PLEASE tell me and I'll get out of the way! I wanted to leave on MY terms with no one pushing me out of the door. I wanted to leave on top.
CRM:
Any qualms about leaving radio? Ever wake up early in the morning now and wish you could flip on a microphone?
O'Dell:
I have no regrets about calling it quits. I did the right thing. I won't lie... I still have moments when I wish I could be on the air again. But they don't last very long. I've had a few conversations with folks up there about going back, but I've graciously turned them down. I would never say never, but the situation would have to be perfect.
CRM:
I know that a few years ago, you were vocal in your dismay over the negative situations taking place at WGN Radio after your exit, during its "dark era" under the leadership of Randy Michaels, Sean Compton, and Kevin Metheny. Are you still observing what's happening at the station currently?
O'Dell:
Yeah, I try to. But it's getting tougher to follow because I hardly know anyone there any more. I still talk to the few people occasionally. I don't listen as much online as I used to. I find myself tuning into the local stations here in town more often. I had always been a fan of Johnny B's work. I have never met him though. Even with 22 years in Chicago our paths never crossed. I only met Garry once on the street in passing. So, I just don't really have a personal connection with too many people on the air there. It's harder to get the good gossip! :) I still yak with Darlas, Eanet, Bertrand, The Big Oh, and Kapper every now and then.
CRM:
It's not just at WGN-AM, but the radio industry overall has changed greatly, just since your retirement four and a half years ago. Do you still keep up with the radio industry's comings and goings or have you left that all behind?
O'Dell:
Wow! No kidding! As I said earlier, the names and faces are changing so fast anymore, it's getting harder to do that.
CRM:
You owned a home northeast of Nashville back when you still worked at WGN-AM. After your retirement, you left the western suburbs of Chicago for the milder climates of central Tennessee full-time. How is the retired life treating you and your wife down there?
O'Dell:
We LOVE living in Dixie-Land! I never thought I would end up here! We own property in the Phoenix area too, and that's where we were always going to live. But, I bought this house down here as an investment to make a couple of bucks on... and as soon as I bought it, the market went belly up! I couldn't sell it for nothing! As the date got closer to pulling the plug, we thought "why don't we just move in to the house down in the Nashville area for a while?" At least until things got better and we could better figure out what we were going to do. It's a nice house here! It's on the lake... it's got a nice pool... It's in a golf course community... All the things we were looking for anyway. Add to the mix that my kids are here, and NOW 4 grandkids... I don't think you could DRAG us away from here! We have fallen in love with Tennessee. It is SO beautiful!
CRM:
I know that you used to have a website that showcased some of your fantastic photography of bluebirds that live around your home. What else has been keeping you busy?
O'Dell:
I spend most of time doing what you would expect really. Golfing, (down here you can golf all year round...), fishing... I enjoy doing a lot of wildlife photography, and I help out with things on the technical side at our church. And of course, my grandkids. All four of them now keep us quite busy. They all call me "Grand-Dude." I love it.
CRM:
Anything you would like to say to your many fans in the Chicago and Quad Cities areas that may read this?
O'Dell:
Yes. I would like to say a sincere and heartfelt thank you! Thank you for listening and allowing an average kid, with average grades, no real skills, and not enough money to finish college, to live out a dream and make a living for what I went to detention in high school for... TALKING! I spent 10 years in the Quad Cities and literally 1/3 of my life at WGN and consider it part of my family. I love that place so much. I only wish the very best for it as time moves on. I had the time of my life there! I wouldn't trade a minute of it. I have been, and still am a blessed man. I thank God for it everyday.