Details

Published on Monday, 16 July 2012 14:04
Today's News & Notes features a cool dozen local media stories for a hot day, including: Peter Whorf exits WFMT; Patti Johnson joins Clear Channel Chicago; Brendan Greeley exits WIQI; WSCR prepares to hire a new talk show host; Steve & Johnnie host a concert event; Dan Ponce in the recording studio; Ryan Manno exits JBTV; Eddie Olczyk honored; Art Norman honored; Chicago Nonstop may soon have stops; and Nora O'Donnell & Jan Parr exit Chicago Magazine. All of the details are right here...
* * WFMT-FM Program Director and Vice President of Content Peter Whorf has resigned. He had been with WFMT-FM since 2005. Prior to that, Whorf spent five years at WBEZ-FM as Managing Producer of "Eight Forty-Eight." Peter Whorf has accepted the position of Station Manager at Michigan State University's WKAR-AM & WKAR-FM. He will be leaving Chicago early next month and beginning at his new position on August 27th.
* * Today, Patti Johnson was named as the Local Sales Manager for Clear Channel Media + Entertainment's Chicago Urban Network (WVAZ-FM, WGCI-FM, and WGRB-AM). The promotion is effective immediately. Patti Johnson has worked in radio sales for nearly 25 years: three years with WLUP-FM as a National Sales Assistant, 18 years with Interep Radio as a Vice President/Director of Sales, and the last three years as an Account Manager with the Tom Joyner Network at Reach Media. Adam Kurtz, General Sales Manager of Clear Channel's Urban cluster said today: "I am extremely excited to have her on our team. Patti brings a wealth of radio, sales and management experience to our team along with passion, excitement and a great attitude."
* * Brendan Greeley resigned from his producer/contributor position at WIQI-FM/FM News 101.1 today. He continues as a producer for Steve Dahl's daily podcast and is now doing regular podcasts with Matt Dahl on the Steve Dahl podcasting network.
* * WSCR-AM/670 The Score's 4th annual "Score Search," which
started two months ago
, is now down to its final four contestants. Fans can vote for which of these four people will earn the right to host a weekend radio show by visiting
TheScoreSearch.com
. These four contestants will participate in a live remote broadcast on this Saturday night at the Buffalo Wild Wings in Schaumburg (1430 N. Meacham Road), where one the four will be named the winner and given a CBS Radio contract.
* * Former WGN-AM longtime overnight hosts Steve King and Johnnie Putman will be the emcees at a concert this Saturday night, July 21st. Chicago vocalist Lisa McClowry will be doing a show at the Montrose Room, inside the InterContinental Chicago O'Hare Hotel (5300 N. River Rd., Rosemont). Steve & Johnnie will host the show starting at 8:00pm, which will be a CD release event for her new album "Lisa McClowry Sings Acoustic Alchemy." Tickets can be purchased at this link
HERE
. McClowry, along with friend Jim Peterik, were frequent quests to Steve & Johnnie's WGN radio show over the last few years.
* * For those who have been wondering where WGN-TV and WLS-AM's Dan Ponce has been lately, he is not ill. Ponce has been busy in the recording studio, working on his latest musical project. He is the Producer for the new Chicago-based, 10-man a cappella group called
Gentleman's Rule
. Unlike with the a cappella group he formed called Straight No Chaser, Ponce is not singing in this group, but acting as their producer, arranger, and guiding force. Gentleman's Rule is looking to release their new CD this fall and go on a nationwide tour promoting it. With the music recording and mixing wrapping up this week, Dan Ponce can return to his full-time job as reporter/fill-in anchor for WGN-TV and his part-time job as a weekend talk show host (with his brother Anthony Ponce) on WLS-AM.
* * Even though he is still featured on their website, opening show credits, and on some pre-taped segments, Ryan Manno has exited as host of JBTV. This change quietly took place a few weeks ago. Jerry Bryant, the show's creator, who had been focusing on showcasing classic JBTV segments on the show for the last two years, has now stepped back into the role as the show's main host. Manno left JBTV on good terms to spend more time on helping grow SiriusXM's "The Abe Kanan Show," of which he is co-host, as well as focusing on a few other projects he has in the works.
* * Congratulations to Chicago Blackhawks television analyst/announcer Eddie Olczyk. This month, Olczyk was named to the U.S. Hockey Hall of Fame's Class of 2012. Prior to becoming an announcer for the Chicago Blackhawks (on Comcast SportsNet Chicago/WGN-TV) and NBC Sports, Eddie Olczyk was a star center for the Blackhawks and five other NHL teams, as well as becoming a head coach. After hearing of the honor granted to Olczyk, Chicago Blackhawks President and CEO John McDonough said: "He is a great ambassador for the game of hockey and the city of Chicago. We couldn't be more proud to have him as a member of our Blackhawks family and appreciate everything Eddie does for the club on a daily basis."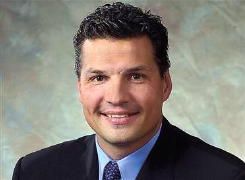 * * The Loretto Hospital Foundation will hold its 12th annual golf tournament this Wednesday, July 18th. The event will honor WMAQ-TV/NBC 5 contributor Art Norman. It also will be benefiting the new Ondina "Ondi" Norman Fund, named after and in memory of Art Norman's late wife. The fund will support the hospital's breast cancer screening programs & services. The golf outing will take place at the St. Andrews Golf & Country Club in West Chicago, IL. For more information, visit this link
HERE
.
* * WMAQ-TV's digital subchannel, Chicago Nonstop, could be making some very serious changes in the near future. NBCUniversal is considering making all seven of its local "Nonstop" stations into one single national channel, which will air classic NBC-TV programs during the daytime hours, with local news repeats and its current lifestyle programs (many of which come out of New York) airing during the prime evening hours. This could bring an end to many of the local programs shown on the station now, although there could be some flexibility shown some local favorite programs in markets. Also under consideration is a complete name change for the new Nonstop network, with the horrible name of "Bob TV" being one of the possibilities.
* * There have been two major departures from Chicago Magazine this summer. The first came a few weeks back when Nora O'Donnell resigned. O'Donnell had been with Chicago Magazine since June 2006, first as an associate editor, and most recently as its Senior Editor. She left the Tribune-owned magazine to join Playboy Magazine as its Senior Research Editor. Since Playboy relocated its offices from Chicago to Beverly Hills, CA this past spring, O'Donnell has herself relocated to there as of last month.
* * The second major departure from Chicago Magazine this summer is that of Jan Parr. After 11.5 years with the magazine, most recently as the Editor of Chicago Magazine's Chicago Home + Garden Magazine, Parr exited this month to accept an assistant managing editor position with Crain's Chicago Business. As Crain's Lifestyles Editor, she will now oversee Crain's Business of Life section and the lifestyle/feature content on Crain's website. She takes over for Steve Reiss, who was promoted up to Managing Editor in May, after less than four months on the job. It is a return of sorts for her, as Jan Parr had previously worked for Crain's for one year, way back in 1994.
* *
A CRM tip o' the hat to B.G. for assistance on some of the above stories.