Details

Published on Thursday, 15 March 2012 18:36
Today's News & Notes features numerous items from the Chicago media beat, including: The Score goes to Dublin; WXRT goes Irish; WCPT adds a new show; Acid Flashback welcomes a few friends; Me-TV goes Green...Hornet; Mancow invades TV again; the WGN Morning News comedians take the stage; Skip Parker wants to dress you; CSN Chicago adds a new sales boss; the Chicago Tribune forces out many; the Chicago Reader loses some pay. All of the details are right here...
* * With St. Patrick's Day this weekend, many radio shows are celebrating with special events. WSCR-AM/The Score's "McNeil & Spiegel Show" will be broadcasting from a special location Friday morning: the Jameson Distillery in Dublin, Ireland. With Dan McNeil off the air on a personal leave of absence, Matt Spiegel will be joined by The Score's Matt Abbatacola. Matt & Matt will be live on the air from Ireland from 9:00am-1:00pm local time (2:00pm-6:00pm Dublin time).
* * On Friday, WXRT-FM will do its annual tradition of having the Friday Feature "Shamrock 'N Roll." Starting early Friday on Lin Brehmer's show and running until the end of the day, 93XRT will be mixing in a great deal of rock music from Irish artists and about the Emerald Isle. Then the following day, on Saturday afternoon, WXRT-FM will be having a "Shamrock 'N Roll" party starting at Noon from Mystic Celt, located at 3443 N Southport Avenue in Chicago. They will be broadcasting live from Noon-2:00pm with special musical guest G. Love (without his band Special Sauce). Admission is free, but space is limited.
* * This Saturday, WCPT-AM/FM is adding a new show to its weekend line-up. "Take Action News with David Shuster" will now air Saturdays from 4:00pm-7:00pm. "Take Action News" is nonpartisan, independent news program featuring information about how the government works, along with offering tools to help empower citizens to take action. The host is David Shuster, the Washington, DC-based news anchor and correspondent for Current TV, and primary substitute host for "Countdown with Keith Olbermann." (Not to be confused with Chicago's David Schuster, sports reporter for WBBM-AM & WSCR-AM.) "Ring of Fire Radio" with Robert F. Kennedy Jr., Mike Papantonio and Sam Seder, which previously aired during this time slot on Saturdays will be heard on Sundays from 7:00pm-10:00pm.
* * "Acid Flashback," the fairly new, Chicago-based, 24/7 Internet radio station by SRN Broadcasting's Steve Leventhal has an extra-special show planned for St. Patrick's Day. Saturday, from Noon-3:00pm, "Acid Flashback" will be broadcasting live. Joining Steve Leventhal in the studio will be Marty Zivin from
Zecom Radio
, Bob Stern from
Vinyl Schminyl Radio
, and Eric Berman, music director from Time-Life Music & the BMG Music Club. Additionally, there will be some surprise guests Skyping in. The live stream can be heard at
TheAcidFlashback.com
, as well as via Tune-In radio and iTunes Radio, found under "Classic Rock."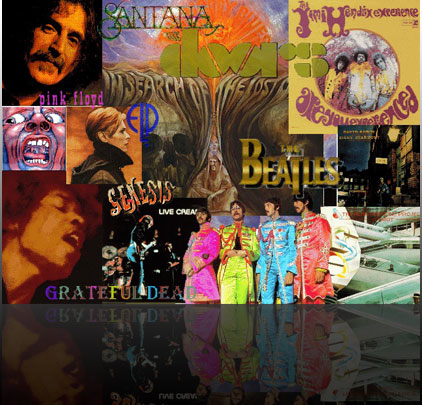 * * Chicago-based classic television network Me-TV is going green for St. Patrick's Day. On Saturday evening, beginning at 5:00pm, Me-TV will have the "Airin' of the Green... Hornet" marathon. For four straight hours, Me-TV will air eight episodes of "The Green Hornet." The marathon will be hosted by Chicago's favorite TV host with a rubber chicken fetish, Svengoolie. During the marathon, Svengoolie will throw in "Green Hornet trivia," some green jokes, and most likely, a green rubber chicken or two. Me-TV can be seen over-the-air on WCIU-TV's digital subchannel 26.3, as well as on cable on Comcast Xfinity 223/357, RCN 14, WOW 17/19, AT&T U-verse 23, and via satellite Dish Network 23 & DirecTV 23.
* * Chicago-based syndicated shock-jock Erich "Mancow" Muller has been given yet another shot at a television show. Two one hour specials, the first airing this Saturday and the second airing the following Saturday, will be on the Fox News Channel. According to Mancow's press release, the two "Mancow TV" shows will "throw traditional TV norms out the window with its no-holds-barred, politically incorrect interviews."
* * On Saturday night, Ana Belaval, Pat Tomasulo, and Mike Toomey from the WGN Morning News will be doing a special stand-up show at an open banquet event at the Highland Park Country Club (1201 Park Ave. West, Highland Park). Tickets can be purchased at this link
HERE
.
* * Speaking of Mike Toomey and the WGN Morning News, fans of his character, Skip Parker, the fill-in sports anchor from WGN-TV's past, will be happy to kow that they can now dress like him... sort of. Skip Parker t-shirts are now for sale at this link
HERE
. The shirts are in the same tan color as Skip Parker's tan sports coat, give the appearance of a shirt & tie under the sports coat, and have the classic Channel 9 logo on it. The back says "Skip Parker: dressed to the 9's" on it. This is a limited edition shirt, so get yours quick.
* * Comcast SportsNet Chicago has named 15-year advertising sales veteran Jill Mahmarian as its new National Sales Manager, effective immediately. Mahmarian will be responsible for all of CSN Chicago's national sales efforts, including season-long sponsorship packages for the network's four professional sports teams, along with focusing on strategic planning/development of key national sales initiatives across all platforms. Since 1998, she has worked with Home Team Sports, a division of FOX Sports, holding the position of Senior Account Executive in New York, NY since 2002.
* * The Chicago Tribune, who late last year bragged that it would be hiring more staff to its newsroom to help fill up the added pages of content it would be bulking up its newspaper with, announced in January that it has to let some of its newsroom go due to financial cutbacks. Instead of immediately laying off staffers, Gerry Kern, Senior Vice President/Editor of the Chicago Tribune, sent out a memo asking for volunteers to be laid off -- or as it put it, take part in the company's "voluntary separation program," and accept a special severance package. As expected, not enough staffers took the voluntary exit, so today non-voluntary layoffs began. The Chicago Tribune announced
this afternoon
that at least 15 newsroom staffers were let go -- mostly managers and editors, supposedly. A complete list of those laid off today has not been released.
* * There is further turmoil taking place at the Chicago Reader and its parent company, Creative Loafing. First, a report surfaced that the Chicago Reader was being
actively shopped around
for a new owner by its current owner, the New York-based private equity firm Atalaya Capital Management. Today it was revealed that all employees of the Chicago Reader, as well as its two sister-publications, the Washington City Paper and Creative Loafing Atlanta, are being forced to take a 5% pay cut, effective immediately. Staffers at all three papers were also told that they are indeed in the process of looking for new ownership. The Atlanta paper suffered layoffs in addition to the pay cuts, but so far, no layoffs have hit the Chicago Reader.