Details

Published on Saturday, 17 March 2012 11:56
Chicago Public Media's syndicated public radio show "This American Life" (TAL) and WBEZ-FM have retracted a story that reported as fact troubling information about Apple's iPhone and iPad manufacturing in China, now that new information has surfaced showing that some of that information was fabricated. Additionally, a live event that WBEZ-FM was sponsoring next month featuring the author of this partially-fabricated story has been suddenly canceled.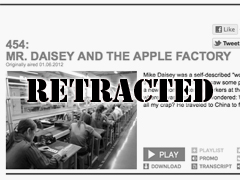 This weekend's episode of TAL reveals that their show broadcast on January 6th, which featured a 39 minute excerpt of Mike Daisey's one-man show "The Agony and the Ecstasy of Steve Jobs" had numerous errors and falsified/twisted/exaggerated "facts." The TAL show this weekend is devoting its entire show to detail out just which facts were accurate, but more importantly, which of the many "facts" presented were indeed false.
Mike Daisey's "The Agony and the Ecstasy of Steve Jobs" is the author talking about his time visiting a factory in Shenzhen China that manufactures Apple products, mainly iPhones and iPads. He has been doing this one-man show since 2010. Since "This American Life" had been doing stories about the issues and strife of the China workers making these Apple products, they were interested in speaking with Daisey who claimed to have first-hand knowledge of the problems in the China factories.
TAL tried to fact check Mike Daisey's claims first. Much of what he told them did indeed check out. However when they asked to speak with Daisey's Chinese interpreter, Daisey gave a different name for her, claimed that the cell phone number he had for her didn't work any more, and that there was no way to contact her at this time.
Ira Glass, Executive Producer and Host of TAL said in a statement yesterday: "At that point, we should've killed the story. But other things Daisey told us about Apple's operations in China checked out, and we saw no reason to doubt him. We didn't think that he was lying to us and to audiences about the details of his story. That was a mistake."
The January 6th TAL episode, entitled "Mr. Daisey and the Apple Factory," became the most popular podcast in the history of TAL, with over 888,000 downloads and over 206,000 streams.
Since then, American Public Media's "Marketplace" China correspondent Rob Schmitz was able to track down and interview Daisey's Chinese interpreter Li Guifen. She disputed a great deal of what Daisey has been saying. He also visited the factory that Daisey visited and found more inconsistencies. Schmitz went on to interview Daisey, letting him know of these revelations, and Daisey then admitted to the fabrications of many parts of his story.
Said Daisey to Schmitz and Glass: "I'm not going to say that I didn't take a few shortcuts in my passion to be heard. My mistake, the mistake I truly regret, is that I had it on your show as journalism, and it's not journalism. It's theater." He added: "It was completely wrong for me to have it on your show."
Much of what Mike Daisey has spoken about has proven to be true. The New York Times has even done an expose on the deplorable working conditions than many of these China workers deal with at the Foxconn factories. However, there where so many facts and supposed personal experiences which Daisey has spoken of which turned out to be untrue, that Ira Glass felt he had to take a strong stance and let his show's followers know the full truth of this situation.
Ira Glass even sent out an eight paragraph email yesterday to all WBEZ-FM subscribers and donors, detailing out why he is doing this special show this weekend, apologizing for letting the January 6th show take place in the very beginning, and explaining how it slipped past he and his fact-checkers.
In it, Glass wrote: "I've never had to write an email like this. Like all our friends and colleagues in public radio, I and my co-workers at 'This American Life' work hard every day to make sure that what you hear on WBEZ is factually correct. We will continue to do that, and hope you can forgive this."
Mike Daisey had been performing his monologue live on stage in theaters around the country for over a year. On Saturday, April 7th, Daisey was scheduled to perform "The Agony and the Ecstasy of Steve Jobs" at the Chicago Theatre. This was a very special event, put together by WBEZ-FM and "This American Life." The show was going to be introduced by Ira Glass himself and then immediately followed by Q&A session with Glass, Daisey and the audience.
That live show was canceled yesterday and will not be rescheduled. All tickets that have been purchased since they went on sale March 1st will be refunded.
The TAL show with the retraction aired last night on WBEZ-FM at 7:00pm, with an encore airing today at Noon. For those who missed it, it can be downloaded from the TAL website at this link
HERE
.
The radio show "This American Life" is produced by Chicago Public Media's WBEZ-FM and distributed by Public Radio International. It airs on over 500 PRI affiliates nationwide, as well as on XM Satellite Radio's public radio station. It is consistently among the most downloaded podcasts on iTunes each week.