Details

Published on Thursday, 29 July 2010 10:15
This morning WBBM-TV released an
official announcement
heralding the coming of two major changes to their evening newscasts. Both changes have been widely discussed in the past few weeks, but as of today, the full details have now come out.
The first change takes place beginning on September 1st. The legendary Chicago news anchor team of Bill Kurtis and Walter Jacobson are reunited once again, as they will take over the 6:00pm newscast. CBS hopes the two will reignite the ratings fire that has gone out since the duo last gave WBBM-TV a #1 rating.
Kurtis & Jacobson both started at WBBM-TV in the 60's, but it wasn't until 1973 when the two reporters were teamed up to become lead co-anchors. For the next nine years, their newscasts became the #1 rated in Chicago. Not only was the CBS2 10:00pm newscast tops locally, but it became the blueprint for newscasts nationwide to copy from and try to replicate. In 1982, Bill Kurtis left Chicago to take a national CBS job. He returned three years later, but by then, WLS-TV had taken hold of the ratings and soon after took over the #1 spot. While WBBM-TV was a close second place for many years, it slowly kept sinking in the ratings. The more WBBM-TV tried making changes to improve itself, the more they sank.
For the most part, WBBM-TV's nightly newscasts have been a distant third place for a great many years, with WLS-TV firmly in first place and WMAQ-TV in second.
On November 13th, 2009, WBBM-TV reunited the two newsmen to anchor the 10:00pm news for a one-time stunt. The stunt worked and the newscast was a ratings hit (although WLS-TV was still #1 that night). Due to demand, the WBBM-TV website soon after posted up videos of the newscast for people to watch again or to see for the first time if they missed Friday night's airing. It became some of their most watched/downloaded videos ever.
In February of this year, WBBM-TV then hired Walter Jacobson to come back and deliver his award-winning "Perspective" commentaries for the station on Tuesdays & Thursdays. While that move alone did not change WBBM-TV's ratings fortunes much, it has been very well received. Even with his new co-anchor role, Jacobson will continue to deliver his commentaries on Tuesdays & Thursdays.
Current solo anchor of the 6:00pm newscasts, Rob Johnson, will not be part of the program after September 1st. Kurtis & Jacobson will be the only news anchors at that point. Johnson will continue to be the solo anchor for the 5:00pm and 10:00pm newscasts. That is, until September 13th...
On September 13th, a new face will join the WBBM-TV news team. Kate Sullivan will be joining Rob Johnson to co-anchor the 5:00pm and 10:00pm newscasts. Sullivan comes to Chicago via WBBM-TV's sister-station in New York: WCBS-TV.
At WCBS-TV, she is seen often each day as the co-anchor of "CBS2 News This Morning" from 5:00am-7:00am, the co-anchor of their "CBS2 News at Noon," a fill-in anchor for the evening newscasts and a general assignment reporter. Sullivan joined WCBS-TV's morning news team in 2006. Her addition helped bring then show up from a lowly fourth place to second place in the New York ratings. If that is not enough, she also co-hosts "The Saturday Early Show" on WCBS-TV. She was one of the most-seen and hardest working persons on that channel, earning her many fans.
Prior to her move to New York, Sullivan also worked as an anchor/reporter on KATV-TV in Little Rock, AR, where she was voted as Arkansas' best newsperson by readers of the Arkansas Democrat-Gazette. (Coincidentally, Rob Johnson also worked at KATV-TV in the mid-90's.) She has also been a reporter at WJAR-TV in Providence, RI and at WSBT-TV in South, Bend, IN. According to her WCBS-TV website bio, she has won an Emmy Award and the Associated Press "First Place" award for her reporting.
Kate Sullivan, who turns 34 this year, is a native of Lakeville, MA, a south suburb of Boston, about 40 minutes away from the city. Both of her parents were teachers, so studies where always important to her. She graduated cum laude from the University of Notre Dame. While she was a student at Notre Dame, she often would come to Chicago with friends (Notre Dame University is known for having a large Chicago attendance) and enjoyed her time here.
News of Kate Sullivan's coming to Chicago was first broken last week when a NY Post reporter
discovered the change
and went public with the information.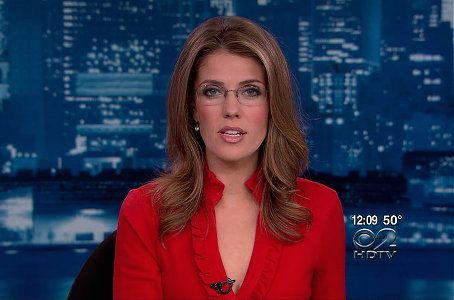 Earlier today, Bruno Cohen, President and General Manager of CBS2 Chicago, and Jeff Kiernan, Vice President and News Director of CBS2 Chicago, held a staff meeting at WBBM announcing the new changes. Kate Sullivan was here in attendance, meeting her new co-workers, as was Rob Johnson, Bill Kurtis and Walter Jacobson.
In today's statement, Bruno Cohen said: "We are pleased that ratings tracks show that CBS 2 is moving in a positive direction. We are very much looking forward to adding Kate, Bill and Walter to our team and seeing our momentum and growth continue."
Jeff Kiernan added: "The teams of Rob and Kate and Bill and Walter represent the core values of CBS 2 News -- aggressive journalism combined with excellent, contemporary storytelling."
Kate Sullivan expressed her happiness to be here by saying: "While I have thoroughly enjoyed my four years in New York... I am excited to return to the Midwest and do what I love for the people of Chicago. Joining Rob, Bill, Walter and the rest of the CBS 2 news team is a tremendous honor."
In the last ten years, WBBM-TV has made more than ten anchor changes on their 10:00pm newscast, trying to correct their ratings slide. The current management team is extremely hopeful that these new changes announced today will be the changes that finally get the job done for all of their nightly local news programs.