About once every week or two, Abe Kanan and his crew put out a fast-paced fun-fest on a podcast. Join Abe, along with a pair of other Chicago radio veterans, Ryan Manno & Dan "Bass" Levy, as well as, Abe's brother Sam and other special guests, as they talk about life and current events with a slightly twisted view.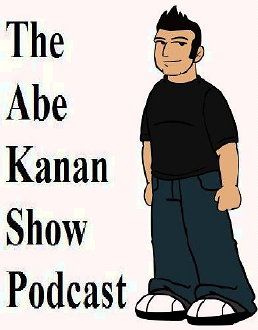 NOTE: The podcast is on hiatus... but just the podcast, not the show. Brand new episodes of "The Abe Kanan Show" can now be heard each weekend on Sirius Satellite Radio's "Howard 101" channel.

UPDATE: SiriusXM canceled "The Abe Kanan Show" in January 2014. The show is currently seeking a new home. In the meantime, enjoy these classic podcasts from 2010-2011.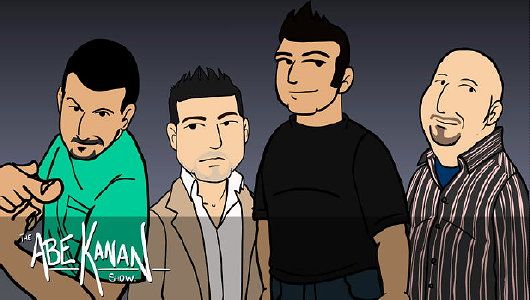 Most recent episodes:

The Abe Kanan Show Podcast - Episode 42 - January 7, 2011:

The Abe Kanan Show Podcast - Episode 41 - December 30, 2010:

The Abe Kanan Show Podcast - Episode 40 - December 10, 2010:

SPECIAL PODCAST!!! The Abe Kanan Show Celebrates Its One Year Anniversary - November 22, 2010:

The Abe Kanan Show Podcast - Episode 39 - November 21, 2010:

The Abe Kanan Show Podcast - Episode 38 - November 13, 2010:

The Abe Kanan Show Podcast - Interview with WWE's CM Punk - October 23, 2010:

The Abe Kanan Show Podcast - Episode 37 - October 18, 2010:

The Abe Kanan Show Podcast - Episode 36 - October 04, 2010:

The Abe Kanan Show Podcast - Episode 35 - September 28, 2010:

The Abe Kanan Show Podcast - Episode 34 - September 12, 2010:

The Abe Kanan Show Podcast - Episode 33 - August 29, 2010:

The Abe Kanan Show Podcast - Episode 32 - August 17, 2010:

The Abe Kanan Show Podcast - Episode 31 - August 06, 2010:

The Abe Kanan Show Podcast - Episode 30 - July 27, 2010:

The Abe Kanan Show Podcast - Episode 29 - July 18, 2010:

The Abe Kanan Show Podcast - Episode 28 - July 04, 2010:

The Abe Kanan Show Podcast - Episode 27 - June 27, 2010:

The Abe Kanan Show Podcast - Episode 26 - June 20, 2010:

The Abe Kanan Show Podcast - Episode 25 - June 06, 2010:

The Abe Kanan Show Podcast - Episode 24 - May 30, 2010:

The Abe Kanan Show Podcast - Episode 23 - May 23, 2010:

The Abe Kanan Show Podcast - Episode 22 - May 16, 2010:

The Abe Kanan Show Podcast - Episode 21 - May 09, 2010:

The Abe Kanan Show Podcast - Episode 20 - May 02, 2010:

BONUS EPISODE! The Abe Kanan Show - Stacey King Interview - Apr 27, 2010:

The Abe Kanan Show Podcast - Episode 19 - Apr 25, 2010:

The Abe Kanan Show Podcast - Episode 18 - Apr 18, 2010:

BONUS EPISODE! The Abe Kanan Show - Henry Hill Interview - Apr 08, 2010:


SPECIAL EPISODE! The Abe Kanan Show - Joslyn James Interview - Apr 06, 2010:


The Abe Kanan Show Podcast - Episode 17 - Apr 03, 2010:

The Abe Kanan Show Podcast - Episode 16 - Mar 28, 2010:

The Abe Kanan Show Podcast - Episode 15 - Mar 21, 2010:

The Abe Kanan Show Podcast - Episode 14 - Mar 14, 2010:

The Abe Kanan Show Podcast - Episode 13 - Mar 07, 2010:

The Abe Kanan Show Podcast - Episode 12 - Feb 28, 2010:

The Abe Kanan Show Podcast - Episode 11 - Feb 21, 2010:

The Abe Kanan Show Podcast - Episode 10 - Feb 14, 2010:

SPECIAL EPISODE! The Abe Kanan Show - Tom Green Interview - Feb 12, 2010:

The Abe Kanan Show Podcast - Episode 9 - Feb 7, 2010: