Details

Published on Wednesday, 06 October 2010 12:53
In today's News & Notes, we have news items on a new record for Comcast SportsNet; a new career path for Jay Mariotti; a new contract for Larry Yellen; a new award for Paul Lisnek; a new job for Markina Brown; a new owner for WLBK; an anniversary for Marty Zivin & Zecom Radio; a new honor for Roger & Chaz Ebert; a new Radio Show coming to Chicago; and a sad loss for Andrea Darlas. It is all just below.
* * Comcast SportsNet set a record for last night's telecast of the Chicago Bulls pre-season contest against the Milwaukee Bucks. According to the Nielsen Media Research overnight ratings, the broadcast posted a 2.54 household rating, reaching approximately 89,000 total households in the Chicago market -- peaking at a 3.2 rating (over 112,000 total households). The 2.54 average rating beats CSN's previous Bulls pre-season ratings record set on October 9, 2008 (2.3 rating) and is the highest Bulls pre-season game rating on any Chicago regional sports network since October 11, 1997 when Michael Jordan played for the Bulls (3.2 rating).
* * On his
Twitter account
yesterday, former Chicago newspaper columnist and radio host Jay Mariotti tweeted that he was done working for AOL's Fanhouse.com, and maybe even writing sports columns as a whole. He first
wrote:
"Column writing has been a labor of love for 25 years, allowing me to see the world and cover some of the greatest athletes and events in sports. But it's time to step back from the daily sportswriting grind and focus on my other media ventures, including a book project." That was
quickly followed up with:
"I express deep gratitude to AOL for a fun, productive experience. I wish the talented staff at Fanhouse.com nothing but the best in the competitive Internet world." A short while later,
he tweeted:
"How much does a blogger make?" Mariotti has not been invited back to ESPN to be part of "Around the Horn" -- his other media job -- since his arrest in LA and
subsequent plea bargain agreement
to a misdemeanor domestic violence charge.
* * It was first tipped by Robert Feder back on
September 15th
, and made official this week. Larry Yellen has been hired as the solo anchor for WFLD-TV's weekend evening newscasts. Yellen has been filling as as the anchor since WFLD-TV parted ways with Nancy Pender in mid-August. In addition to the weekend newscasts, Yellen will continue to be the station's investigative reporter and legal analyst for weekday newscasts. Larry Yellen is now a rare veteran at WFLD-TV, having been with the news team there since 1994.
* * This past Monday afternoon in New York City was the 3rd annual CableFAX Program Awards. Chicago's Paul Lisnek won for "Best Host: Regional Program" for his Comcast cable Holocaust special "Site of Remembrance." The complete list of winners can be found
HERE
. Paul Lisnek is also nominated for two Chicago/Midwest Emmys, including one for the "Site of Remembrance" special. In addition to his work at Comcast, Lisnek is also a political analyst for WGN-TV and hosts a weekly radio show on Sundays on WVON-AM.
Paul Lisnek with Dan Rather at the CableFAX Awards: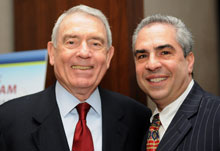 * * Former WBBM-TV meteorologist Markina Brown has found a new job in a new town. Starting October 18th, she will be joining Atlanta's WGCL-TV as the weather person for their late afternoon and two evening newscasts. In 2002-2003, Markina Brown was WBBM-TV's weekday morning and weekend meteorologist. She most recently had been working at Los Angeles' KTLA-TV.
* * As mentioned
here last week
, DeKalb's WLBK-AM was sold to DeKalb County Broadcasters, a division of Nelson Multimedia, which is owned by Larry Nelson and the Nelson Family, who also owns six other suburban radio stations and a low-power television station. The sales price was $575,000 and is still awaiting final FCC approval. A spokesperson for the new owners confirmed to CRM that they have no plans on changing the station in any material way. They are investing in some station upgrades (hardware/software) and seeking a bigger sales staff. No jobs were lost with the ownership change. Every single employee of the station has been re-employed by the new owners as of last Friday. A $10,000 fine that was levied by the FCC recently against the station for failure to properly maintain certain information in a public inspection file for 2000-2004, will be paid by the previous owners, who were responsible for the station at the time of the infraction.
* * Congratulations to Marty Zivin and his Zecom Radio. Last Friday, October 1st, was the 14th Anniversary of Zecom Radio launching on the world wide web. Over the years since 1996, the Internet radio station's website and streams have changed & grown. New upgrades just added or coming soon include new domain names, new streaming devices for stations The Choice & Gemz Radio, new pages for programming info, background info for Zecom Studios, an online museum for Chicago radio, and more. You can check out the ever-evolving Zecom Radio
HERE
.
* * This Saturday, October 9th, the Swedish Covenant Hospital Foundation will he holding its annual benefit gala called "Hope & Healing." At this gala, Roger & Chaz Ebert will receive one of the two 2010 Spirit of Compassion Awards for "their outstanding contributions to humanity." Past recipients of this honor include such local media stars as Bill Kurtis & Donna LaPietra, Studs Terkel, and Ron Santo. The event will be held at Union Station (210 S. Canal St., Chicago) from 6:00pm-Midnight. The "Mistress of Ceremonies" for the gala will be WFLD-TV's Anna Davlantes. More information can be found at this link
HERE
.
* * The NAB/RAB Radio Show, which just wrapped up in Washington DC, will be held in Chicago next year on September 14th–16th. It will once again be a joint show, put on by both the National Association of Broadcasters and the Radio Advertising Bureau. The hotel/convention center location for the event has not yet been named. The last time Chicago hosted a Radio Show (NAB only) was in 1981.
* * Condolences go out to WGN-AM's Andrea Darlas, who lost her Father at the end of last week. Thoughts go out to Andrea and her family.