Details

Published on Thursday, 21 October 2010 13:36
Changes are coming to the nighttime programming of WSCR-AM beginning next week. Starting Monday, October 25th, The Score will be adding a new show sports talk show from 10:00pm-Midnight, followed by a full five hour live & local sports talk show with Les Grobstein. Also, the tape-delayed "Dan Patrick Show," which ran overnights, will no longer be carried by WSCR.
The new show beginning on Monday from 10:00pm-Midnight will be a two-hour live talk show featuring a rotating selection of hosts, made up of WSCR part-time hosts and producers. Matt Abbacatacola, Jason Goff, Chris Rongey, and other names familiar to Score listeners will be able to showcase their on-air talents, while interacting with the audience.
The syndicated "Dan Patrick Show" is recorded each morning from 8:00am-11:00am, but did not air on The Score until the following 1:00am-4:00am -- a full 17 hours later, making much of the fresh information on that show seem pretty stale by the time Chicago listeners heard it. With the announcement that the televised version of Dan Patrick's radio show will be
seen live on Comcast SportsNet Chicago beginning on Monday morning
, WSCR Program Director Mitch Rosen made the fairly easy call to discontinue the late-night delayed version radio of the show.
This comes as very good news for fans Les Grobstein and for fans of live & local Chicago overnight radio. Les Grobstein previously had the odd shift of 11:00pm-1:00am, and then after Patrick's show ended at 4:00am, Grobstein would come back on the air for another hour. Now, not only does Les Grobstein no longer have a split shift, but he gains another two hours. "The Grobber" can now be on the air from Midnight to 5:00am, making a strong solid lead-in for the WSCR "Mully & Hanley" morning show.
Grobstein fans (and there seems to be many of those) will get even more time with the radio host after Chicago White Sox night games. WSCR-AM is the flagship home for all Chicago White Sox radio broadcasts. Since quite often with evening games, when the ballgame broadcast and post-game show ends it is in the 11:00pm-11:30pm range, Les Grobstein will then start his show immediately following those broadcasts, giving him even more airtime.
Mitch Rosen tells CRM that moving Grobstein to this shift was "a no-brainer." Grobstein has been able to build a large, loyal audience and has been a wonderful lead-in to the Score's morning show. Rosen said "I grew up in overnight radio and I feel it's an underrated day-part, in that a lot of people work overnight in an area as large as Chicagoland, and quite frankly, there are a lot of people who simply can't sleep and listen to the radio all night."
This scheduling move now makes The Score 100% live & local 24 hours a day, each weekday.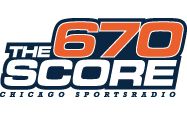 Les Grobstein has been a presence on Chicago radio since the 1970's. After attending a couple of Chicago Cubs games when he was just 7 and 8 years old, a young Les Grobstein was hooked on a love of sports. Some might even say that love was an obsession. Right after high school, Grobstein went to Columbia College Chicago to study broadcasting & English and graduated in 1973 with a degree in Communications. He did a few part-time sports broadcasting jobs until he landed his first full-time job with Sportsphone in 1977, which led to getting the call to join WLS-AM as their sports anchor in 1979. WLS was a dream job for the young man who grew up listening to Chicago AM radio. At the end of 1989, when WLS switched formats, Grobstein was released. In 1991, he joined WLUP-AM, which became WMVP-AM, where he stayed until another station flip released all employees in 1996. He then started providing WSCR-AM with sports reports and the following year was given the overnight shift, where he stayed for a few years. Sporting News Radio and a few miscellaneous sports radio jobs followed. Two years ago, WSCR-AM brought back Les Grobstein to work nights for the listeners and the response has been overwhelming.
Grobstein has also been a staple of local sports play-by-play broadcasts since the 1970's. In the past, he has called games for Northwestern Wildcat Basketball, Chicago Hustle Women's Pro Basketball, Chicago Sting Soccer, Chicago Horizons Indoor Soccer, UIC Flames Basketball, UIC Flames Hockey, Chicago Cheetahs Roller Hockey, many local high school football & basketball games, and games for the Mid-Continent Conference Radio Network. Today, he still calls games for the Chicago Rush Football and the Chicago Sky Basketball.
In April & May of 1983, Les Grobstein made worldwide news. This was thanks to the fact that it was Grobstein who recorded the famous obscenity-laced wild ranting of then Cubs Manager Lee Elia, who after a Cubs loss on April 29th of that year, went a little crazy, verbally slamming Cubs fans and press reporters in a tirade like none before. That audio tape of Grobstein's was played for weeks on radio & television shows everywhere. To this day, that recording still brings shock and laughs.
In addition to his newly expanded duties at WSCR-AM, it will be possible to hear Les Grobstein on a pair of other Chicagoland AM radio stations at various times. The broadcasts for the WNBA Chicago Sky games, which Grobstein is the play-by-play announcer, air on WVON-AM. He also does a one-hour sports talk show called "The Weekend Sports Report" on north-suburban WKRS-AM, live every Saturday morning at 7:00am, with co-hosts Steve Leventhal and Alison Moran. On top of all that, he does occasional sports radio reporting for Associated Press Broadcasting, appears on Me-TV on Saturday mornings at 7:00am on the CPS Sports Edition show (competing with himself on the radio), and maintains his own website:
Grobber.com
.
Les Grobstein is known for his encyclopedic knowledge of sports. He is also known for his simple and classy way he deals with fans. Unlike many sports radio talkers of the 90's and beyond, he does not resort to screaming or dramatics to get his point across and allows callers to have their say without yelling over them. Somehow, this old-school method of talk radio still connects well with the 21st Century radio audience. In fact, his fanbase has grown recently because of it.
As of this coming Monday night/Tuesday morning, Grobstein will be bringing this class act and many years of Chicago sports talk knowledge to the Chicago radio audience for five straight hours each weeknight.