Details

Published on Wednesday, 10 November 2010 14:36
In today's News & Notes, we look at a live remote for Tom Skilling, some live reports from the CMAs from Lisa Dent & Ramblin' Ray, a new comic & website from Lou Brutus, a new book signing for Chet Coppock, a new radio station for The Skinny & Houli Show, a new job for Chuck Hillier, and the hopes of a new owner for WKQX & WLUP. It's all just below.
* * For the first time in a great many years, Tom Skilling will be doing his WGN-TV weather report from a live remote outside of the WGN-TV Studios. His 5:00pm weather forecast will be done from right in front of the Tribune Towers and the WGN-AM showcase studio windows tonight. Just prior, he will be joining WGN-AM's Garry Meier on the radio from outside the windows. Skilling is normally on with Meier each day, but never face to face.
* * Tonight at 7:00pm is the 44th Annual CMA Awards, which can be seen locally live on WLS-TV. Already 2010 CMA winners as the
top major market radio personalities
, WUSN-FM's Lisa Dent & Ramblin' Ray Stevens have been hanging out at the Country Music Associations awards ceremony. You can hear some of their interviews and see some of their many pictures from behind the scenes at the CMAs at this link
HERE
.
* * Former Chicago rock radio personality, Lou Brutus, is giving away his latest comic book "Brutusman: The Dark Nut" - one page at a time each week - on his newly revamped
website
. The black & white comic can be downloaded in either PDF or JPEG formats. Brutus continues to host the syndicated hard rockin' radio show HardDrive & HardDrive XL on radio stations nationwide, as well as program the rock stations on XM Sirius. Today also happens to be the former WRCX-FM/Rock 103.5 DJ's birthday.
* * The "Godfather of Chicago Sports Talk Radio" Chet Coppock will be autographing copies of his book "Fat Guys Shouldn't be Dancin' at Halftime" at the Borders Books in Highland, IN (10135 Indianapolis Boulevard) on this Friday at Noon. The Big Rock Candy Mountain himself will be signing books and answering your sports questions for two full hours, so fans from northwestern Indiana, plan on taking a long lunch on the 12th and head over to Borders. In addition to writing books, Coppock continues to host the
pre-game shows for Notre Dame
football on Saturdays on WLS-AM, as well as hosting his popular Chicago Blackhawks Heritage Series on
Blackhawks TV
.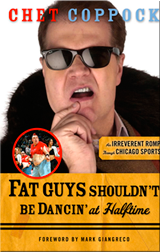 * * "The Skinny & Houli Show" is coming back to Chicago radio, this time on Saturdays afternoons on WCEV-AM 1450, starting on November 20th. The weekly talk show is hosted by James "Skinny" Sheahan, former director of the Mayor's Office of Special Events, and Mike "Houli" Houlihan, a former Sun-Times columnist, a current columnist for the Irish American News, an author, an actor and the head of a public relations firm, Mike Houlihan Creative. Their two-hour talk show was previously on each Wednesday night on WNTD-AM, buying time from the "Timeless Cool" programming that aired on evenings there. It began in late January, but came to a crashing halt in mid-August, when "Timeless Cool" was
suddenly yanked off of WNTD-AM
. The show is currently in need of an intern/producer who will operate the board during the show, screen phone calls, and help book and prep guests. Interested parties can send an email to This email address is being protected from spambots. You need JavaScript enabled to view it. .
* * Chuck Hillier has been named as Vice-President of Radio Network Operations for the Debut Broadcasting Corporation, a radio station owner and syndicator based out of Nashville, TN. Hillier is better known here in Chicago as the longtime (13 years) Vice-President and General Manager of WKQX-FM, as well as being associated with the Illinois Broadcasters Association, and The Radio Broadcasters of Chicagoland.
* * Speaking of WKQX... Emmis Broadcasting is reportedly asking for $100 million for the package deal of WLUP-FM & WKQX-FM. No takers at that high price yet. They are also shopping around their New York rock station WRXP-FM, also for $100 million. Emmis hopes by unloading these stations, they can end their money woes.