Details

Published on Sunday, 10 January 2010 18:29
One of Chicago's radio pioneers has died. Wesley W. South passed away from natural causes in his home last night at the age of 95. Wesley South was the Chairman Emeritus of Midway Broadcasting Corporation, the parent company of WVON-AM 1690.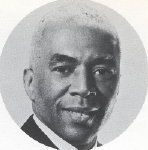 Wesley South was born in Muskogee, OK on March 23, 1914, to Dr. Elijah and Mayme South. The South family moved north to Chicago in 1924. South began his radio career in 1963. A local radio executive was worried about being penalized by the FCC for not having any Blacks on his airwaves. He approached Wesley South, who was working as a columnist doing public relations work for the NAACP at that time, and asked if he wanted to some radio work. South then became the host of the public affairs show "Hotline" on the station that would soon become known as WVON. The popularity of "Wesley South's Hotline" help pave the way for WVON's current all-talk format, targeted for the Black audience. He is widely credited as a pioneer of Black talk radio. In 1975, it was South, along with Pervis Spann, who formed the Midway Broadcasting Corporation and purchased WVON Radio. In 1986, it was South that flipped WVON's format from mostly music to all-talk.
In addition to his radio career, Wesley South was also a skilled journalist. He was among the first African-Americans to graduate from Northwestern University's prestigious Medill School of Journalism. As a journalist, South worked for the Chicago Defender, the Chicago American, the Chicago Daily News, and as an editor for the magazines of the Johnson Publishing Company.
He is survived by his daughter, retired Appellate Court Justice Leslie South, her husband and son. Funeral services will be held on Saturday, January 16th at the Church of the Good Shepherd, 5100 South Prairie Avenue in Chicago. The exact time of the funeral and the the times for the wake services have not yet been determined. This page will be updated with that information as soon as it is available.
UPDATE 01/11/10:
The funeral & wake arrangements for the late Wesley W. South have now been set. Both will be on Saturday, January 16th at the Church of Good Shepherd, 5700 South Prairie in Chicago. The wake will be from 10:00am-11:00am. The funeral will take place immediately following from 11:00am-Noon. Mr. South's body will lie in state at Leak & Sons Funeral Home, 7838 S. Cottage Grove Ave. in Chicago, on Friday, January 15th from 5:00pm-8:00pm.