Details

Published on Friday, 03 December 2010 08:05
The marquee on the outside of Wrigley Field facing Clark & Addison Streets has these sad words lit up this morning: "Ron Santo, 1940-2010." Legendary Chicago Cubs player and broadcaster Ron Santo passed away last night at the age of 70. Santo died in an Arizona hospital from complications of bladder cancer, after lapsing into a coma the night before.
Ron Santo was the personification of a die-hard Cubs fan's soul. The man lived & breathed Cubbie Blue. He started playing Major League Baseball with the Chicago Cubs in June 1960, where the Chicago player became a national superstar, being voted into nine All Star Games and winning five straight National League Gold Glove awards. After thirteen years with the Cubs, he played his one more season with the Chicago White Sox before retiring from the sport.
Despite his many storied accomplishments of his long baseball career, Santo has not yet made it into Baseball's Hall of Fame, narrowly missing the required amount of votes on a few occasions. He was given a high honor when the Chicago Cubs organization retired his uniform number (#10) in September 2003 -- only the third Cubs player to have that honor (Ernie Banks & Billy Williams are the others).
In 1990, Ron Santo turned his passion for the Chicago Cubs into a broadcasting career, joining the WGN Radio team of broadcasters as an analyst in 1990. He was partnered up with play-by-play specialist Pat Hughes in 1996. That broadcasting team has remained together ever since, much to the delight of most Cubs fans.
In the broadcasting booth, Santo did much more than play the role of the typical baseball expert. He was the voice of the die-hard Cubs fan. If something went wrong on the field for his Cubs team, he would not give deep philosophical reasons for the bad play. Instead, he did what all fans were doing... he yelled "Oh no!" and "No, no, NOOOO!", while Pat Hughes explained what just happened. There was no hiding his disappointment in his voice when the Cubs lost, just as there was no hiding the happiness in his voice when the Cubs pulled out a victory.
He was not a stereotypical baseball broadcaster. Santo was often criticized for the manner in which he called games and would almost always end up on lists of the "worst" broadcasters in sports. He often would mispronounce players names, forget who a player was, and even forget he was calling a game. For many Cubs fans, that just added to the charm of "Ronnie." Santo was the team's biggest cheerleader and represented the fan's point of view.
He was born Ronald Edward Santo on February 25, 1940 in Seattle, WA. At the age of 18, he was diagnosed with diabetes and was told that he should only expect to live about two dozen years more. Not only did he ignore what the doctor said, he more than doubled that doctor-given life expectancy. He struggled with the disease his whole life, though, and ended up having both of his legs amputated due to diabetes -- one in 2001 and the other in 2002.
Immediately after leaving baseball as a player, Santo started working with the Juvenile Diabetes Research Foundation and was as passionate with that group as he was a baseball player. Over the years, he raised well over $50 million for the charity and did his annual "Ron Santo Walk To Cure Diabetes" around Chicagoland. He was named as the Juvenile Diabetes Research Foundation's "Person of the Year" in 2002.
Santo's life-long struggle with diabetes and his accomplishments despite it became the subject of a documentary film called "
This Old Cub
." The documentary was written, directed and co-produced by filmmaker Jeff Santo, Ron Santo's son. Lending their voices to the film were the actors, native Chicagoans, die-hard Cub fans, and Ron Santo fans: Bill Murray, Gary Sinise, Dennis Franz, and William Petersen.
Santo was forced to endure other physical ailments in addition to his diabetes. He had heart disease, having a heart attack in 1999 and undergoing heart bypass surgery in 2001, and bladder cancer, having to have his bladder removed in 2003. When Santo was undergoing the bladder removal surgery while the Cubs were in the 2003 playoffs, the team hung his old uniform in the dugout with them as a tribute. He was often sick in recent years, causing him to be hospitalized and miss many Cubs road games.
Other problems seemed to follow Ron Santo around, sometimes humorous ones. The problems started in 1969 when the proverbial black cat actually crossed his path. In September 1969, a black cat ran past Santo while he was standing at the on deck circle at New York's Shea Stadium. The photograph of the incident has since become famous, as many Cubs fans seem to think it embodies the bad luck team.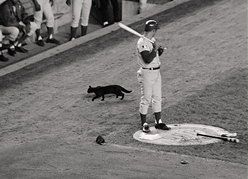 Also happening at Shea Stadium, but this time in April 2003 in the press box, Ron Santo's toupee caught fire when he got a little bit too close to an overhead heater. This past April 1st at one of the Cubs final Spring Training games, Santo's radio partner Pat Hughes had just bought for him a piece of pizza from a vendor inside HoHoKam Park, but when Santo bit into it, he lost his front tooth in the cheese of the pizza.
Through all his adversity, Ron Santo was always optimistic about his health, his work, and the chances for his beloved baseball team. He was well-known for never complaining about his troubles.
Chicago Cubs chairman Tom Ricketts issued this statement this morning:
"My siblings and I first knew Ron Santo as fans, listening to him in the broadcast booth. We knew him for his passion, his loyalty, his great personal courage and his tremendous sense of humor. It was our great honor to get to know him personally in our first year as owners.

"Ronnie will forever be the heart and soul of Cubs fans. Our thoughts and prayers today are with his wife Vicki and their family and we share with fans across the globe in mourning the loss of our team's number one fan and one of the greatest third basemen to ever play the game.

"As a nine-time All-Star, a five-time Golden Glove winner, Ronnie was one of the best Cubs ever and a Hall of Famer in our book.

"Since he retired he was a powerful spokesperson for Juvenile Diabetes Research. For the last 21 years, his love for baseball and passion for the Cubs was felt in every one of his broadcasts.

"In the days and seasons ahead, we will honor Ron and celebrate all he has meant to our team and our fans. Ron's number 10 will always be close to our hearts and Ron will forever be a member of the Cubs family."
Ron Santo was planning on being in the Cubs' broadcast booth for a 22nd year this spring, although he had planned on not working road games outside of the Midwest, since the travel took a toll on his fragile health. The Chicago Cubs and WGN-AM will now have to decide on a full-time replacement for Santo over the winter months. Among the many names being tossed about are frequent fill-in analysts Keith Moreland & Dave Otto, along with names like former Cubs players Rick Sutcliffe and Mark Grace.
WGN-AM's Vice President & General Manager Tom Langmyer issued this statement this morning:
"Today we lost one of the most beloved Cubs of all-time. Ron's voice was the true soundtrack of summer in Chicago and his presence in the broadcast booth will forever be missed. Our hearts go out to the Santo family during this difficult time."
WGN Radio is playing tributes to the late Ron Santo all day today.
Condolences to the many family, friends, co-workers, former teammates, and fans of Ron Santo.