Details

Published on Sunday, 12 December 2010 10:46
This past Thursday afternoon, a pair of Chicago executives were honored in New York City as part of the CableFAX 100 ceremony. This annual event salutes the top 100 executives in national cable production, as well as a few dozen of the top "Regional Players." Comcast SportsNet Chicago President Jim Corno and the Senior Vice President of the Comcast Greater Chicago Region LeAnn Talbot were both named as top regional honorees.
Jim Corno is considered the "Dean" of regional sports television executives. Over the course of his 26 year career, he has been the head of every regional sports network in Chicago television history, including SportsVision, SportsChannel, Fox Sports Net Chicago, and currently, Comcast SportsNet Chicago.
Inn accepting this honor this past week, Corno thanks those he works with. About them he said, "the professional and personal well being of my entire staff is something that I think about 24/7. I feel that they are an extension of my own family. Helping them grow in our business has been and always will be a top priority for me."
This is just the latest in a string of honors that have come Jim Corno's way in 2010. Earlier this year, Corno received a prestigious "Silver Circle" award from the Chicago/Midwest Chapter of the National Academy of Television Arts and Sciences. The "Silver Circle" distinction recognizes outstanding individuals who have devoted 25 years or more to the television industry and have made a significant contribution to Chicago broadcasting. Also this year, Corno was inducted into the "Chicagoland Sports Hall of Fame," joining other notable 2010 inductees including Rocky Wirtz, Frank Thomas and Mike Krzyzewski.
Corno began his career in 1963 in his hometown at St. Louis' KPLR-TV. In 1984, after years of working in various positions, in various markets, he became Vice President/General Manager of SportsVision. He joined Comcast SportsNet Chicago in March 2004.
LeAnn Talbot was appointed Senior Vice President of the Comcast Greater Chicago Region in July 2009. She previously was the Vice President of Operations for the Chicagoland region for Comcast. In addition to her duties with Comcast, she is passionate about breast cancer awareness, sits on the Board for City Year, and has helped out Chicago Mayor Daley as one of the City's team on improving management. She is based out of Comcast's regional headquarters in Schaumburg, IL.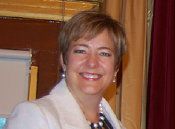 The CableFAX 100 annual ceremony ties in with the CableFAX Magazine's annual issue honoring the "leaders, the pioneers, the influencers, the out-of-the-box thinkers and the rainmakers" of cable television. The annual issue came out this past Thursday, as well. An online version of the issue can be found at this link
HERE
.