Details

Published on Sunday, 19 December 2010 11:06
In this weekend's News & Notes, we look at both a new job and a new performance for Steve Cochran, a live appearance by Irene Mojica, good news & bad news for Roger Ebert's new TV show, a goodbye for Bill Campbell, a new political path for Jim Mullen, the end of a job for Dave Price, a new marriage for Danny Bonaduce, Michele Fiore gets to be with Matt Damon, Tribune Media Services buys a new company, CBS Radio gets "Fresher," and "Outside the Loop Radio" wins an honor. It is all just below...
* * Former WGN-AM star Steve Cochran will spending New Year's Eve the same way he has for many years: entertaining audiences with his stand-up act. Cochran's 8th annual "New Year's Eve Comedy Show For People Who Can't Stay Awake Until Midnight" will take place on December 31st (naturally) from 7:00pm-9:00pm at The Egyptian Theatre, located at 135 N. Second Street in DeKalb. Joining Cochran will be Mike Toomey (from the WGN Morning News), John DaCosse, and Tim Clue. Tickets range from $25-$35 and can be purchased online at this link
HERE
or by phone by calling 815-758-1225. Even though the tickets are already low-priced, if you enter (or say to the phone operator) the word COMEDY, you will receive an additional $3 discount. All seven of Steve Cochran's previous New Year's shows were sell outs, and this one is already close to being sold out.
* * Speaking of Steve Cochran, the Monday following his big New Year's Eve show, he starts his new regular radio job. Steve Cochran has been hired as the new evening host on St. Louis' KTRS-AM. (KTRS is St. Louis' version of WGN - a local, independently-owned, non-political talker with a little bit of sports talk mixed in.) He can be heard each weeknight from 6:00pm-9:00pm, starting January 3rd. Chicago fans can listen online at this link
HERE
. WGN's loss is now KTRS' gain.
* * Former WGCI-FM, WVAZ-FM and WUBT-FM star Irene Mojica will be taking part in a benefit later today. In addition to being a smooth radio voice, she is also a singer. She will be singing in the all-star 13th Annual Jingle Bell Jam happening at Moonshine (1824 W. Division, Chicago), starting at 7:00pm and going strong until 2:00am. (Doors open at 6:00pm, with complimentary beer & drinks for the first hour.) The event benefits the Association House of Chicago. Cover charge is only $10 or just bring a new, unwrapped toy to brighten a needy child's Christmas. Among the many huge local stars taking part in this all-night jam session is Chip Z'Nuff, Lynne Jordan, Jimmy Damon, Shay Jones, Frankie Hill, Smokin' Joe Thomas, and many other huge Chicago talents. More details can be found
HERE
. Stop bye, help out a good cause, see some once-in-a lifetime jams, and say "Hi" to "Mamacita" Mojica!
* * Last week, Sun-Times film critic Roger Ebert sent out the following
message via Twitter account
:
"'Roger Ebert Presents At the Movies' is cleared in 192 markets and worldwide on the Armed Forces Network. First show, Jan. 21."
Since then, his new television review program has picked up two more affiliates and is now up to 194. That's the good news. The bad news is that there is already trouble behind-the-scenes. Elvis Mitchell, who was set to be one of the two main movie reviewers and co-hosts, has been removed from the show, just one month before the show is set to premiere. No specific reason has been given for Mitchell's firing. Roger & Chaz Ebert hope to announce his replacement sometime later this week. Ebert first
announced his new movie review program in September
, calling it "the rebirth of a dream."
* *
Vicki Giammona
is not the only 32 year WLS-TV veteran retiring this month. Longtime employee of ABC 7 and a 32 year veteran himself, Bill Campbell is also retiring from the station next week. He has been the host and producer of "Chicagoing with Bill Campbell" for 21 years. The final "Chicagoing" show will air next Sunday, December 26th at 11:30am. For twelve years, Bill Campbell served as a writer, producer & station editor. For 23 years, he was the station's Director of Community Services. He won three Emmy Awards while part of WLS-TV. He will now concentrate his time on his own company
CampbellQuest
, which is his life-coaching, public speaking and consulting organization.
* * Former WBBM-TV reporter and commentator Jim Mullen is running for public office. Mullen is trying to become the 41st Ward Alderman in Chicago. He may be best remembered as the brave Chicago Police Officer who was shot in the line of duty and paralyzed from the neck down. He then became an award-winning reporter for CBS 2, and is now making a name for himself selling
Mullen's Applesauce
. For more on his run for Alderman, visit his website at this link
HERE
.
* * In a News & Notes
earlier this month
, it was mentioned that former WBBM-TV morning/fill-in weatherman and feature reporter Dave Price may soon be out of his CBS-TV job, where he has been since 2003. Despite CBS' claims that they would find a new position within the company for Price after announcing the entire staff of "The Early Show" was being replaced, Price is indeed gone from the network. He announced on "The Early Show" Friday morning that it was his last day at CBS and said goodbye to his co-workers and fans. Dave Price was with Chicago's WBBM-TV from 1996-1998, where he won two Emmy Awards for his work here.
* * Former WULP-AM & FM personality Danny Bonaduce has married once again. He and Amy Railsback, his girlfriend/manager of three years, were married in a private ceremony while on vacation in Hawaii over the Thanksgiving weekend. This is the 51 year old Bonaduce's third marriage.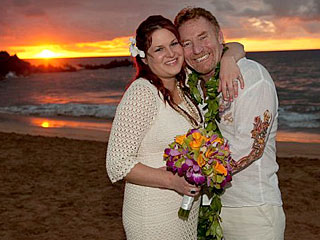 * * Veteran radio & television reporter (WBBM-AM, WMAQ-AM, CLTV, WKRS-AM/WXLC-FM, more) Michele Fiore was able to become the envy of many of her friends, especially her female friends last week. Fiore, who also has done some acting in the past, was an extra on the set of the new movie "Contagion," which is filming around Chicago and the north suburbs. The star of the new movie is Matt Damon. Much to her dismay, she was only an extra... not his love interest in the film. Here is a picture of a very cold Michele & Matt:
* * Tribune Media Services, which distributes entertainment, news and features content nationwide, announced on Thursday that it has purchased CastTV Inc. CastTV is the San Fransisco-based technology company that specializes in video and data searching for finding TV shows, movies and video online. Tribune Media will operate the CastTV.com website as part of its Zap2it.com website. Exact terms of the corporate purchase were not disclosed.
* * Chicago's low-rated Fresh 105.9 will have a new sister station next week. CBS Radio will flip their AC station KEZK-FM to "Fresh 102.5" right after Christmas weekend. This marks the fourth CBS Fresh station, including Chicago's, New York's, and Washington DC's. Jeff Kapugi, the Chicago native, veteran radio programmer and recently-fired SVP/COO of Tribune Interactive is KEZK-FM's new program director. Despite the fact that all three "Fresh" stations have so far dealt with varying levels of difficulty finding an audience, especially here in Chicago, CBS Radio remains committed to the "Fresh" branding and concept.
* * This month, Mike Stephen's excellent local podcast "Outside the Loop Radio" was selected by NewCity Magazine as the "Best Local Podcast" in Chicago for 2010. This was done as part of the magazine's annual "Best of Chicago" survey that they have been doing for 18 years. NewCity's write up about the Best Podcast can be found
HERE
, while the actual podcasts of "Outsdie The Loop Radio" can be found
HERE
. (A link to OTL is also permanently up on the CRM Podcast Page, found in the Multimedia tab at the top of each page of this website.)