Details

Published on Monday, 10 January 2011 06:18
In today's News & Notes, we look at stories about Steve & Johnnie celebrating another milestone, a couple of big announcements for Simon "Rendezvous" Badinter, WXRT getting ready to unveil the big results, Whet Moser getting ready to make a big move, Karen Rariden moving to Chicago, Ignatiy Vishnevetsky moving to television, Harvey the Wonder Dog looking for your vote, James D. Jones profiled, Ed Smaron receiving rave reviews, and Bill Bellis says good bye to Phoenix and hello to Chicago. It's all just below.
* * WGN-AM's Steve & Johnnie celebrated their 6,000 show on the station last night. New Colony Six singer Ronnie Rice stopped by to sing some songs and help celebrate with the radio duo. Steve King & Johnnie Putman have been together on WGN-AM for just under 26 years.
* * Also at WGN-AM, weekend host Simon Badinter had a pair of announcements this weekend. The first is that the native of France became a US citizen on Friday. The second is that he has accepted a job offer to also be a weekend host at WTKK-FM in Boston, MA. His "Simon Rendezvous" show on "96.9 Boston Talks" will air on Sunday nights from 7:00pm-10:00pm (6:00pm-9:00pm Central time). He will continue to do his overlapping show on WGN-AM from 6:00pm-8:00pm on Sundays.
* * The results of WXRT-FM's annual Listener Poll will be revealed this Thursday night at an invitation-only live event at the Craftsman Experience (233 W. Huron Street, Chicago). For those not lucky enough to win the free tickets to attend, you can still listen to the results as they are read on the air from the event starting at 6:00pm Thursday. The complete 2010 Listener Poll results will appear on the WXRT website starting Friday.
* * On Friday, Chicago Magazine made an announcement about a huge new hire
exclusively via their Twitter account
. The announcement said:
"Excited to announce that @whet will be joining the @Chicagomag team on Jan. 31st as our associate digital editor."
What that means is that the Chicago Reader's web editor and associate editor Whet Moser will be leaving the Reader in a couple of weeks to join Chicago Magazine. Moser has been with the Reader for over four years.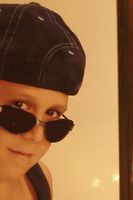 * * WBBM-TV has hired Karen Rariden to be the new Assistant News Director for the station. Rariden is currently an Executive News Producer with KYW-TV in Philadelphia, where she has been for just over five years. She previously had been an Executive Producer for the WGN Morning News from September 1999 through August 2001. Karen Rariden replaces Don DuPree, who left WBBM-TV to produce the new "Roger Ebert Presents At The Movies" and will begin her new job in Chicago on February 2nd.
* * Speaking of that new movie review show, 24 year old Chicago critic & blogger Ignatiy Vishnevetsky has been named as the new co-host for "Roger Ebert Presents At the Movies," which makes it premiere on PBS on January 21st. Vishnevetsky replaces Elvis Mitchell, who exited the show in pre-production last month.
* * Harvey the Wonder Dog, the Chicago canine star of
his own children's book
, is the running for WCIU-TV's Top U Dog. Having won an online contest for best pet a few months ago, he now is in the playoffs, trying to win it all. You can vote for Harvey at this link
HERE
and watch his video at this link
HERE
. Harvey also happens to live in the same house as Lise Dominique, WLS-AM newsperson and WILV-FM fill-in newsperson. You can vote as often as you'd like between now and the end of the month.
* * James D. Jones, who is the radio Tour Guide on the all-Beatles program "Magical Mystery Tour" on Sunday mornings from 9:00am-11:00am on far south-suburban 105.5 The Kat, had a fantastic write-up on the blogsite Product Favorites last week. You can read it for yourself at this link
HERE
.
* * Chicago's Shadow/Metro's Ed Smaron plays the Sheriff in the stage production of "Bus Stop" going on now through January 22nd at The Den Theatre (1333 N. Milwaukee Ave., 2nd Floor, Chicago). The show (and Ed Smaron, in particular) received a rave review in the Chicago Tribune a few days back, which can be read
HERE
. Tickets are only $20 and can be purchased
HERE
.
* * Although WFLD-TV has yet to officially announce it,
Chief Meteorologist Bill Bellis will be forecasting weather
for their evening newscasts starting in February. Bellis is coming to Chicago from KNXV-TV, the ABC station in Phoenix, AZ, where Bellis has been their Chief Meteorologist since July 2003, doing four newscasts each weekday. The station there said goodbye to their well-loved employee at the end of last month. Here is his good bye video to his station and his fans in Phoenix: