Details

Published on Thursday, 27 January 2011 13:50
In a move that has been talked about for months, WFLD-TV finally admitted that they will not be renewing the contact of Chief Meteorologist Amy Freeze. Freeze's contract expires in February. She will work a few more weeks for the station, providing the weather forecasts for the evening newscasts and will then move on from the station.
Amy Freeze had been with WFLD-TV since February 2007. Prior to coming to Chicago, she was a Meteorologist in Philadelphia, Denver, and Portland.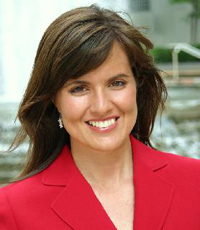 Freeze will be replaced next month by Bill Bellis, who was
hired back in November
to replace her as Chief Meteorologist in February. Bellis was Chief Meteorologist for Phoenix's KNXV-TV since 2003. Bellis will take over the weeknight broadcasts.
In another move that has been talked about for a long time, Meteorologist Tammie Souza officially rejoined WFLD-TV today. She made her return today on the Noon newscast, comically barging into Mark Strehl's weather forecast and then sitting down with Strehl and news anchors Patrick Elwood and Jan Jeffcoat to talk about her return.
You can watch the video of Tammie Souza's return to WFLD this afternoon here:
Starting Saturday, Souza will take over as the weekend and late week Noon news Meteorologist, as well as fill-ins. She replaces Chris Sowers, who exited last fall after his contract was not renewed. Despite WFLD-TV's secrecy about this, Souza's return to her former station has been known about
since early December
.
Tammie Souza was a meteorologist for Chicago newscasts for a total of almost nine years. She began on WMAQ-TV from 2000-2006, followed by WFLD-TV from 2006-2008. She won five Emmy Awards while she worked in Chicago TV. She was also known for visiting with Chicago-area grade school children in their classrooms, providing an educational weather presentation called "Weather With Class."
Prior to coming to Chicago, she was the Chief Meteorologist at WDJT-TV in Milwaukee, WI, and began her career at KHSL-TV in Chico, CA. Since leaving Chicago, Souza has been the Chief Meteorologist with WTSP-TV in the Tampa/St. Petersburg market for a little over two years, joining in October 2008. Souza's official last day at WTSP-TV was last Friday. Her husband remained in Chicago the whole time she was in Tampa, however. The couple have a son, who is almost two years old and dog together. She wanted to reunite her family and return here to Chicago, which she has called home for many years.
Tammie Souza has already had her newly updated bio page added to the
WFLD-TV website
.
By the end of February, WFLD-TV's weather team will be back up to full strength. Chief Meteorologist Bill Bellis, weekend and Noon Meteorologist Tammie Souza, and morning and Noon Meteorologist Mark Strehl, whose contract was renewed earlier this month.