Details

Published on Wednesday, 16 February 2011 12:58
In today's News & Notes, we have stories about a disappointment for WUSN-FM's Trish Biondo, a possible award for Svengoolie, a possible "romantic" dinner with Svengoolie, a Jazzy event for Barry Winograd, a Jazzy auction for Dick Buckley, a look & listen back with Steve Darnall, an interview with Jay Mariotti, best wishes to Dan Jiggetts, and a new morning show coming soon to WCFS-FM. It's all below.
* * Just a couple of weeks ago, it was announced that US99.5's
Trish Biondo was nominated
for "On-Air Personality Of The Year - Major Market" by the Academy of Country Music. Even though the 46th Annual Academy of Country Music Awards will not take place until April 3rd, the ACM have gone ahead and announced who their radio winners are already. Unfortunately, Trish Biondo was not the winner in her category. San Diego, CA's "Cliff and Brooks on KSON" won the award (ironically finding out they won the award just minutes after their show was canceled by their station and Cliff was fired). This was Trish Biondo's second nomination for this award, the first being in 2007.
* * Speaking of awards, beloved Chicago television host, Svengoolie is up for an award -- and we can all help him win. Sven has been nominated for "Favorite Horror Host of 2010" in the new 9th Annual Rondo Hatton Classic Horror Awards. Fans of Rich Koz/Svengoolie can visit this link
HERE
, scroll down to category #19 and vote for Chicago's favorite movie ghoul. (Directions on how to vote are near the top of the voting page.) Vote early and vote often, even if you live in
Berrrrrrrwyyyyyyn
.
* * Speaking of the WCIU-TV scary movie host, fans can win a "romantic" dinner for two at White Castle and get to hang out with Mr. Romance himself, Svengoolie, simply by entering a contest on WCIU-TV's website. Chances are pretty good of winning, as Sven and WCIU are buying this romantic dinner for 20 couples. The dinner will take place on Saturday, February 26 at White Castle location to be determined. Entries must be received by next Sunday night. Visit this link
HERE
to enter and for more information. Svengoolie & "Sliders"... what could be more romantic?
* * Barry Winograd, host of WXRT-FM's "Jazz Transfusion" and WDCB-FM's "All Things Jazz," not to mention a fine Jazz saxophonist himself, will emcee the Annual Jazz Improvisation Competition and Annual Jazz Scholarship Competition at Buddy Guy's Legends (700 S. Wabash, Chicago) tonight from 5:00pm-8:00pm. The event is being put on by Union League Civic & Arts Foundation. There is no charge to attend. A cash bar and Cajun-style menu will be available. For reservations and information, call the Civic Arts Foundation office at 312-435-5961.
* * Famed Chicago radio Jazz DJ for over 50 years, Dick Buckley
passed away last July
. After his passing, his sons contacted Leslie Hindman Auctioneers to see if they could help find a new home for Buckley's massive collection of over 8,000 Jazz LPs, 45s, 78s, tapes and CDs. Leslie Hindman Auctioneers will auction off the items tomorrow at 5:00pm. More details can be found at this link
HERE
. The upcoming auction was first mentioned by media columnist Robert Feder on
his Time Out Chicago blog on January 11th
.
* * Just as he did last week in LaGrange, Nostalgia Digest's Steve Darnall, the host of "Those Were the Days" on WDCB-FM and "Radio's Golden Age" on YesterdayUSA.com, will be discussing the glory days of radio for an audience. On Thursday, Darnall will be at the Evanston History Center in the Charles Dawes House, located at 225 Greenwood Street in Evanston from 7:00pm-9:00pm. He will have stories and sound clips galore to share with the audience. Reservations are recommended and can be made by calling 847-475-3410. The cost is a $5 donation to the Dawes House, but free for EHC members.
* * FoxSports.com columnist Jason Whitlock has started up a new podcast on the Fox Sports website as of today. His very first guest is former Chicago sports writer and radio host Jay Mariotti. This is the controversial Mariotti's first interview since his arrest and prosecution in LA on domestic violence charges. The podcast can be heard
HERE
.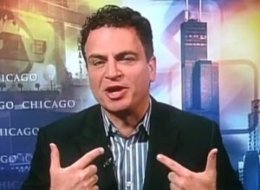 * * Best wishes to Chicago radio & TV star Dan Jiggetts. The former NFL player is resting and recovering from hip replacement surgery, his second in under a year.
* * Look for WCFS-FM to make an announcement this week on a "Fresh" new morning team for their station, which will be starting next week.