Details

Published on Monday, 25 April 2011 10:16
For over 45 years, he was a meteorologist for Chicago television, working on almost every single newscast in town. For 10 years before that, he was a trailblazing meteorologist in Oklahoma. Now, Harry Volkman has written down some of the many stories about his life and career in a new autobiography, which he has just published this month.
The new autobiography is called "
Whatever The Weather: My Life & Times As A TV Weatherman
," written by Volkman, with an assist by Peter Schroeder. In addition to the many stories, the book comes with plenty of rare black & white and color photographs of Volkman and those he has worked with over the years. The book is in paperback form, runs 220 pages long and is printed with large font for easy reading.
Harry Volkman knew he wanted to study weather from the time he was 4 years old and saw how a severe thunderstorm outside of his house one night had affected his mother. After a stint serving his country in the US Army during World War II (where he put his weather talents to use by calculating the wind's effects on artillery, making shots more accurate for the Americans), Volkman studied math and physics at Tufts University in Medford, MA, studied meteorology at Tulsa University in Tulsa, OK, and aviation at the Spartan School of Aeronautics, also in Tulsa, OK.
Starting on KOTV-TV in Tulsa, OK in 1950, he was the very first television weatherman in the state of Oklahoma, and one of the first television weathermen in US history. In 1952, while working at WKY-TV in Oklahoma City, Volkman truly made history by being the very first weatherman to ever issue a tornado alert on television. Prior to that, the US Government would not allow tornadoes and tornado warnings to be talked about on TV, for fear of causing a harmful panic. However, after hearing from a local Air Force base that a tornado could possibly be heading toward Oklahoma City, Volkman broke into programming and warned the citizens of the dangers of the impending storm. Although the local government and weather bureau were furious with Volkman and threatened him with charges, the public was overwhelmingly appreciative and supportive of him for the warning. Because of the positive response from viewers, the practice of warning the public about severe weather then spread nationwide -- all thanks to the brave actions of Harry Volkman.
After just under ten years at three TV stations in Oklahoma, Harry Volkman was brought to Chicago in late 1959 to work for WNBQ-TV. He was there until 1967, when he was recruited over to WGN-TV. After three years at WGN-TV, he went back to his previous station, now called WMAQ-TV, for five years. He then was brought back to WGN-TV for almost five years. In 1978, he joined WBBM-TV, where he is best known and loved by Chicagoans for his 18 years as the station's meteorologist. In 1996, he joined WFLD-TV as a weekend & fill-in meteorologist until he was released in 2004. The only major local station where he did not work as a meteorologist was WLS-TV.
Concerning his work as a TV weatherman, Harry Volkman was well-known for three different things: his highly detailed & information-filled weathercasts, his use of mouth-made sound effects like a loud "WHOOOSH!" sound to describe strong wings coming in, and a fresh flower boutonniere often pinned to the lapel of his jacket.
That flower boutonniere was usually given to him by a children's grade school he had visited earlier that day. Every weekday (sometimes two times a day), Harry Volkman would visit a grade school in the Chicagoland area -- anywhere from within Chicago to southern Wisconsin to northwestern Indiana to all over the suburbs -- to talk with children about weather and answer any questions they have. It is estimated that Volkman may have visited local schools over 9,000 times over the years. Even more impressive is that he never once asked to be paid for any of these visits. This was all done completely on his own and done so from his heart. His only payment was the small flower that the school's children would present to him, which he would proudly wear on the air later that evening, announcing the name of the school that gave it to him. For his countless hours of working with school children, Northern Illinois University honored Harry Volkman by presenting him the Dorland Terwilliger Award for Significant Contributions to Schools.
Volkman's mother was a school teacher, so in his own way, he was carrying on in her footsteps with these school visits, as well as following his own path with his love of meteorology.
Sometimes referred to as the Dean of America's television weathermen, Volkman has been a member of the American Meteorological Society (AMS) for decades. In 1981, he was named as the AMS Meteorologist of the Year. He is also a former chairman of the Board of Broadcast Meteorology.
His new book talks about his many years in the business, as well as those famous names he has worked with. The back cover of the book says the following:
"Imagine the stories: Behind the scenes at TV stations when it was all live!
Stories I love to tell... Bill Kurtis, Gene Siskel, Ernie Banks, Floyd Kalber, Bob Sirott, Tom Skilling, Fahey Flynn, John Drury, Len O'Connor, P.J. Hoff, and Bozo!"
The book is self-published via Intentional World Publishing. It is available for only $19.95 directly from Mr. Volkman himself, who can be reached via email at This email address is being protected from spambots. You need JavaScript enabled to view it. .
This is Harry Volkman's first book, not counting his 1971 booklet/coloring book for children, called "Weather You Like It Or Not." That book is long out of print, but used copies can sometimes be found online.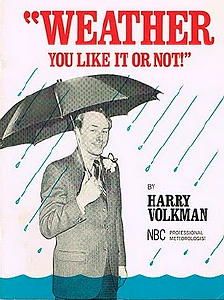 Those too young to remember Harry Volkman's contributions to Chicago television, may be well aware of his contributions to Chicago radio, thanks to the popularity of one of his sons on the radio. That son being Eddie Volkman, known as Chicago radio's "Eddie V," half of the superstar radio duo Eddie & Jobo. After many successful years on WBBM-FM/B96 and a brief time on WLS-AM, the duo are now hosting morning's on WJMK-FM/K-Hits.
After his forced departure from WFLD in July 2004, Harry Volkman retired from television meteorology. He and his wife still live locally in suburban Itasca and enjoy their family consisting of four children and nine grandchildren. Earlier this month, Harry Volkman celebrated his 85th birthday.