Details

Published on Wednesday, 27 April 2011 11:54
A staple of Chicago television advertising for almost 35 years has been the Empire Carpet Man. That TV icon, Lynn Hauldren passed away yesterday at the age of 89.
He was born Elmer Lynn Hauldren in a small town in Missouri on April Fool's Day in 1922. After serving in the Army in World War II and becoming a decorated war hero, Hauldren finished college and went into advertising. While working in advertising for a Chicago-based firm in the mid-70's, Hauldren picked up an advertising copywriting job for a small, local company named Empire Carpets (now known as Empire Today). A commercial he wrote for Empire in 1977, featuring a helpful carpet installer selling the company to viewers, failed to find the right actor for the role. Reportedly, the owner of Empire then asked Hauldren to play the role himself, which he reluctantly did. He has been playing that role ever since. Lynn Hauldren's face, image, and/or voice has been seen in pretty much every Empire commercial since.
Not only did Hauldren come up with the advertising concept for the Empire Carpet Man, but he also wrote and sang the famous jingle. Hauldren and his a capella group sang the numbers and word that every long-time Chicagoan knows oh-too-well:
"Five-eight-eight. Two-three-hundred... Em-PIRE!"
followed by a single bass guitar note. Later years would have
"Eight-Hundred"
added to the front of the jingle and Hauldren saying
"Today"
just before the final bass note.
As Empire Today expanded their carpeting empire nationwide from Chicago in the late 1990s, that simple jingle became one of the most recognized phone numbers in the country.
Though very few knew his name, everyone knew his face. The Empire Carpet Man became a cultural icon, especially in Chicago, where he had been seen in viewers' homes for decades. Lynn Hauldren continued to work with Empire Today until his death this week. He lent his voice to Empire's television commercials, which lately had been using an animated version of Hauldren, and on radio commercials, where his soft-spoken voice was as recognizable as his face.
Empire Today even commissioned Funko to create a bobble head doll of the beloved Empire Carpet Man. It was a limited edition collectible that was retired in 2001. It was sold in local stores and given away as a promotion to customers who purchased carpeting or services from Empire Today. (Although no longer manufactured, these bobble heads can still be found on the Internet.)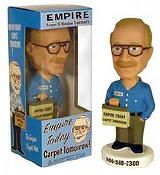 In addition to his work with Empire, Lynn Hauldren also sang in barbershop quartets. One of his groups, Chordiac Arrest, released a handful of CDs and a DVD. The group did comedic a capella versions of songs, with a medical twist to them. He also sang with the groups The Fabulous 40s (who first sang the famous Empire jingle), Natural Gas, and most recently, he sang with the quartet Chordplay. Additionally, Hauldren did some acting, doing small roles locally on stage and in video.
Regardless of his other interests, it will be his commercial work for Empire Carpets and Empire Today that the public will forever Lynn Hauldren by.
In a statement released this morning, Empire Today CEO Steve Silvers said: "Lynn was truly passionate about the Empire brand. He has made an indelible mark on advertising history with his creativity and warmth. Lynn will always have a special place in the hearts of many. Our thoughts are with his family during this time."
Earlier this month, Lynn Hauldren celebrated his 89th birthday. He was a father to six, a grandfather to 18, and a great-grandfather to 10.