Details

Published on Sunday, 17 July 2011 18:13
In this giant weekend wrap-up News & Notes, we look at numerous local media stories, including: Clark Weber telling some stories, Jim Rose & Kathy Voltmer get hitched (but not to each other), Eddie Volkman becomes a grandfather right before becoming a father, Eddie & Jobo go gambling, NextMedia makes two key hires for their suburban Chicago stations, Java Joel Murphy and Michelle Rutkowski get promoted to MD (but not together), Tingle's "Clairisa Jenkins" lives on, Marv Nyren's still employed, Lisa Aprati gets new employment, Chet Coppock wants to see you, and WGN-TV & CLTV will soon be seeing a new doctor. Details below.
* * Chicago radio legend Clark Weber will be making a special appearance tomorrow, Monday July 18th. He will be speaking at the Bolingbrook Golf Club (2001 Rodeo Drive, Bolingbrook) at 7:30pm. "Mother Weber's favorite son" will be telling stories from his book
"Clark Weber's Rock and Roll Radio: The Fun Years, 1955-1975,"
as well as stories not found in the book and taking questions from the audience. Weber is an incredible story-teller, is never at a loss for a great tale, knows radio as good or better than most, still has the amazing comic timing that he had as a DJ, and has the boundless energy of a man a fraction of his age. Seeing Clark Weber live is a highly recommended. The event is presented by the Bolingbrook Amateur Radio Society. It is free and open to the public.
* * Congratulations to WLS-TV's Jim Rose on his marriage to his longtime girlfriend Lakesha Draine. Rose was previously married to WLS-TV news anchor/reporter Cheryl Burton.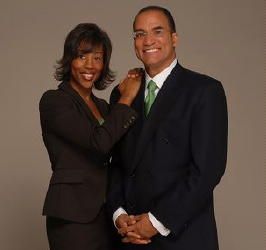 * * Congratulations to WDRV-FM's News & Public Affairs Manager Kathy Voltmer on her civil union with her longtime partner, former WXRT-FM Senior Account Executive Ellen Miller!
* * Congratulations to WJMK-FM's Eddie Volkman! The K-Hits morning show host just became a grandfather for the first time, as his daughter Carly recently gave birth to her first baby. This comes just days before Eddie V is scheduled to become a father again for the fifth time, as he and his wife Amber are expecting a new baby (their first together) within the next week. Do they sell diapers with Cubs logos on them?
* * Speaking of "Grandpa Ed," he and his WJMK-FM on-air partner Jobo will be doing tomorrow morning's radio show live from the grand opening of the brand new Rivers Casino, located at 3000 S. River Road in Des Plaines. Eddie & Jobo's show will be broadcasting live from the location from 5:30am-10:00am. At 10:00am, the official ribbon cutting ceremony will take place. They will have plenty of K-Hits swag to give out to visitors wishing to stop by and say 'Hi" to the duo.
* * NextMedia has named veteran radio programmer and consultant J.J. Duling is the new Program Director of far south-suburban WSSR-FM and WRXQ-FM. WSSR-FM has been without a PD since Operations Director Tim Dukes exited the company last month to begin a job outside of radio in Dallas, TX. At WRXQ-FM, he pushes out Freak, the on again-off again PD, from the position, who remains as the station's afternoon drive star. Freak had worked as Interim PD since the end of 2010. J.J. Duling has been a nomadic PD, programming at stations in West Palm Beach, Orlando, Biloxi, Louisville, and Nashville. He most recently worked as a consultant with the Ohio-based Tom Kent Radio Network and is a writer for the industry website Radio Online.
* * In other NextMedia hiring news, the company announced that Scott Kosak has been named as the new Station Manger of west-suburban WERV-FM. The longtime Naperville resident previously spent almost six years with WUSN-FM as an Account Executive, and later, as Local Sales Manager. He was then promoted to Motorsports Marketing and Sales Manager for CBS Radio, where he worked for three years. Since leaving CBS Radio just over three years ago, he started up Left Turn Marketing, Inc and the website RacingIn.com. He starts in his new position at WERV-FM on August 8th.
* * Former WKSC-FM nighttime star Java Joel Murphy continues to find success in Cleveland, OH, where he has been since September 2006. In addition to being a top rated radio personality on WAKS-FM (Cleveland's Kiss-FM), Java Joel was just officially named as Music Director for sister-station WHLK-FM. (He had been "unofficial" for the last two months.) The promotion is effective immediately. From 2002-2005, Java Joel and his "Rubber Room" -- featuring Silly Jilly and JDogg -- were a highly rated show on WKSC-FM that rode the edge each weeknight.
* * Former WKQX-FM personality Michelle Rutkowski has been officially named as Music Director at Milwuakee's Alternative station WLUM-FM. She will be reporting to station Program Director Jacent Jackson, who happens to be the former PD of WKQX-FM. Rutkowski, who goes by simply "Michelle" on the air, will continue on as the station's midday host. She was a weekender and part-time fill-in host on Chicago's Q101 from 2002-2006.
* * Former WKQX-FM morning show co-host (as of this past Thursday) Steve Tingle is keeping his character "Clairissa Jenkins" alive and well. Envision Radio Networks is syndicating Tingle's prank phone calls as the angry & confused lady to radio stations nationwide, looking to add the bit to their morning shows. "Clairissa Jenkins' Phone Checks" delivers five new 2 minute long prank phone calls each week. Listeners can ask "Clairissa" to prank their friends, families, co-workers and people they dislike by connecting with "her" via the Internet. KSFM-FM in Sacramento, CA just signed on to the service this past week. Envision Radio Networks has samples and more information
HERE
.
* * Marv Nyren, the Vice President and General Manager of WKQX-FM and WLUP-FM went on the Sherman & Tingle morning show on WKQX-FM this past week and joked about how he was out of a job in a few days like everybody else at Q101. (Audio of that "interesting" on-air conversation was recorded and first posted up on the CRM Message board before anywhere else on the morning of July 13th. It was recorded & posted up by CRM message board contributor and Q101 fan Jeremy Andrews. The audio can still be heard at this link
HERE
.) Marv Nyren, who has a reputation for playing loose with the truth and facts, was never really out of a job. He will be staying with Emmis Communications, whom he has inexplicable worked for since 1993, despite many years of questionable results for the company. According to reports, Nyren will move from Emmis' radio division to a management role within Emmis Digital.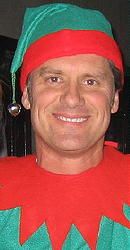 * * Former Comcast host Lisa Aprati has been named as Chief of Staff for Chicago Heights, where she has been almost a life-long resident. Aprati may be best known for her years working as an anchor, reporter, and producer for Comcast Cable Chicago, where she worked from 1991-2010. (Comcast was known as Jones Intercable when she started.) She also has been working at the Illinois Center for Broadcasting's ChicagolandSportsRadio.com Internet radio station. Most recently, she had been
hired to be the anchor
of the Town of Cicero's own local television cable access channel. She has left her Cicero television job to turn her full-time focus on her new Chief of Staff job. Aprati is no stranger to local politics. For twelve years, she has was Chicago Heights' 5th Ward Alderperson.
* * Famed Chicago sports talker Chet Coppock will be doing another live remote for his web show
"The Daily Coppock"
this coming Wednesday July 20th. Joining him will be special guests, including WGN-TV's Rich King and former Cubs great Milt Pappas. The live remote taping will be at The Sports Corner Bar & Grill, located at 952 W. Addison in Chicago's Wrigleyville, from 10:30am-Noon. Coppock will have swag to give away, such as gift cards, t-shirts and autographed books.
* * This fall TV season, WGN-TV & CLTV will begin airing the syndicated lifestyle and wellness show "Dr. Steve." The half-hour weekly show is owned by Tribune Broadcasting and stars Dr. Steven Salvatore, a board certified emergency medicine physician. After a successful test run on four Tribune-owned stations that began in April, the show will now be shown in a total of 17 markets, all on Tribune Broadcasting-owned & operated stations. Starting the weekend of September 17th, "Dr. Steve" will be able to be seen in Chicago on both WGN-TV and CLTV. (Show times to be determined.) Dr. Steven Salvatore also currently contributes occasional health reports to WGN-TV & CLTV newscasts. More information on the show can be found
HERE
.