Details

Published on Thursday, 15 September 2011 12:14
Some exceptionally rare Chicago television gems have been found and will soon be able to be seen once again. Be on the look out for flying rubber chickens and bad puns! Three complete episodes of WFLD-TV's "Screaming Yellow Theater" from the spring of 1973, all starring Jerry G. Bishop as the original "Svengoolie" as host, have been digitally restored and will be making their return next week.
The three newly found "Screaming Yellow Theater" shows, Episodes #59, #60 and #61, all come from March & April 1973, which was about six months before the classic local program came to an end. Thanks to donations made to the Museum of Classic Chicago Television, the website was able to create these beautiful digital transfers, bringing the long-lost shows back to life.
Former WFLD-TV director Don Shannon saved these original episodes on 2-inch Quadruplex videotape. The Museum of Classic Chicago Television (aka FuzzyMemories.TV) has carefully transferred the episodes from the old videotape into a clean-up digital format. Now, these three episodes, which have not been seen publicly in over 38 years, will be shown on
FuzzyMemories.TV website
starting on Monday, September 19th. The episodes will air in their entirety, but with the bad, low-budget B-movies (thankfully) edited out, leaving us with the only parts that matter: the zany humor of Jerry G. Bishop's Svengoolie.
UPDATE 4:45pm: The horror movies were not "edited out," but rather were not part of the videotapes donated to the Museum. Those contained only the hosted segments from WFLD-TV. (Clarification courtesy of Rich Koz.)
Episode #59 originally aired on March 30, 1973. The program featured as its special "guest coffin openers" the Chicago-based rock band Wilderness Road. The band had a decent following locally in the late 1960s and early 1970s with their counterculture rock & roll, releasing two albums. They also helped start up and run an underground comic book called "Snuk Comix" with underground artist Skip Williamson. The band and Svengoolie do a comedic musical duet, with Sven portraying "Johnny Check" (instead of Johnny
Cash
). Also seen on this episode are numerous sketches, including a visit from "Swami Heybebopareeebob," who advertises a restaurant in Bombay called "New Deli." The sketches were wrapped around two bad sixties horror movies: "Tomb of the Living Dead" and "Hypnotic Eye," both of which are not part of these clips.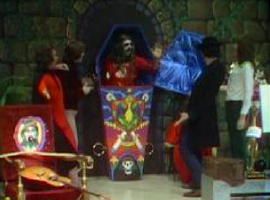 Episode #60 originally aired on April 6, 1973. The special guest for this episode Svengoolie referred to as his "loveliest guest ever." It was Tina McDowall, Penthouse Magazine's Penthouse Pet of the Year for 1972. Svengoolie has fun with the young lady from Scotland and flips through her "Pet of the Year" issue so he can "keep abreast of things." This episode also had Sven's "Golden Goolie Awards," where he honored a volunteer firefighter from California, who rescued a 350-pound woman from the fifth floor of a burning building, in spite of his weighing only 160 pounds. The sketches of this show were wrapped around two more bad sixties horror movies: "Creatures Revenge" and "I was a Teenage Werewolf," both of which are not part of these clips.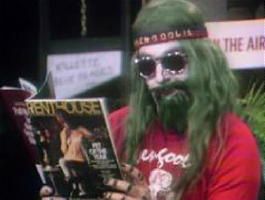 Episode #61 originally aired on April 13, 1973 -- Friday the 13th. Svengoolie had a very special guest this episode, one that will be very familiar to fans of Chicago radio. The guest that evening was WLS-AM/WCFL-AM's "Superjock" Larry Lujack. (He was the afternoon DJ for WCFL-AM in 1973.) Svengoolie & Lujack joke about the movies for that night's show together. Other segments in this episode include "The Galloping Goolmet" (a take off on "The Galloping Gourmet" Graham Kerr, who was a popular cooking show host & cookbook author in the 1960s & 1970s). Chef Sven cooks banana eel and sardine-stuffed prune mustard surprise with creamy chocolate sauce, which he describes as "perfect for entertaining those last-minute unexpected guests, like the night your lummox husband brought the Green Bay Packers home for dinner." The sketches of this show were wrapped around another two bad sixties horror movies: "Invisible Dr. Mabuse" and "Screaming Skull," both of which are not part of these clips.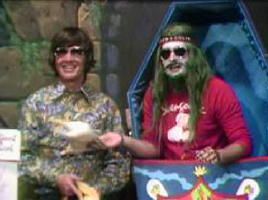 WFLD-TV's "Screaming Yellow Theater" aired from September 1970 until October 1973. Jerry G. Bishop, a locally known radio personality (most famously on WCFL-AM) and television announcer, happened to be the Friday night booth announcer at WFLD-TV, which is how he becmae part of "Screaming Yellow Theater." He originally only did off-camera voice-over work, announcing the movies of the night with a creepy accent, much like WGN-TV's "Creature Features" did. After a short while, WFLD-TV started adding still photos of Svengoolie on TV before & after the movies, which soon after turned into small pre-taped skits. The Svengoolie character as horror movie host became a smash hit. Chicago fans of all ages loved the undead hippie with the corny jokes.
The stage set-up became more & more elaborate over the course of the first year, although still purposely low-budget. Svengoolie's coffin went from a plain brown casket to the loudly-painted psychedelic coffin more commonly remembered by fans. Most episodes would feature a special guest coffin opener to start the show. Some shows would feature Sven playing guitar and doing parody songs, taking advantage of Jerry G. Bishop's previous musical skills. (He had recorded some rock/pop singles in the mid-60s.) Among the cast of characters on the show was a Bishop creation called Zelda, which was a talking, disembodied skull, usually wearing a wig and sometimes a hat, while making sarcastic remarks or singing (badly). Then there were the rubber chickens... Hundreds of them, thrown about each & every episode.
The shows were primarily written by Jerry G. Bishop, especially in the beginning, but eventually added writers. The most important writer was a young Northwestern college student, who was a great fan of the show and would always send in ideas, most of which Bishop loved. That young student was Rich Koz, who would later go on to become the "Son of Svengoolie" and a few years after that, just as "Svengoolie," all with Jerry G. Bishop's blessing.
"Screaming Yellow Theater" was canceled in 1973 after WFLD-TV was purchased by Kaiser Broadcasting, who wanted to use their own syndicated horror movie host from Ohio, "The Ghoul." Chicago fans rejected the out-of-state host and "The Ghoul" was gone six months later. The "Screaming Yellow Theater" shows never returned, though. It was not until summer 1979 that Rich Koz's "Son of Svengoolie" made its debut. Koz, a talented writer/comedian in his own right, wound up making the character his own and developed a loyal following which continues to this day.
Now ready to see the light of day again after almost 40 years, these three episodes with the original Svengoolie are coming back courtesy of The Museum of Classic Chicago Television. The online-only Museum features close to 4,000 video clips of rare Chicago television programs, commercials, movies, industry-only videos, and much more. It also contains many other classic Svengoolie clips from the early 70s, as well as Rich Koz's Svengoolie clips of the 80s and 90s.
Rick Klein, the President & Chief Curator of the Museum of Classic Chicago Television, takes great pride and care of restoring classic Chicago videos, making them available for the public to see once again, all free of charge.
On Monday, September 19th, the Museum, found at
FuzzyMemories.TV
will have the long-awaited digital debut of these classic Svengoolie episodes from 1973. All are welcome to view them... even fans from
BERWYNNNNN
.