Details

Published on Friday, 11 November 2011 11:11
In today's News & Notes, there are a cool dozen local media stories, including: Ginger Zee in a New York state of mind, Janet Davies celebrates #500, Byron Harlan returns to weekend news, Allison Payne writes a touching blog about Art Porter, Dick Biondi is feeling chili tomorrow, WGCI's Connie is helping out up & coming hip hop artists, Cara Carriveau makes a couple of appearances, CHIRP goes on a record store crawl, WXRT will be rhymin' with Simon, Shannon Beverly is shinin' with a shiny new ring, WGN-TV rings in the holidays and brings back a seasonal favorite, and WLS-TV brings back Diane Pathieu. Details can all be found below...
* * Former WMAQ-TV meteorologist Ginger Zee makes her official debut on ABC-TV's Good Morning America tomorrow morning. While others had mentioned that Ginger Zee was looking to leave WMAQ-TV, in
early September
, this site was the first in the country to unveil that she was heading to New York to be the weather anchor on the weekend edition of "GMA," as well as the principal weekday morning fill-in, with an eye on possible moving to that role full-time in the future. She is already settled in to her new Manhattan apartment and is excited for the new opportunity.
Zee at her GMA introductory video shoot inside her new apartment:
* * This weekend on WLS-TV, Janet Davies will be presenting a very special episode of the local entertainment and lifestyle program, "190 North." Not only is Sunday the 13th of the month, but the show that night is also being called the 13th anniversary for "190 North." More than that, it is the show's milestone 500 episode. The show is now among the longest running local shows in Chicago television history. As it gets ready for its next 13 years and 500 episodes, the show will unveil its new look and new theme song at a new time: 11:00pm Sunday nights (25 minutes later than its previous time). For it's 13th anniversary, the special show will air 13 stories, suggested by fans on its Facebook page. Janet Davies is the host, executive producer, and creator of "190 North," which made its debut in July 1998. The new Sunday night shows are repeated the following Saturday night at 11:00pm.
* * Congratulations to former WFLD-TV weekend anchor Byron Harlan! Two weeks ago he announced on his
Facebook page
that he was about to sign a contract to return to weekend news anchoring and reporting. He is now back in his hometown of San Diego, CA, working for KUSI-TV, an independent local news station. Harlan worked at WFLD-TV from July 1997 until March 2010, when he was among the many station veterans forced out by the current News Director and General Manager. In September 2010, Byron Harlan, a longtime Financial Services Representative for the Harper Wealth Management Group, began co-hosting a weekend radio on WLS-AM called "Money Talks." At the start of this year, the show shifted to WIND-AM and was renamed "Talkin' Money with Harlan & Harper." Now living in sunny San Diego, Harlan will continue to also work as a financial adviser during the week.
* * Last night, former WGN-TV anchor Allison Payne wrote a very touching blog on her website. The subject of the blog is former WGCI-FM/WVAZ-FM Producer Art Porter. It talks about Porter, the super-talented radio & television staffer and his incredible Rolodex of famous names, but also shows a sweet & softer side of Payne. It can be read at this link
HERE
.
* * Tomorrow will be the "Rockin' Chili Fest," a fundraiser for Wheaton VFW Post 2164! WLS-FM's legendary nighttime DJ Dick Biondi will be making an appearance at the event to shake hands and chat with the attendees. It will take place Saturday from 1:00pm-7:00pm at the VFW hall on the corner of Geneva and Papworth Streets in Wheaton. Chili at the fundraiser is $10.
* * Tomorrow, beginning at 3:00pm will be the Chi-City Record Pool -- a large music symposium to help stimulate Chicago's local music scene, as well as to teach & encourage aspiring music professionals skills & techniques that are needed to compete in a growing global music economy. WGCI-FM's nighttime personality Consuella Williams, aka Connie, will be hosting the "Download Or Delete" showcase, which will be held at Adrianna's Club and Ballroom (16300 S. Dixie Hwy, Markham, IL). For more information on the Chi-City Record Pool: Music Symposium or how to meet Connie, visit this link
HERE
.
* * There will be a pair of opportunities to meet & greet WTMX-FM's Cara Carriveau this weekend, as she will be doing two different live appearances in the suburbs for her station. On Saturday, Cara and The Mix Road Crew will be at the Floor and Decor Grand Opening and Design Party in Lombard (53rd and North Avenue) from 3:00pm-5:00pm. On Sunday, Cara and The Mix Road Crew will be at the Verizon Wireless Communications Store in Joliet (Mall Loop Drive and Route 30) from 1:00pm-3:00pm. She will be giving away prizes at both of the weekend stops.
* * CHIRP, the Chicago Independent Radio Project, is hosting their first-ever CHIRP Radio Record Crawl on Sunday morning. In a large group, participants will visit six different independent record stores in Chicago. The stores and times are:
10:45am-11:00am: Atomix Coffee Shop (1957 W. Chicago Ave.) -- Starting point. Coffee discount with badge.
11:00am: Permanent Records (1914 W. Chicago Ave.)
Noon: Dusty Groove America (1120 N. Ashland Ave.)
1:00pm: Favorite Records (1535 W. Division St.)
3:30pm: Saki (3716 W. Fullerton Ave.)
4:30 pm: Logan Hardware (2410 W. Fullerton Ave.)
5:30 pm: Laurie's Planet of Sound (4639 N. Lincoln Ave.)
Participants are also invited to stay for an "after party" at Laurie's Planet of Sound, featuring food, drinks, and plenty of music. To get your "golden ticket" -- a limited-edition, gold Record Crawl badge, which gives special discounts & gifts exclusively for the CHIRP Record Crawl participants -- send an email to
This email address is being protected from spambots. You need JavaScript enabled to view it.
right away.
* * Singer-songwriter icon Paul Simon may be playing his third sold-out Chicagoland concert this year on Sunday, but he is doing something for the first time ever. Paul Simon has given permission for WXRT-FM to air this coming Sunday night's concert from the Rosemont Theatre live on the air, something never allowed before. The live streaming on the radio and website is scheduled to begin at 8:00pm Sunday.
* * Congratulations to WWWN-FM news writer/editor Shannon Beverly. She and her longtime boyfriend Justin are now engaged.
* * WGN-TV will be getting Chicago viewers into the holiday spirit on Thanksgiving morning. Not only will it be airing live coverage of the 78th annual McDonald's Thanksgiving Parade from 8:00am-11:00am, but that will be immediately followed up by the station's most-requested annual special, "Bozo, Gar & Ray: WGN TV Classics." It will air from 11:00am-1:00pm. The special from 2005, hosted by Dean Richards, has been digitally remastered this year. As the name suggests, "Bozo, Gar & Ray" looks back at three of WGN-TV's most beloved television series: "Bozo's Circus," "Garfield Goose and Friends" and "Ray Rayner and His Friends." Best of all, the special airs in their entirety, the famous trilogy of 1950s holiday favorites "Hardrock, Coco and Joe," "Suzy Snowflake" and "Frosty the Snowman." For those who miss it, the "Bozo, Gar & Ray" special will be repeated on Christmas Eve at 9:30pm.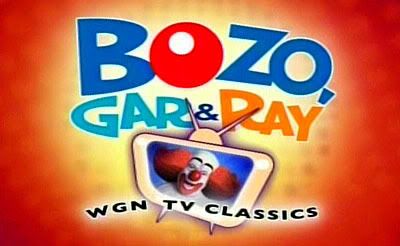 * * WLS-TV is bringing on Diane Pathieu as a general assignment reporter on a part-time freelance basis beginning on December 10th. She will work primarily as a reporter on the weekend morning newscasts, with occasional assignments during other newscasts throughout the week. Pathieu is a Chicago native (Rogers Park), who is excited to be working in television in her home town -- her life-long dream. The Columbia College Chicago graduate got her start working as an assignment editor and production assistant for Shadow Traffic in Chicago and interning at WMAQ-TV. She paid her dues working at small market TV stations in Dubuque and Cedar Rapids, IA, before joining WTMJ-TV in Milwaukee, WI in 2005. Welcome home, Dianne!