Details

Published on Wednesday, 01 February 2012 08:57
According to numerous reports, Don Cornelius, the former Chicago radio personality and creator/host of the iconic "Soul Train" television show, has died. Reports claim that Cornelius was found in his at his Mulholland Drive home in Los Angeles at approximately 4:00am (PST), dead from an apparent self-inflicted gunshot wound to his own head, in what looks to be a suicide. He was officially pronounced dead at 4:56am at Cedars-Sinai Medical Center. Authorities are investigating deeper.
Donald Cortez Cornelius was born in Chicago on September 27, 1936. He worked quite a few other jobs before he became nationally famous. He was an insurance salesman, a cartoonist, a writer, a journalist, and a traffic police officer. It is said that he was "discovered" by WVON-AM radio announcer/news director Roy Wood. After Officer Cornelius pulled over Wood for a traffic violation, Wood so loved the quality of Cornelius' soulful voice, that he convinced him to come down to the radio station and make a demo reel. Cornelius eventually signed up with a local broadcasting school, took Roy Wood up on that offer and the rest is history. (Supposedly, Wood still was given the traffic ticket.)
Don Cornelius was a part-time DJ and news anchor for Chicago's WVON-AM in the mid-1960's (starting in 1966). He had also been hired to use his cool, deep voice to do some station announcing and sports anchoring for WCIU-TV.
As many DJs did in the 60's to make extra cash, Cornelius emceed concerts, "record hops," and high-school dances around the Chicago area, calling these events "The Soul Train." WCIU-TV and Cornelius thought it would be fun to bring these types of live events to television. They sought to combine the excitement of the Cornelius-hosted live events with the format of TV's "American Bandstand." Cornelius shot and produced the pilot for the show on his own, using $400 of his own money. WCIU-TV loved the pilot and signed it up right away. The locally produced, locally-only shown daily dance show called "Soul Train" began airing on WCIU-TV in August 1970. The initially very low-budget show was shot & aired live in the later afternoons, right after Chicago schools let out, to help draw in the younger viewers. It was an almost instant hit in Chicago. Just over one year later, in October 1971, the show was moved to Los Angeles and became a nationally syndicated weekly smash, eventually being seen in almost 100 markets.
More than that, the program, in its prime, was a cultural phenomenon and historically important program. Not only did "Soul Train" help to launch or springboard up the careers of numerous artists, the show simplistically helped break down racial barriers that still existed in the 1970's. Black artists, music, fashion, dance styles, culture -- even Black commercials -- that were not previously widely seen by White, middle-class America, were being shown to the masses, and being openly accepted and appreciated in homes nationwide, thanks to popularity of "Soul Train."
The show's creator and producer, Don Cornelius, hosted the program from its start until 1993. The show itself lasted until 2006, with various other hosts, but none had the magic touch or cool charisma of Cornelius. The show currently holds the distinction the longest-running, nationally syndicated program in television history. (At least for a few more years, until "Entertainment Tonight" and/or "Wheel of Fortune" will surpass it).
The City of Chicago honored Cornelius and "Soul Train" last summer with the first-ever
"Soul Train" Photo Exhibition
at a Chicago gallery (which also featured "Soul Train" dances on weekend nights), by announcing the honorary naming of a street after him, and with a giant
"Soul Train 40th Anniversary Concert"
on Labor Day at Millennium Park's Jay Pritzker Pavilion, with Don Cornelius himself at the show.
Cornelius was said to have been in ill health and suffering from various ailments in recent years. He went through a ugly divorce in 2009, ending a bitter marriage that had very public fights and incidents.
Despite how his life may have ended, it is how he lived his life, the paths he blazed, and all the countless of hours of incredible music & entertainment that he gave to a worldwide audience, which will be remembered forever.
As the man himself would say as he ended his weekly "Soul Train" program:
"...And you can bet your last money, it's all gonna be a stone gas, honey. I'm Don Cornelius, and as always in parting, we wish you love, peace and soul!"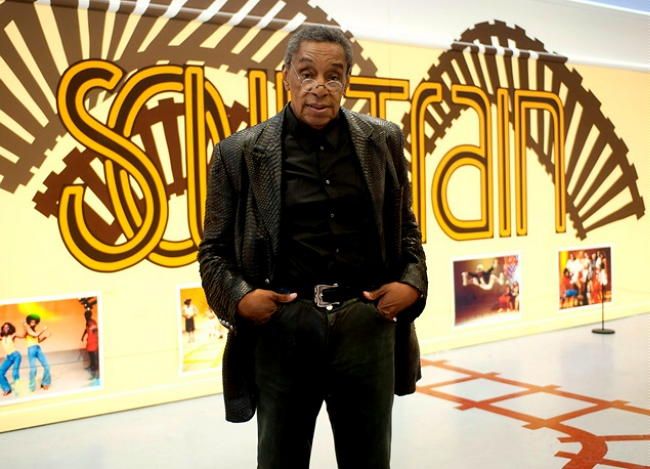 Don Cornelius in Chicago - 2011
Photo credit: Paul Natkin