Details

Published on Thursday, 02 February 2012 08:31
A large helping of local media stories in this morning's News & Notes, including: a radio reunion for Mike North & Dan Jiggetts; a new website for Rewind 100.3; a new Cubs song contest for WGN Radio; a new radio show for WVON-AM; the cost of the Tribune Company bankruptcy rises; an honor for John H. Johnson; a new political show for Carol Marin & Mary Ann Ahern; an honor for Allison Rosati; and the changes keep on comin' at WFLD-TV. All of the details are right here...
* * Mike North will be filling in for Steve Cochran on WIND-AM 560 on Friday from 5:00pm-7:00pm. He will be talking about this Sunday's Super Bowl, as well as about current events, and even a little politics. (It
is
WIND-AM, after all.) Best of all, joining North as his special guest will be Dan Jiggetts, his former on-air partner on WSCR-AM, as well as on TV (CSN, WBBM-TV) and in their former Chicago Sun-Times column together. It will be a reunion of the "Monsters of the Midday" ...only it won't be on in the midday. It will take place on the radio this Friday evening. As North & Jiggs used to say on the Score... "
Beeee-U-tiful!
"
* * WILV-FM/Rewind 100.3 has unveiled their dynamic new website this week -- a huge upgrade over their last website. It can be seen at
WILV.com
. Also, as of yesterday, morning show host Robert Murphy has begun giving away a trip a day to Mexico. Details on this contest can be found on the website.
* * WGN-AM is holding a contest to see who can come up with the next big song about the Chicago Cubs. The winning song could be used as the Cubs official song of the 2012 baseball season. Those interested in winning must submit the song in MP3 form before the end of this month. The song must be under four minutes, must clearly say WGN Radio and the Chicago Cubs, but cannot mention any Cubs players or personnel by name (so as not to make the song feel dated in future seasons and for legal reasons). Starting next month, fans will be able to select which of the top entries they like best on the WGN Radio website. The winner will be able to perform the song live on Jonathon Brandmeier's Opening Day radio broadcast on April 5th. More details on the contest can be found
HERE
.
* * The newest talk show on WVON-AM is "Talk it Out with Maze and Monique." The live and local talk show stars Maze Jackson and Monique Spence. Maze Jackson is the President of Compass Public Affairs, LLC and a lobbyist with The Roosevelt Group. He previously was the Statewide Field Director for Illinois Governor Pat Quinn, the Founder/President/CEO of Universal MazJac Enterprises, and was Director of Urban Marketing for Montgomery, Zukerman, and Davis. Monique Spence is a speaker and entrepreneur. She is the owner of marketing company Brand You Inc. and fashion company Redefine The Tee, and also worked for the music industry in the past. Part of the "charm" of the show with Jackson and Spence is that they rarely agree with each other about anything. Also part of the show is their social media assistant, Tenille Brooks, who keeps the debates going on the show's Twitter and Facebook accounts. For right now, "Talk it Out with Maze and Monique" is weekly only, airing on Thursday nights from 7:00pm-10:00pm.
* * According to Crain's Chicago Business' Lynne Marek
this week
, between attorney/legal fees, and attorney expenses, Tribune Company has spent close to $231 million dollars on dealing with its three-year old bankruptcy and the media corporation's struggles to exit that bankruptcy. This information came from Tribune Company's monthly operating report filed with the U.S. Bankruptcy court last week. It will be at least Summer before a Bankruptcy Judge makes a decision on this long, dragged-out case.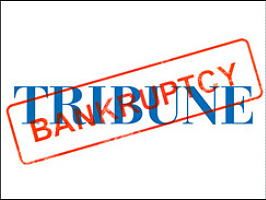 * * Famed Chicago Publisher John H. Johnson, who created Ebony and Jet magazines with his Chicago-based Johnson Publishing Company, is being honored this year by the U.S. Postal Service. Johnson is the latest to be featured on the USPS Black Heritage stamp. The postage stamp is one of the USPS' "forever stamps," meaning that even if the postage price increases in the future, the stamp will still be able to be used to cover 1st Class postage, regardless of the 45 cents price paid for it. In 1982, Johnson became the first African-American named to the Forbes list of the 400 wealthiest people in America. Johnson, a giant in the media industry, passed away in 2005 at the age of 87.
* * WMAQ-TV announced yesterday that it will be expanding
"Ward Room,"
the political blog found on the NBC Chicago website, into a weekly 30 minute news magazine show. The program, which premieres tomorrow night, will be hosted by WMAQ-TV's political team of Carol Marin and Mary Ann Ahern. Each show, Marin and Ahern will interview state and local political figures and discuss the top political stories of that week. The show will be aired on WMAQ-TV's digital sub-channel, Chicago Nonstop each Friday at 7:00pm, filling the vacancy left from when the "Brandmeier" show ended. For those that miss the initial airing at that time, The "Ward Room" television show will be repeated throughout the weekend. Chicago Nonstop can be seen on channel 5.2. NBC 5 launched the online "Ward Room" blog
in March 2010
.
* * Casa Italia, Chicagoland's Italian-American Cultural Center & preservation/promotion organization, will be having their annual fundraising gala dinner dance later this month. The event will honor WMAQ-TV's longtime news anchor Allison Rosati as its Woman of the Year. The gala honoring Rosati will take place at Alta Villa Banquets
 (430 N. Addison Rd, Addison) on February 18th. Tickets are $85 each and include a sit down dinner, buffet, open bar, and live entertainment. Tickets and more information can be found
HERE
.
* * There are further signs that Phyllis Schwartz is next in line to replace Mike Renda as Vice President and General Manager of WFLD-TV... and possibly sooner than later. According to insiders at the station, since the
hiring of Schwartz
, Renda has not been seen at all in the newsroom, and only barely seen at all at the station. Also, it has been revealed to CRM that Phyllis Schwartz has a contract which each month gives her three weeks in Chicago and one week at her home outside of San Diego with her family. (Her husband and family are not making the move back to Chicago.) Flexible contracts like this are a rarity for someone who is "just" a News Director, as people in this position need to be part of the newsroom fairly consistently. Additionally,
newly hired
Assistant News Director Chris Myers is getting quickly accustomed to the WFLD newsroom and appears ready to be much more than just an "Assistant" there. It would seem to most observers that larger roles are in the future for Schwartz and Myers, while Renda's role continues to shrink. Mike Renda's contract as WFLD-TV's VP/GM has just under seven months left to it.