Details

Published on Thursday, 16 February 2012 11:09
WBBM-TV/CBS 2 Chicago has finally filled the seven and a half month vacancy for their morning newscasts. Fox News Channel's Dallas/Southwest Bureau reporter Kris Gutierrez will now be the new co-anchor of the early morning news, beginning on Monday, March 12th.
Beginning next month, Gutierrez will co-anchor the newscasts, alongside Susan Carlson, from 4:30am-7:00am. He replaces Steve Bartelstein who exited at the start of July 2011, approximately two months before the expiration of his one-year contract, which was not being renewed. Weekend news anchor Jim Williams had been filling in since Bartelstein's exit, as well as continuing to do the weekend shifts. Williams will now be returning to weekends only, as well as now being able to return to reporting for newscasts during the week.
Kris Gutierrez joined Fox News Channel in February 2007, covering primarily news reports from Texas, Oklahoma, Louisiana and Arkansas. He previously worked as a reporter and occasional fill-in anchor at various Texas television stations such as Houston's KPRC-TV, Austin's KVUE-TV, and Sherman's KXII-TV. His reporting skills have earned him several Texas Emmy Awards.
Gutierrez, a native of Dallas, TX, graduated from Texas Christian University with a Bachelor's Degree in Broadcast Journalism. While there in the late 1990s, he was also a news writer/reporter for TCU's newswire, The Daily Skiff.
Jeff Kiernan, WBBM-TV's Vice President and News Director, said in a statement today: "Kris has an incredible depth of news experience -- on a local and national level -- and I am thrilled to welcome him to our morning news team. He will bring a new energy and fresh perspective to our early morning news show and I'm confident viewers will enjoy his broadcast style."
Gutierrez is a conservative, religious man, who has described himself on his
Twitter page
as "Believer, Husband, Father and a Fox News Channel Correspondent." Regarding the news of the announcement of his WBBM-TV hire, Gutierrez tweated "God is good." He is married with two children.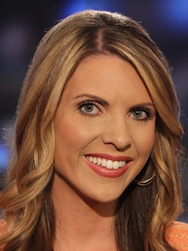 His wife Krystal Gutierrez is also a TV news anchor/reporter. She has been with Dallas, TX's FOX station, KDFW-TV as a reporter and fill-in anchor, working primarily on the "Good Morning" program, since 2007. She had worked at various other Texas television stations prior to that. Since last September, she had been working for KDFW-TV as a freelancer, with no contract. That was done on purpose, as her husband, Kris, was then in negotiations with WBBM-TV in Chicago and she wanted the freedom to be able to move with him across the country. She announced to the Dallas/Fort Worth television station this week that she will and her family are now moving to Chicago and she will be unable to do any more reporting for them.
As of now, Krystal Gutierrez has not yet been hired as a reporter by WBBM-TV.
The March 12th start date will have new Texas transplant, Kris Gutierrez, going head-to-head with WMAQ-TV's new Texas transplant,
Daniella Guzman
, who is tentatively also scheduled to start as morning news co-anchor on March 12th. Guzman is coming to Chicago via Houston, TX.