Details

Published on Tuesday, 13 March 2012 17:04
Today's News & Notes has eight local media stories, including: The Score ready to get roasted; North & Jiggetts caught on tape; Daniel Carcillo sticking around for a couple more years; WGN-AM gets in Tune; Chicago Reader looking for a buyer; Crain's Chicago Business officially has a new Editor; some new Chicago TV show filming; and some terribly sad news for Roy Leonard. All of the stories are just below.
* * WSCR-AM/670 The Score has held a few roasts in the past, skewering local sports figures. This year, the tables are turned as they will be throwing a roast for themselves. It's all part of their
20th Anniversary celebrations
going on all year. The Score's 20th Anniversary Celebration Roast will take place on April 13th (yes, the next Friday the 13th) at 7:00pm at Belvedere Events and Banquets, located at 1170 W. Devon Avenue in Elk Grove Village, IL. Many of the Score's hosts and staffers -- both current and from its past 20 years -- should be there, along with some very special guest roasters. (Full line-up will be revealed soon.) Tickets cost $100 each and are on sale now at this link
HERE
. Seating is limited, and as with past Score roasts, this one is expected to sell out fast. (Ages 21 & older only.) More information can be found by calling the Score's "Roast Hotline" at 312-729-3944.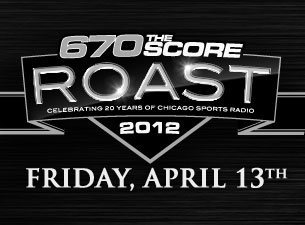 * * Speaking of the Score's 20th Anniversary, last week, original WSCR-AM hosts Mike North & Dan Jiggetts held their "Monsters 20th Anniversary Special" live event at the Million Room Restaurant, located inside Arlington Park Racetrack. The event was completely sold out, with standing room only. For those who could not make it to the show, or for those who were there but want to have a video memory of the event, it was recorded. The special event, was originally going to be edited down to a one-hour video, but with so many guests and fun memories, it was extended out to an 80 minute video. This special is now the very first program offered by a new premium on-demand service from Mike North, found on his website NorthToNorth.com. Additionally, for a limited time only, the "Monsters 20th Anniversary Special" can be downloaded from any of the many websites listed here:
Jiggetts and North (www.JiggettsandNorth.com)
WIND-AM 560 (www.560WIND.com)
WCIU-TV Channel 26(www.wciu.com)
The Daily Herald (www.DailyHerald.com)
Fox Sports Radio (www.FoxSportsRadio.com)
Big Ten Network (www.BTN.com)
Pro Football Weekly (www.ProFootballWeekly.com)
The Custom Companies (www.CustomCo.com)
Flood Bros. Disposal (www.floodbrothersdisposal.com)
American Mattress (www.AmericanMattress.com)
Vienna Beef (www.ViennaBeef.com)
The on-demand video can be purchased for only $4.99. A portion of the proceeds from the video's purchase will be donated to the Rory David Deutsch Foundation to benefit pediatric brain cancer research.
* * The fans of WGN-AM who were unhappy with the occasional weekend classic rock music show, "The Bomb Shelter," may not like this news... The host of that show, Daniel Carcillo, was re-signed by the Chicago Blackhawks for two more years. Carcillo was previously signed to only a one-year deal with the Blackhawks and spent much of the first part of this season out with various NHL mandated suspensions or for injuries. He is out for the rest of this season due to knee surgery. Many were surprised by this resigning, especially since his replacement, Andrew Shaw, has been a big lift to the team, without the many controversies or health issues. Now many are wondering if this also means two more seasons of "The Bomb Shelter" show on WGN Radio's weekend schedule during the fall & winter months.
* * Speaking of WGN-AM, there is yet another way to listen to the radio station now. The TuneIn radio streaming app and online aggregator has been given permission to stream WGN Radio. WGN-AM will continue to also stream on its own app and website, as well.
* * According to a
report
in Crain's Chicago Business this week, alternative weekly newspaper the Chicago Reader is being shopped around by an agency hired by its owner, Creative Loafing. Among the organizations approached has been the Chicago Sun-Times' new owner, Wrapports, LLC. In August 2009, the bankruptcy court allowed Creative Loafing's chief creditor, Atalaya Capital Management to take over the company and its properties, but the New York-based private equity firm had no desire to be a long-term publishing company. Since taking over, Atalaya has been slowly selling of properties and cutting expenses. It would appear that the Chicago Reader is next on its list to unload. Despite half-hearted denials by Reader media columnist Michael Miner
yesterday
, the report in Crain's Chicago Business appears to be solid. The article's writer, Lynne Marek, is the same person who revealed last December's sale of the Chicago Sun-Times to Wrapports, LLC weeks before it happened. At that time, the Sun-Times issued similar half-hearted denials.
* * Speaking of Crain's Chicago Business, at the end of last week, the publication
announced
that Michael Arndt has been promoted to Editor. Since September 2010, Arndt had been Crain's Managing Editor. Prior to joining Crain's, Arndt was with Bloomberg Businessweek, BW Chicago, and the Chicago Tribune.
* * If while driving around town in the next week or two, you observe numerous film crews out, there is a good reason for that. Two television pilots are being filmed here in the next week. "Chicago Fire" is a pilot for a dramatic series for NBC and "Dirty Medicine," a pilot for a drama being made for FOX-TV. Additionally, the highly-acclaimed Starz television series "Boss" begins filming its second season in and around Chicago this week. The (unofficially) outbound "Rosie Show" and the
incoming "Steve Harvey" show
are far from the only TV show filming Chicago has going on.
* * Sincere condolences go out to Chicago broadcasting legend Roy Leonard on the loss of his wife Sheila. The two married over 58 years ago, on October 11, 1953, and have been nearly inseparable ever since, raising six children together, and being the proud grandparents of eight children.