Details

Published on Monday, 09 April 2012 15:26
Todays' News & Notes features a large amount of stories from Chicago's media beat, including: Dan McNeil makes his return; WSCR gets ready to roast; the late Mike Wallace's Chicago media roots; Charles Thomas & Val Warner emcee a giant event; Chris Payne & Jaime Black together again for a live & web event; Christian Picciolini says goodbye for now; Svengoolie gets comical on Saturday; and WARG-FM spends its spring break looking for donations. It can all be read just below...
* * WSCR-AM's midday star Dan McNeil made his triumphant return to the Chicago airwaves earlier today. McNeil had been on a
personal leave of absence
since finishing his show on Friday, February 24th for "health and wellness" issues. At the end of last month, McNeil
announced
he would be returning on today. Before getting into the regular sports talk, McNeil decided to begin his first show back this morning by addressing the "800 pound gorilla sitting in the room" and mentioned his reasons for the extended absence. It had to do with severe depression he had been dealing with. After deciding to get off of his anti-depression medicine (without doctor advice), he was thrown into a deep, dark place and had what he described as a nervous breakdown. He then took the time off to get help for his mental & physical depression issues, as well as choosing to get healthy by getting clean from all other unhealthy substances at the same time. McNeil says he now feels good and was ready to get back in the saddle by being back on the airwaves. He gave thanks to his wife and sons, WSCR-AM Program Director Mitch Rosen, his on-air partner Matt Spiegel, his co-workers, and his fans who sent in messages of support. Those who would like to hear the first segment of the McNeil & Spiegel Show with Danny Mac's entire explanation can do so
HERE
.
* * Speaking of WSCR-AM, for those who were considering going to this Friday night's Score 20th Anniversary party, there truly are only a handful of tickets left. The Score's 20th Anniversary Celebration Roast will take place in four days at 7:00pm at Belvedere Events and Banquets, located at 1170 W. Devon Avenue in Elk Grove Village, IL. Many of the Score's hosts and staffers -- both current and from its past 20 years -- will be there, along with some very special guests. If it hasn't already sold out, tickets can be purchased
HERE
. (Ages 21 & older only.) More information can be found by calling the Score's "Roast Hotline" at 312-729-3944. For reasons which should be pretty obvious by reading the item above, WSCR-AM's Dan McNeil will unfortunately not be able to attend this event.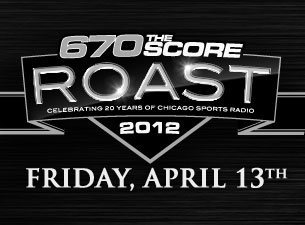 * * Mike Wallace, one of the most famous and well-respected newsmen in history, passed away this weekend at the age of 93. Although he is best known for his almost 40 years as part of CBS-TV's "60 Minutes," many do not realize that he spent a great many years as a radio and television announcer/host here in Chicago before that. Wallace first began his media career as a radio newscaster in 1939 at Grand Rapids, MI's WOOD-AM. After a year, he moved to Detroit to become an announcer, and a year after that, he was recruited to come work in Chicago. From 1941 through to 1951, Mike Wallace worked in Chicago radio and television, with the exception of a 1943-1946, when he joined the Navy to fight in World War II. As a popular freelance announcer in Chicago, he did everything from commercials, to game shows, to wrestling matches, to comedies, to dramas, to interview shows. In the early 1950s, CBS brought Wallace to New York, along with his then-wife Buff Cobb, an actress that did a radio show with Wallace in Chicago. Once in New York, his star continued to rise. In 1968, CBS asked Wallace to join a brand new TV newsmagazine show they were beginning called "60 Minutes." At the same time, he was offered a job as Richard Nixon's press secretary. He chose to stick with CBS and become an original investigative reporter & anchor for "60 Minutes." His final work for "60 Minutes" was in 2008.
* * Chicago's DuSable Museum of African-American History is holding its annual black-tie gala "A Night of 100 Stars" this Saturday night at the museum (740 E. 56th Place, Chicago) starting at 6:00pm. Among those being honored at this year's event are syndicated radio host & Chicago native Michael Baisden and star of a Chicago-based reality courtroom television show Judge Greg Mathis. WLS-TV is the media sponsor for the event. Thanks to that sponsorship, WLS-TV's Charles Thomas and Val Warner will serve as the hosts for the evening. More details on the 2012 Night of 100 Stars can be found
HERE
.
* * Chicago's Dynasty Podcasts has announced its second installment in their Rockit.LIVE event series. The next live panelcast will be taking place on Wednesday, April 18th at 6:00pm at Rockit Bar & Grill - River North, located at 22 W. Hubbard Street in Chicago. The theme of this event is "What Happened To The Chicago Rock Scene?" Among the panelists will be former Q101/"Local 101" host Chris Payne, former JBTV Executive Producer/General Manager Christian Picciolini, RubyHornet.com Editor/Journalist Alex "DJ RTC" Fruchter, and Kill Hannahh bassist Greg Corner. The host will again be Jaime Black, the creator of Dynasty Podcasts and former producer/contributor/digital media manager of WKQX-FM/Q101's long-running local music showcase "Live 101." He is also the host of Dynasty Podcasts' excellent local music podcast, ChicagoVerseUniteD, and a freelance music journalist. The live panel will be discussing the shifting/disappearing rock climate in the local Chicago music world. As was the case in
last month's initial Rockit.LIVE event
, for those who can't attend in person, it will be streamed live via the Dynasty Podcasts' Mixlr and Ustream channels. Additionally, the panel event will later be released as an audio and video Dynasty Podcast.
* * Speaking of Christian Picciolini... today was his last day as JBTV's Executive Producer/General Manager, a position he has held since January 2010. Under Picciolini's leadership, the local television show, expanded to a bigger budget program with new & exciting hosts and segments. It also was signed to WMAQ-TV's Chicago Nonstop station, which led to the program becoming a seen nationwide via NBC's Nonstop network. He has voluntarily stepped down to embark on a new project which will be named tomorrow.
* * Fans of both comics and Svengoolie need to head down to McCormick Place this weekend. The huge C2E2 (Chicago Comic and Entertainment Expo) convention is going on from Friday through Sunday. WCIU-TV's Svengoolie will be there on Saturday, April 14th from 2:00pm-4:00pm. Unlike many of the other special guest stars at the event, Svengoolie will not be charging to take a photo with him or get his autograph. BYORC, though. (Bring your own rubber chicken.) Sven will be at Table #3, but get in line early, because he can't stay past 4:00pm. More info about the C2E2 event can be found
HERE
.
* * In an effort to raise funds to upgrade its equipment, high school student-run radio station WARG-FM 88.9 is holding its 10th annual Spring Break Radiothon this week through Saturday, April 14th. Students and alumni will be hosting shows for requests and donations live between Noon & Midnight each day. Listeners can donate via PayPal (to
This email address is being protected from spambots. You need JavaScript enabled to view it.
) or by mailing a check to: WARG Radio, 7329 West 63rd Street, Summit, IL 60501.