Details

Published on Wednesday, 25 April 2012 16:49
WMAQ-TV/NBC5 made a few announcements today regarding its weekend news anchors. Seeing promotions as of May 5th will be Anthony Ponce and Dick Johnson.
Anthony Ponce, who has been the main fill-in on the weekend morning newscasts since Stefan Holt was promoted to weekday mornings
in February
, will now get the "fill-in" tag removed. He has been named as the new weekend morning news anchor, working alongside WMAQ-TV veteran Kim Vatis.
WMAQ-TV broadcasts two hours of morning newscasts each Saturday and Sunday: 6:00am-7:00am/9:00am-10:00am on Saturdays and 6:00am-7:00am/8:00am-9:00am Sundays.
Ponce first joined NBC5 News in June 2007 as a general assignment reporter. Prior to his time at NBC5, Ponce worked as a reporter at TV stations in Indianapolis and Fort Wayne, IN.
Like his co-workers Stefan Holt & Lauren Jiggetts, Anthony Ponce is the son of a famous Chicago media star. His father, Phil Ponce, is the former longtime WBBM-TV reporter and WTTW-TV correspondent, and current host of WTTW-TV's "Chicago Tonight." His brother Dan Ponce is a former reporter for WLS-TV and current reporter for WGN-TV.
In addition to his work with WMAQ-TV, Anthony Ponce co-hosts a live weekend radio talk show with his brother Dan on WLS-AM. That show can be heard Sundays from 1:00pm-3:00pm on AM 890.
Frank Whittaker, WMAQ-TV's Station Manager/Vice President of News, said in a statement earlier today: "I am very pleased that Anthony Ponce will now officially become co-anchor of our weekend morning newscasts alongside Kim Vatis. Anthony has done a terrific job on the weekends following Stefan Holt's promotion."
The other announced change today was that of Dick Johnson adding the Saturday evening 5:00pm and 10:00pm newscasts to his duties. Johnson is already anchoring the Sunday evening 5:00pm and 10:00pm newscasts. He will continue to be the main fill-in anchor for weeknight newscasts, as needed.
Johnson has been with WMAQ-TV, serving as both a news reporter and anchor since since 2002. Prior to his time at NBC5, Johnson worked for 20 years as an anchor/reporter for WLS-TV. He previously worked in Dallas and Indianapolis as a reporter.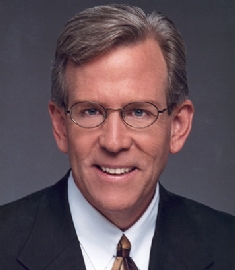 With Johnson moving to Saturday night anchor duties, the move displaces Lisa Parker from her position as Saturday evening anchor. Parker will now return to full-time duty as a "Target 5" consumer reporter, and also serve as fill-in news anchor.
Parker has been with WMAQ-TV since 1996. She was the initial reporter for the station's "Target 5" consumer-investigative unit. Parker previously worked in TV news in Norfolk, VA, Green Bay, WI, and Waterloo, IA.
Regarding the moves with Johnson and Parker, WMAQ-TV's Frank Whittaker said in a statement today: "Dick Johnson's anchoring of both Saturday and Sunday will allow for more consistency in our weekend newscasts and he will continue to fill-in during the week. Lisa Parker has proven to be the preeminent consumer reporter in town, and we are excited to get back to her beat full-time."
All of the above changes become official as of one week from this coming Saturday.