Details

Published on Monday, 07 May 2012 14:49
It's another gigantic News & Notes with 15 local media stories, including: WTTW/WFMT hold a gala fundraiser; WBEZ may be increasing exposure to Vocalo; Brotha Fred increases his exposure in North Carolina; WKSC increases its lineup for Fantabuloso; Catherine Johns speaks at a Women's Expo; Sherman does fill-in radio work near Chicago; John St. Augustine does fill-in radio work nationally; Bart Shore increases his exposure on the Internet; Scott Alan repeats himself; Pete Siegal expands his family; Ryan Chiaverini & Valerie Warner emcee a PR event; CLTV hosts a political debate; Diann Burns is a reporter on "Boss"; Jim Johnson's daughter finds a new job closer to home; and Coco returns to Chicago. Greater detail is just below...
* * Window to the World Communications' two local media outlets -- WTTW-TV and WFMT-FM -- will be holding their joint annual benefit this Wednesday at 6:30pm at the Harris Theater for Music and Dance (205 E. Randolph Drive, Chicago). The proceeds will go towards supporting the programming on both stations. This year's theme is "The British Are Coming!" and will feature such special guests from England as actors Jeremy Irons and Simon Callow, as well as The Kinks' Ray Davies. Other guests include the Chicago Children's Choir, the Joffrey Ballet, Under the Streetlamp, and the Fulcrum Point New Music Project. Guests can purchase tickets for $50 for the benefit concert, which will celebrate British programming, or for $500 for the concert and gala dinner. For more information, call 773-509-5525 or visit
WTTW.com/celebration2012
or
WFMT.com/celebration2012
.
* * Chicago Public Media's WBEZ-FM can be heard on 91.5 FM. It also can be heard on WBEQ-FM 90.7 in Morris, IL area and on low-powered translator W217BM 91.3 FM in the Elgin, IL area. However, Chicago Public Media has filed an application with the FCC to move translator W217BM to its Chicago broadcast tower, increasing the output from 10 watts to 99 watts. Obviously, with WBEZ-FM heard clearly around Chicagoland, there is no need for a second low-powered Chicago signal there. The
speculation
is that Chicago Public Media wants to be able to broadcast WBEW-FM/Vocalo 89.5 to a wider audience. The Vocalo signal is only heard well in northern Indiana to the far south side of Chicago. It is also assumed that they would request a signal other than 91.3, since that could interfere with WBEZ-FM's main signal.
* * WKSC-FM/103.5 Kiss FM's morning show "Brotha Fred's Neighborhood" is being syndicated out to a new radio station as of this month. WMKS-FM, a Clear Channel-owned CHR station in the Greensboro, NC area, replaced its local music-intensive show with the Christopher Frederick/Angi Taylor talk-intensive program.
* * Speaking of WKSC-FM/103.5 Kiss FM... their big spring concert, Fantabuloso, will be taking place a week from Friday. In addition to the acts previously mentioned on this website
HERE
, singers Carly Rae Jepsen and Adam Lambert have been added to the line-up. Tickets for the show are still available. The prices range between $65.65 and $106.65 (including fees) and can be purchased at this link
HERE
.
* * Former Chicago radio personality Catherine Johns will be the keynote speaker at the North Shore Women's Conference taking place this Friday, May 11th at the Marriott Lincolnshire Resort (10 Marriott Dr., Lincolnshire). Johns will be empowering the attendees there with her speech "Let Your Light Shine." More information on the North Shore Women's Conference & Expo can be found
HERE
. Catherine Johns may be best remembered for her many years on the Chicago airwaves as a news anchor and host, including 18 years at WLS-AM and two years at WJMK-FM.
* * Fans of former Q101 morning show co-host Sherman will be happy to know he will be able to be heard on Chicagoland radio once again next week. No... Not on any of the new Alternative stations on the air here. Brian Sherman will be on far-north rocker WIIL-FM 95.1. He will be filling in for the afternoon host Marija from 2:00pm-7:00pm starting next Wednesday, May 9th and continuing on through Monday, May 14th. Sherman has been off the Chicago airwaves since Q101 was taken off the 101.1 airwaves last July. Since earlier this year, he has been doing some part-time and fill-in work at WLUM-FM, Milwaukee, WI's Alternative station.
* * Fans of frequent WGN-AM fill-in John St. Augustine will be happy to know that he will be going nationwide, filling in for Jon Grayson as host on "Overnight America," Dial Global's syndicated overnight show, which airs in numerous markets from Midnight to 5:00am. St. Augustine will be hosting starting Thursday, May 10, and continuing on each weeknight until Tuesday May 15th. Even though they won't air locally, the shows will be done from the WGN-AM studios. Among the nearby markets that carry the show are Champaign, IL and St. Louis, MO (KMOX-AM, where it usually originates from), but the best way to hear the program in the Chicago area would be to stream it from this link
HERE
. John St. Augustine will continue to do occasional fill-in work at WGN-AM in the near future, as well.
* * As of today, the Chicago-based Internet radio station
Slam Internet Radio
is playing Bart Shore's Time Warp Radio's Sunday Request Show and Time Warp Radio's Song of the Day podcasts. Bart Shore's popular classic rock podcasts will be streaming there every Monday-Friday from Noon-1:00pm. The most recent Sunday request shows will air on Mondays and other Sunday shows from the archives of Time Warp Radio will be played in that time slot from Tuesday-Friday. Additionally, the Time Warp Songs of the Day podcasts will be played periodically each day at various times on Slam Internet Radio's mostly talk show programming. In addition to his highly-regarded Internet music show,
Time Warp Radio
, Bart Shore can also be heard playing DJ occasionally
Zecom Radio's The Choice
, playing both new & old tracks. Of course, he can be heard each weekday morning on WBBM-AM expertly delivering traffic information.
* * Also as of today,
Slam Internet Radio
has also started airing reruns of the little-heard WJJG-AM brokered weekend program "The Scott Alan Show" from a few years ago. That can be heard from 10:00am-Noon each weekday.
* * Congratulations to WIQI-FM/FM News 101.1 Producer Pete Siegal. He and his wife are now the proud parents of a baby girl. It's the second child for the couple, as new baby sister Ivy will soon be meeting big brother Jacob. Best wishes to the growing family!
* * The Publicity Club of Chicago's 53rd Annual Golden Trumpet Awards Luncheon is taking place beginning at 11:00am at Chicago's Palmer House Hilton this Wednesday. The awards will be honoring exceptional achievement in public relations and communications by individuals in 2011. The emcees for the event will be the hosts of WLS-TV's "Windy City Live," Ryan Chiaverini and Valerie Warner. More information on the annual event can be found
HERE
.
* * CLTV will be presenting the first debate in the hotly contested 8th Congressional District race between Democratic candidate Tammy Duckworth and Republican candidate Joe Walsh. The roundtable debate will be part of a "Politics Tonight" special, hosted by Paul Lisnek. It will take place on Friday night from 6:00pm-7:00pm on the local cable news channel CLTV. For those who do not receive CLTV, the debate will also be streamed live on
WGNTV.com
and
CLTV.com
. Those interested in submitting questions for the candidates can do so via the CLTV "Politics Tonight"
Facebook page
or
Twitter account
.
* * Former WLS-TV/WBBM-TV news anchor Diann Burns will be seen on cable television in a few months. The Starz original drama "Boss" is currently filming its second season in and around Chicago. Diann Burns was hired to play a news reporter for an episode of the show and recently completed her scene. The 10 episode second season of "Boss" -- about a complicated, but fictional Chicago Mayor, played by Kelsey Grammer -- begins on Starz on August 17th.
* * Alexis Del Cid has been named as the new co-anchor of the daily morning show "It's Your Morning" on KCTV-TV, the CBS affiliate in Kansas City, MO. She will begin in that role on August 1st. Alexis Del Cid kicked off her career in media as a street reporter on the Chicago TV show, "Nude Hippo." She was also a news intern at WLS-TV. From there, she went on to become a general assignment reporter for WMAQ-AM. After leaving Chicago, she went on to work in radio & television in Champaign, IL, Albuquerque, NM, Lake Charles, LA, and most recently in Portland, OR. She will be leaving her current job at Portland's KOIN-TV on June 22nd to begin her move back to the Midwest. Alexis Del Cid, may be best remembered locally by her maiden name of Alexis Johnson -- the daughter of longtime WLS-AM newsman Jim Johnson.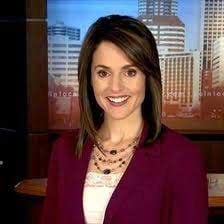 * * As he has done a couple of times before, Conan O'Brien is coming to Chicago to record a week's worth of shows for his nightly TBS talk show. The taping of the shows will take place at the Chicago Theatre (175 N. State St., Chicago) on June 11-14. Tickets to get in to the shows are completely free, but due to demand, are being given away via an online lottery system. To try and win a pair of tickets, visit this link
HERE
. O'Brien's trip to Chicago will be coinciding with the "TBS Just for Laughs Comedy Festival," which be taking place all across Chicago comedy clubs and stages from June 12-17.