Details

Published on Friday, 11 May 2012 14:10
In what could be the biggest News & Notes yet, here are 18 news stories from the Chicago media beat, including: Ed Curran's temporary return to CBS2; Rick O'Dell and the WLFM DJs return to blogging; the Cubs score a home run for WGN-AM; Wendy Snyder and Jimmy Mac talk with Artie Kennedy; Tony Lossano & Jen Sweet walk for a good cause; Bob Stroud makes an appearance for a good cause; Allison Payne & Art Porter host an NAACP event; Matt Rodewald hosts a sports talk show; Warrick Carter announces his earlier-than-expected retirement; Rich Koz speaks at DePaul; Eddie & Jobo visit a new roller coaster with their fans; CSN Chicago gets honored; Frank Wright has a baby; Roxanne Steele gets a new job; Sludge is interviewed; Larry Mendte & Dawn Stensland find new work with Merlin; and sad news for Dan Deibert, Spike O'Dell, and the family of Michael Little. It can all be read just below...
* * Ed Curran returned to WBBM-TV/CBS2 this week as a meteorologist and will be seen some more over the weekend, doing the weather reports on the Saturday and Sunday evening newscasts. That's the good news for Ed Curran fans. The bad news is that he has NOT been hired back by CBS2, where he previously worked from 2002-2010. A spokesperson for WBBM-TV tells CRM that Curran is only doing a few fill dates as a freelance contractor, not as a CBS employee. There may be additional time for Curran to fill-in there, as morning meteorologist Megan Glaros is expected to be giving birth to twins in July and will be off for a while on maternity leave. Curran has been out of work since his
forced exit from WIQI-FM
at the end of April. He also returned to doing fill-in work on WIND-AM, something he also did after his exit from WBBM-TV in 2010.
* * The local on-air personalities from the now-former WLFM-LP/Smooth 87.7 have a new place in which to stay in touch with fans. Rick O'Dell, Bill Cochran, Loni Taylor, and Scott Adams are now blogging at
ChicagoSmooth.typepad.com
. Be sure to check out Rick O'Dell's blog from
yesterday
, which shows just how quick and easy it would be for another Chicago frequency to pick up the Smooth/Smooth Jazz format, along with half a million fans.
* * Why do so many radio stations make such a big deal out of their baseball team's opening day broadcast? Because it truly
is
a big deal. This week, Arbitron released the results of the top radio station opening day ratings and cume survey. Among the top 5 stations for the entire country was none other than Chicago's WGN-AM. Their April 5th broadcast of the Cubs home opener drew a cume of above 433,000 -- well more than double the station's 2011 season average cume of 184,000. (The full April monthly ratings are released this coming Monday.)
* * The newest podcast of
SnydeRemarksRadio
with Wendy Snyder & "Jimmy Mac" McInerney is one longtime fans of Jonathon Brandmeier should enjoy. It features former Brandmeier producer Artie Kennedy as special guest. (Yes... "Artie the Elf.") He & Jimmy Mac talk about the fun times of working on Johnny B's show in the 90s. A lot great behind-the-scenes Loop stories are revealed, as well as what is being called "Artie's finest moment." (There's an F-bomb involved...) The highly-recommended new podcast can be heard
HERE
or downloaded on iTunes.
* * As he did
last year
, "Nude Hippo" & WLS-FM producer Tony Lossano will be doing a walk to raise money for the American Brain Tumor Association tomorrow morning. He will be walking for & with Jen Sweet, the "Nude Hippo" staffer, who became the President of the show's production company. In May 2008, Jen Sweet was diagnosed with a very rare malignant glioneuronal brain tumor, of which, there is no cure and is eventually terminal. She was only 29 years old when she received this dire news. Unfortunately, this type of cancer will never go into remission. Jen Sweet has been on chemotherapy and experimental drugs ever since the diagnosis four years ago and must remain on chemo until a better option is discovered. To donate to "The Sweetest Thing," Jen & Tony's team name for tomorrow's walk, visit this link
HERE
. Any donation, small or large, will go toward find a cure for brain cancer.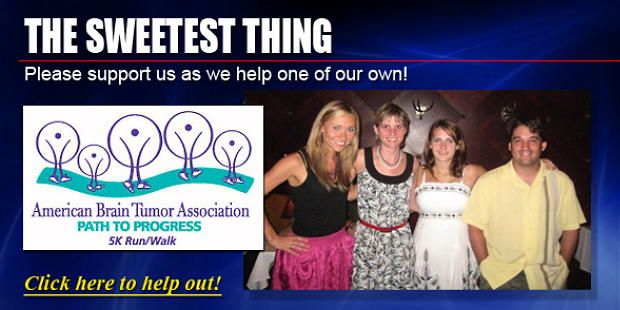 * * WDRV-FM/The Drive's midday star Bob Stroud will be making an appearance at the Petco in Hillside (160 S. Mannheim Rd) tomorrow. He will be there from Noon-2:00pm. Joining him will be "The Drive Crue," as well as members of the Petco Foundation, who will be talking about pet adoption and ending animal homelessness.
* * The Chicago Westside NAACP's annual Freedom Fund Dinner and Mixer is taking place this Saturday night at the Crowne Plaza Chicago Metro (733 W. Madison St., Chicago), beginning at 6:00pm. Hosting the event tomorrow night will be former WGN-TV news anchor Allison Payne and former WVAZ-FM/WGCI-FM super producer Art Porter. Tickets are nearly sold out. For more information, call the NAACP office at 773-261-5890 or email This email address is being protected from spambots. You need JavaScript enabled to view it. .
* * WMAQ-TV/NBC5 weekday morning traffic reporter Matt Rodewald will be moonlighting with his second job this weekend. No, he's not doing what other reporters do and becoming a
stripper
... He'll be talking sports on WSCR-AM/670 The Score Sunday morning, hosting a show from 7:00am-9:00am. Rodewald will be discussing the sports week that was, including the end of Bulls season and what is going on with Kerry Wood.
* * Warrick Carter, Columbia College Chicago's President, announced this week that he will be stepping down and retiring at the end of the 2013 school year. He had been given a contract extension in 2010, which ran through August 2014, when he said he would then retire. Instead, the retirement will be coming one year earlier. He will be doing so because he says the South Loop college known for its media education now needs new leadership. Carter has been President since 2000. A search is on now for his successor.
* * Svengoolie is going to school. DePaul University's College of Communications has invited Rich "Svengoolie" Koz to talk about his impressive career in Chicago media next week. The event is called "Inside the Half-Wit's Studio: an Evening with Rich Koz" and it will take place on Tuesday, May 15th, from 5:00pm-7:00pm at the Richard M. and Maggie C. Daley Building, in the lower level theater at 14 E. Jackson Blvd. in Chicago. It will be a panel discussion, moderated by Professors Paul Booth and Blair Davis, followed by a Q&A session with the audience. In addition to DePaul students, the general public is invited, as well. More details can be found
HERE
.
* * WJMK-FM/104.3 K-Hits' Eddie & Jobo will be broadcasting live next Wednesday, May 16th from Six Flags Great America in Gurnee for the grand opening of the brand new roller coaster, X-Flight. If you want to come out and see them, arrive early. They will be there from 5:30am-10:00am. Not only that, but the first 500 listeners that come out to the event by 7:00am will be the first to ride X-Flight when the park opens. More than that, those first 500 will get free parking and admission. The K-Hits crew will be there as early as 4:00am, handing out all sorts of prizes.
* * The Good Sports 4th Annual "Legends of the Ball Chicago" fundraiser will be held on May 17th, starting at 6:30pm, at Nacional 27 (325 W. Huron St., Chicago). The annual event brings together the corporate and sports worlds to show support for youth sports. Comcast SportsNet Chicago's Sarah Kustok will once again be the emcee and Comcast SportsNet Chicago will also be given a Good Sports Award at the ceremony. More details can be found
HERE
.
* * Congratulations to WXLC-FM midday host Frank Wright. He and his wife, Marcia just had their first child, a baby girl named Gia. The mother and baby are both doing well. (Frank is well, too, but as a new father, he is finding out that nobody asks about how he's doing anymore.) Best wishes to the growing family!
* * Congratulations to Roxanne Steele. The former personality of WBBM-FM & WCFS-FM has been working part-time, doing weekends & fill-in at Detroit's WDVD-FM since July 2010. Although it has not yet been officially announced, Roxanne Steele is finally moving back to full-time radio, starting later next week. She is returning to the CBS Radio family and joining WDZH-FM, Detroit's hit radio station known as 98.7 Amp Radio. Steele will be taking over middays there, just as she did successfully for years on Chicago's B96.
* * Former WZZN-FM/WKQX-FM/WRCX-FM host Sludge recently competed in an radio production imaging contest put on by a company called Benztown Branding. Over 120 people from around the world competed, submitting their work using their library of sound effects and beds. Sludge was one of the last two finalists -- and the only American one, as the other finalist was from Ireland. In the end, Sludge took second place. This week, Benztown Branding interviewed Sludge, getting his insights on imaging. In it, Sludge mentions plenty of Chicago radio people, including: Ned Spindle, Brian Rhodes and Dave Richards. The interview can be read
HERE
.
* * Former WBBM-TV news anchor/reporter Larry Mendte has joined Merlin Media's new talk-formatted radio station in Philadelphia, WWIQ-FM/IQ 106.9 as full-time co-host of the station's weekday morning show. His wife, Dawn Stensland, herself a former WBBM-TV reporter/anchor, has joined the station on a part-time basis as a show host.
* * Sincere condolences go out to former WGN-AM weekend/fill-in host Dan Deibert on the loss of his father Wes Deibert due to ALS this week. Condolences also go out to former morning show host and 21+ year veteran of WGN-AM, Spike O'Dell, as Spike & Wes were longtime best friends. Wes Deibert was a well-known gentleman in the Quad Cities area. For much of his life, he worked to take care of the general public -- as Rock Island, IL Police Officer, a Farmall plant security guard, an Animal Control Officer, and even as a toll collector on the Centennial Bridge. He may be best known in that area for making much of the Quad Cities area laugh. He was on the radio as a sidekick of sorts to Spike O'Dell when he worked in that market, prior to coming to WGN-AM in Chicago. After Spike's departure, Wes Deibert also did funny traffic reports for popular local host Mike Kenneally on WLLR-FM. Additionally, Deibert did a series of famously funny furniture store ads on local television for Goddard's Furniture, where he would poke fun at a competitor's store and himself. The funeral service was earlier today in Rock Island.
* * Deepest condolences go out to the family, friends and co-workers of Michael Little. Little suddenly passed away this week at the age of only 44. He had been working in local television production, mostly as a freelance video editor, for around 15 years. He had worked with WFLD-TV, WBBM-TV, CLTV, and WGN-TV. He also worked for two years for Clear Channel Chicago as a web designer for WVAZ-FM, WGCI-FM, and WKSC-FM. The eye-catching logo that V103 currently uses was a Mike Little creation. When he did not show up for work at WGN-TV earlier this week, staffers became concerned and called the police. When the police arrived at Little's Chicago apartment, they discovered his body. It appears at this time that the cause of death was natural. There will be a service for Michael Little tonight from 6:30pm-8:30pm at the Johnson-Miller Funeral Home (4000 Saint Charles Rd, Bellwood, IL 60104). Sympathy cards may be sent to his family at that address.