Details

Published on Tuesday, 05 June 2012 18:11
Eleven local media news items are featured in today's News & Notes, including: Waddle & Silvy getting ready to announce something exciting; WIQI-FM making changes to its billboards and to its programming; George Willborn wins a settlement; Jim Ryan wins a new programming job; Chris Collins gets married; WSCR-AM goes to the races; Bill Press goes to Darien; Me-TV salutes Richard Dawson; Ron Vasser rides off; and Joe Cowley returns to the Twitterverse. Details below...
* * WMVP-AM/ESPN 1000's morning/midday show with Tom Waddle & Marc Silverman have a big announcement to make. Waddle & Silvy will be making the announcement at a live remote at Chicago's Navy Pier this Friday morning starting at 9:00am. A new addition is coming to the show, which fans should enjoy, but for details, everybody has to wait until Friday morning...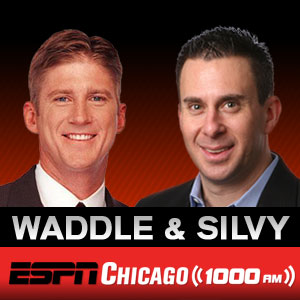 * * WIQI-FM/FM News 101.1 is trying to put a happy face on things. Since its recent billboard and bus campaign featuring the picture of former Governor and convicted felon Rod Blagojevich caused so much controversy, the station has spent the last couple of weeks placing stickers over Blago's face. The stickers are cartoon happy faces with blue Blago hair, designed to get people talking about the station more.
* * Unfortunately for WIQI-FM, initial ratings results from Arbitron have showed the station's first real advertising campaign using the aforementioned billboards has not swayed the ratings upward as they were hoping. (May's full ratings are officially released next Monday.) To try and change those low ratings, the all-news station will be experimenting with programming that is more than a usual newscast. Starting tomorrow at 10:00am & 2:00pm, FM News 101.1 will no longer be "all news" and will instead have some "news magazine" shows being tested. The big unveiling will be Thursday at 10:00am. The one-hour shows will look at current news items and discuss them deeper, giving them expanded coverage. The station first took a stab at this type of programming this past Saturday to see if it would work. Look for a rotating roster of hosts to be part of these shows, including some names that are not currently part of the station and may surprise or shock some fans of Chicago radio. Tomorrow's hosts will be all in-house, as Rob Hart & JoAnn Genette will be behind the mic for the 10:00am hour, which will include taking live calls. Since the news station launched in late July 2011, it seems to have been in a constant state of change, trying hard to find the right combination for the Chicago radio audience. Although it seemed to find a nice rhythm with its newscasts the last few months, it appears the executive upper-management of Merlin Media is making changes yet again.
* * Michael Baisden Show co-host and former WVAZ-FM/V103 DJ George Willborn has had a housing discrimination lawsuit filed against the owners of a Bridgeport neighborhood home settled. George Willborn and his wife, who are African-American, attempted to purchase the 8,000-square foot home of Daniel and Adrienne Sabbia, who are white, offering $1.7 million for the home in 2010 -- the highest offer the home has had. The owners turned down the offer, telling their Realtor they did not want to sell their home to blacks and took it off the market. The home has since gone back on the market with no buyers and is currently listed for $1.65 million. In addition to the now-settled U.S. Department of Housing and Urban Development lawsuit, the Willborns had a separate $100 million discrimination lawsuit against the Sabbias. That will be dismissed as part of this settlement.
* * Former WCFS-FM/Fresh 105.9 Program Director Jim Ryan, who programmed the station
mostly remotely
from New York, has gained more responsibilities. He no longer has Chicago's WCFS-FM
to program
, but now has another station to fill that void. In addition to New York's Fresh station, WWFS-FM, he will now also program New York's WCBS-FM. Ryan is also the Vice President of AC Programming for all of CBS Radio.
* * Congratulations to former WSCR-AM/670 The Score Sports Director and Producer Chris Collins. Last weekend, Collins married his longtime girlfriend Meghan. Best wishes to the young couple! Collins also previously worked at WMVP-AM/ESPN 1000 and NAVTEQ as a producer. Since the start of this year, he has been the Assistant Director of Corporate Relations at DePaul University.
* * Speaking of WSCR-AM, this Saturday afternoon, The Score will has the rights to the exclusive broadcast of the 144th running of the Belmont Stakes from Belmont Park in Elmont, NY. Unfortunately, The Score also has to air a Chicago White Sox game at the same time. Since MLB rules prohibit The Score from streaming the game,
670TheScore.com
will instead broadcast the Belmont Stakes online. The two-hour long broadcast will begin streaming at 4:00pm. For those looking for the TV broadcast, NBC Sports will have coverage of the big race on WMAQ-TV, starting at 3:30pm. Racing fans are anxiously awaiting to see if I'll Have Another will become the first horse to capture the Triple Crown since 1978.
* * WCPT-AM/FM is bringing their syndicated morning show host Bill Press back to Chicago this weekend. On Saturday from 2:00pm-4:00pm, Bill Press will be at Frugal Muse Books, a bookstore located at the Chestnut Court Shopping Center at the southeast corner of 75th Street and Lemont Road in Darien. He will be there signing copies of his newest book, "The Obama Hate Machine: The Lies, Distortions, and Personal Attacks on the President, and Who Is Behind Them." For more information, visit this link
HERE
.
* * This Saturday, Chicago-based classic television network, Me-TV is saluting the life and career of Richard Dawson, the comedic actor and game show host, who passed away last weekend from cancer at the age of 79. Me-TV will air back-to-back episodes of the famed sitcom that first introduced Dawson to American audiences, "Hogans Heroes," where he played Corporal Newkirk. The "Hogan's Heroes" episodes will be "Sticky Wicket Newkirk" and "That's No Lady, That's My Spy," both of which prominently feature Dawson. The salute begins at 5:00pm. Me-TV can be seen over-the-air on WCIU-TV's digital subchannel 26.3, as well as on most cable & satellite systems.
* * "Cowboy" Ron has decided to retire from television and ride off into the sunset. Longtime WBBM-TV News Director Ron Vasser has called it a career. Many people in local media may also know Ron Vasser from his years as a professor at Columbia College Chicago. Happy retirement, Ron.
* * The Chicago Sun-Times columnist Joe Cowley has restarted his Twitter account. After a series a controversial tweets at the end of April embarrassed the Chicago Sun-Times on a national level, Cowley was forced to take down that Twitter account and was
nearly suspended
. (Original word from inside the Sun-Times was that Cowley was suspended. Instead, he was placed on a very short leash.) The account has been reactivated, but scrubbed clean. All of the controversial tweets have been deleted. So far, no new tweets have appeared. Being that he remains on a short leash with the newspaper, it is expected that he will keep his rather unique sense of humor under wraps and off of Twitter for the foreseeable future.