Details

Published on Thursday, 07 June 2012 10:49
Today's News & Notes has a handful of local media stories, including: Tribune Company getting closer to exiting bankruptcy; 93XRT's Tom Marker is feelin' the Blues; WGN Sports Night goes to the races; Eddie & Jobo go out for breakfast; Gary Spears goes to Wrigleyville; Nick Digilio tilts a kilt; Billy Corgan wrestles with television; a celebrity golf tournament brings out Chicago media stars, and more. It can all be read just below.
* * Today is the big day. This afternoon, Chicago-based media corporation Tribune Company and its many creditors will appear in U.S. Bankruptcy Court, where Judge Kevin Carey is expected to finally approve a reorganization plan by the end of these meetings. This will allow the company to exit the bankruptcy it has been mired in for 3.5 years, costing over $400 million in legal fees. Once approved by the federal government, this plan will also assign ownership to the largest creditors, who will then place new people in charge of all of the Tribune-owned properties, and possibly begin selling off parts of them -- including Tribune Broadcasting -- for quick cash.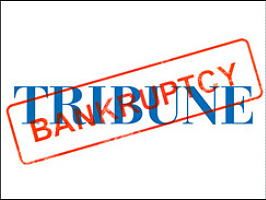 * * The 2012 Chicago Blues Festival is this Friday through Sunday at Grant Park. Tonight, starting at 6:00pm, WXRT-FM's Tom Marker will host the unofficial kick off to the fest: the 15th Annual XRT Blues Breakers Blues Fest Broadcast. It will happen live from Buddy Guy's Legends (700 S. Wabash Avenue, Chicago). Shemekia Copeland will co-host the event with Marker. Joe Louis Walker, Ronnie Baker Brooks, and Billy Branch will be the live musical guests. The live remote is free and open to the public, but seating is very limited. For those who cannot be at the 15th Annual XRT Blues Breakers Blues Fest Broadcast, it will air live on 93.1 FM. Tom Marker will also serve as emcee and be seen on stage for the entire Blues Fest weekend.
* * WGN-AM's "WGN Sports Night" is also doing a live remote tonight from 7:00pm-10:00pm. David Kaplan, Brian Noonan & Andrea Darlas will be broadcasting live from Maywood Park Racetrack (8600 W. North Ave., Melrose Park). They will be talking about harness racing, placing bets, and even participating in a race! Brian & Andrea will each be inside of a horse sulky with a professional driver, as will a pair of WGN listeners, with all four racing each other, while David Kaplan calls the race on the air. (Based on weight alone, I'm picking Brian Noonan to lose this one... Sorry, buddy.) This unofficial "Fantasy Race" race will take place between the 5th & 6th races.
* * Tomorrow morning, WJMK-FM/104.3 K-Hits' Eddie & Jobo will be doing a breakfast remote, broadcasting live from Clarke's Diner (1704 N. Damen Ave., Chicago) from 5:00am-9:00am. They will be giving away tickets to see Dennis DeYoung, and registering visitors for a chance to win a Fort Lauderdale, FL vacation package. There's free coffee for anybody who visits E&J tomorrow.
* * For those of you heading to Wrigley Field to see Roger Waters perform The Wall live in concert tomorrow night, head down to that area a little earlier. WJMK-FM/104.3 K-Hits' afternoon personality, Gary Spears, will be broadcasting live from Murphy's Bleachers (3655 N. Sheffield, Chicago) from 2:00pm-7:00pm. He will have t-shirts and prizes to give away to visitors there. The K-Hits Street Team will also be at Clark Street Sports (3650 N. Clark St., Chicago) from 5:00pm-9:00pm, handing out prizes before the big concert.
* * WGN-AM's Nick Digilio will be hosting a Chicago Cubs watch party Friday night starting at 7:00pm, as the Cubs take on the Minnesota Twins. This will take place at the Tilted Kilt Chicago (17 N. Wabash, 2nd Floor, Chicago). Visitors can register to win prizes including Cubs & Blackhawks tickets and Kilt Kash.
* * Smashing Pumpkin's frontman Billy Corgan is putting together a new reality TV show based in Chicago. The as-yet-untitled show will feature behind the scenes footage and stories of his Resistance Pro Wrestling, which has been doing wrestling matches around Chicago for about seven months. Corgan told Major League Wrestling Radio this week: "We believe that wrestling is fascinating on many, many levels -- socially, politically, even economically. The struggles independent wrestlers go through to try to find work, those are real struggles that anybody can identify with." The show is still in the development stage and no network has yet agreed to carry the program.
* * Monday, June 11th, will be the first annual Max Lacewell Foundation "Best Day Evuh" Celebrity Golf Tournament. The tournament will take place at Stonebridge Country Club in Aurora, IL. The event is to raise funds and awareness for DIPG (Diffuse Intrinsic Pontine Glioma, a highly fatal pediatric cancer), with all proceeds benefiting the establishment of the Max Lacewell Research Scholarship at Ann & Robert H. Lurie Children's Hospital of Chicago. Among the celebrities golfing in this event are WBBM-TV's Rob Johnson, Steve Baskerville and Dave Savini, WERV-FM's Scott Mackay, Chicago radio veteran Bionce Foxx, Glancer Magazine editor Lisa Gangi, and Chicago Bears players past & present. More information can be found
HERE
.
* * Don't forget to follow Chicagoland Radio & Media on
Facebook
and
Twitter
for even more local media information, news, links to articles, and more -- including items that do not appear on the CRM News Page or Message Board!