Details

Published on Saturday, 14 July 2012 13:37
This weekend's giant-sized News & Notes has 15 local media news items, including: Chicago Tribune suspending its contract with Journatic; Mike Fourcher quits Journatic; Joe Jaime joins WFLD/WPWR; Tera Williams-Barz gets a promotion; Allison Payne interviewed; Erin Carman on WGN-AM; Walter Flakus adds to his MD duties; John Records Landecker recuperates; Liz Braun gets a new job; Roxanne Steele improves ratings once again; Kerry Sayers has a baby; Q101 has a sad anniversary; and the sad deaths of Bob Greenberg, Jesse Moore, and Roy Patterson's father. All of the details are below.
* * The Chicago Tribune's troubled relationship with a company it has invested in, Journatic, has worsened. First Journatic was found to have been
using writers from the Philippines
for some real estate stories, but then assigning fake, Anglo-American names to the bylines. Then it was found out that the company had been using the fake bylines for articles other than real estate ones and been questioned about it by other companies in the past. This past week it was revealed that a Journatic story featured in TribLocal's Deerfield edition featured words that were allegedly both plagiarized and fabricated. The Chicago Tribune has since announced it has "suspended" all use of Journatic's services. There is no word on how long the suspension will be. This now forces the Chicago Tribune to take back the reins of control to the TribLocal publications and websites, after
handing over full control to Journatic in April
, giving the Tribune the ability to lay off numerous employees. This past spring, the Chicago Tribune became investors in the Journatic operation, which is headquartered within Tribune Tower.
* * Further signs of Journatic's problems came this morning as Mike Fourcher tendered his resignation as Production Manager of the troubled news organization. He claims to have exited over disagreements with the ownership over managerial and ethics issues. He had only been with the company since May of this year. Fourcher wrote about his reasons for his resignation on his blog, which can be read
HERE
. He continues to operate some local news websites, which he has worked on since last year.
* * At the start of this week, Joe Jaime was named as the newest National Sales Manager for FOX's two television stations in Chicago, WFLD-TV and WPWR-TV. He begins he new position on July 18th, reporting to Rita Marcocci, the FOX Chicago's Vice President and General Sales Manager. Jaime is wrapping up his current job as National Sales Manager at Telemundo's KXTX-TV in Dallas, TX. He is a Chicago native who graduated from De Paul University with a BS in Marketing. He began his career in Chicago as a rep for Target & Response, a media buyer for Kelly, Scott & Madison, and then an Account Executive with NBC/Telemundo in Chicago.
* * Former WFLD-TV reporter/fill-in anchor Tera Williams-Barz was just given a huge promotion at her current place of employment in Jacksonville, FL. She had been the morning show co-anchor alongside her husband, former WGN-TV/WFLD-TV anchor Mike Barz on the Jacksonville duopoly WAWS-TV/WTEV-TV. She has just been promoted up to nighttime news anchor, taking over as anchor of WTEV-TV's 5:30pm newscast and WAWS-TV's 10:00pm newscast. Husband Mike Barz remains in mornings. Tera Williams-Barz was with WFLD-TV starting in December 2006, resigning in October 2010, right after she returned from maternity leave. She then joined her husband, who had accepted a position in Florida a few months earlier.
* * W.In.E., Women In Entertainment TV, recently conducted an interview with former WGN-TV news anchor Allison Payne. In it, Payne speaks her opinions on some controversial subjects, including a lack of African-Americans in TV news management and her closeness with Rev. Jessie Jackson. She also talks about why she loves Chicago. The interview is presented in two parts
HERE
and
HERE
.
* * Former WTMX-FM/WLUP-FM DJ Erin Carman will be guest hosting a talk show tonight on WGN-AM. She will be heard on the air from 10:00pm-Midnight. This is not the first time Erin Carman has been on WGN-AM, though. On Thursday night/Friday morning, she co-hosted the overnight show alongside Bill Leff. Also, in 2009, she had a highly-regarded weekend try-out. WGN Radio has slowly been experimenting with adding fresh female voices to its station, including recent programs with Jenniffer Weigel,
MJ Witt
, and Anna Belaval. Erin Carman
suddenly exited
her full-time job at WTMX-FM at the start of last month.
* * WLUP-FM's DJ and Music Director Walter Flakus has also picked up additional duties on sister-station WKQX-LP/Q87.7. Along with being occasionally heard on the air, Flakus will be the Music Director and Assistant Program Director for the new Alternative Rock station. Flakus has been with WLUP-FM since 2010.
* * WLS-FM's John Records Landecker is back home after spending five painful days in the hospital, where he underwent hip replacement surgery. He is expected to be home recuperating for at least another week before returning to work at the radio station. The talented and under-rated Danny Lake has been filling for Landecker on WLS-FM during his absence. (This, much to the dismay of Dick Biondi's fans, who would like to hear Biondi back in his earlier time slot, even if only temporarily.)
* * Congratulations to former Chicago traffic anchor Elizabeth Braun. As of last week, she has begun work at her new job as Media Relations Coordinator at Chicago Botanic Garden. Braun, who was an employee of NAVTEQ Traffic/Radiate Media, was most recently heard as the afternoon traffic reporter on WIQI-FM/FM News 101.1, until her exit earlier this year. She previously was heard delivering news & traffic on WGN-AM. Braun tells CRM: "I'm pretty excited about this new career... and let's face it - it'd be pretty tough to find a more scenic office!"
* * In late May, former WBBM-FM/B96 midday host Roxanne Steele was hired by WDZH-FM, Detroit's hit radio station known as 98.7 Amp Radio to take over middays. (That hire was first announced
HERE
before anywhere else.) At the time, middays at that station were at #15 in their target demographic of Women 18-49. In the first ratings month since taking over, Roxanne Steele skyrocketed the ratings up to #3 in that demo. She also made the station #1 in their other target demo of Women 18-34. Steele always did well in the ratings for B96 and was one of the very few bright spots, ratings-wise, for WCFS-FM/Fresh 105.9 when she was afternoon host there. Congratulations to Roxanne Steele and especially to WDHZ-FM for a wise hiring move.
* * Congratulations to WSCR-AM & WFLD-TV sports anchor and reporter Kerry Sayers. Sayers and her husband just welcomed into the world this week a baby girl named Lily Ava. The big girl was born weighing in at 9 pounds. Both mother and baby are doing fine.
* * Today is the one year anniversary of the end of WKQX-FM/Q101. On this very website's ever-growing Audio Page, there is a special new addition: Q101 Jocks Say Goodbye - July 14, 2011. This is a look back at Q101's final day on the Chicago radio airwaves and features many of the sad farewell messages. It can all be heard
HERE
.
* * Veteran Chicago sports broadcaster Bob Greenberg passed away this week at the age of 67. He may be best remembered for his sports reports on WBEZ-FM for 15 years (1975-1990). Greenberg also worked at various smaller Chicagoland stations, including WEAW-FM, WEEF-AM/FM, CRIS Radio, WVVX-FM, WCBR-FM, and
Zecom Radio
(the Chicago-based Internet radio operation run by Marty Zivin). Additonally, he was heard on the radio in St. Louis, Philadelphia, and in some downstate markets. What made Greenberg's storied career so incredible was that he was blind since he was just nine months old. Until he lost his battle with cancer in a hospital in Williamsburg, VA this week, there was no obstacle that Bob Greenberg could not overcome.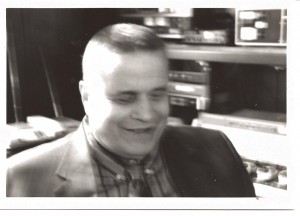 * * Jesse Moore, who was an engineer with WMAQ-AM beginning in the mid-1960s, passed away this week. A part-time school teacher for Chicago Public Schools while he worked in radio, Jesse Moore eventually retired from radio in the 1980s to become a full-time Principal at Chicago's Tilden High School. Visitation services will be held tomorrow at Leak & Sons Funeral Home in Country Club Hills, while funeral services will be help Monday morning at Apostolic Faith Church in Chicago (wake at 9:00am, funeral at 10:00am).
* * Sincere condolences go out to WMBI-FM Station Manager Roy Patterson on the passing of his father. The funeral was held earlier today.