Details

Published on Saturday, 01 September 2012 08:30
The Museum of Classic Chicago Television, the online collection of local TV memories, this week announced even more rare television treasures have been or very soon will be added. Being posted up to the website this weekend are incredibly rare videos featuring WGN-TV/WGN-AM newsman Len Johnson and WMAQ-TV host/Sun-Times columnist Dorsey Connors.
Len Johnson was radio and television announcer in Chicago for most of his long career. Before being heard on the air in Chicago, he worked in such markets as LaSalle/Peru, IL, Flint, MI, Lexington, KY, Washington, DC, and Pittsburgh, PA. He is best remembered for his 19 year career (1962-1981) at WGN Radio and WGN-TV, where he held various duties such has news anchor, sports play-by-play, commercial voiceover, and show announcer. He also worked at Chicago's WAIT-AM from 1981-1986 as a music host.
Rick Klein, the President/founder/curator of the Museum of Classic Chicago Television (MCCTV), was given a mysterious, unmarked 2" quadruplex videotape reel from a family friend of Len Johnson's. After Len Johnson's death, his widow gave his friend Kevin McCarthy a collection of items from throughout Johnson's career. Among the many items was this completely unlabeled and unmarked 2" tape in a generic tape box. McCarthy then donated that reel to the MCCTV to see if it could be transferred into something usable.
On that mystery tape was over 20 minutes of footage from WGN-TV from early Friday, March 5, 1965. That footage contained Len Johnson delivering the news at 12:30am, filling in for vacationing news anchor Carl Greyson. The videotape also contains the original 1965 commercials from the early morning broadcast.
Quite often, television footage from the early-to-mid-60s is only found on lesser quality 16mm Kinescope, but with this being on the 2" quadruplex videotape, the overall quality is terrific.
Klein hopes to have this video (broken up into two parts) posted on the MCCTV website this weekend.
Additionally, on this rare videotape, Rick Klein also found footage of Len Johnson from 50 years ago, from his days as an announcer/anchor on WIIC-TV in Pittsburgh, PA, from August 23, 1962. This was just prior to Johnson's return to Chicago and start at WGN-TV/WGN-AM. The over nine minute-long video with Len Johnson is already posted up on the MCCTV website and can be seen
HERE
.
Not only is there rare video footage from Len Johnson's career being added to the MCCTV website, but Rick Klein has also discovered a gem of a video from a Chicago television and newspaper superstar of the past: Dorsey Connors.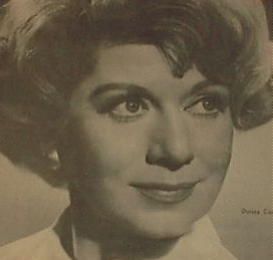 Dorsey Connors was the daughter of John "Botchie" Connors, a highly powerful, influential, and some say, corrupt and underworld-connected Chicago politician. Thanks in part to her father, she began working in local radio in the mid-1940s and then in television in 1948, hosting WGN-TV's "Personality Profiles." After a few years doing various roles on the air on WGN-TV, she began hosting segments on WNBQ-TV locally and became a fashion correspondent nationally for NBC-TV's "Today" show. Her best known role on Chicago television was as host of "The Dorsey Connors Show," which ran for 13 years on WNBQ-TV. (WNBQ-TV became WMAQ-TV in August 1964.) After leaving her television show in 1964, she joined the Chicago Sun-Times as a columnist. There, she was primarily an advice columnist, working for the newspaper for 35 straight years until her retirement. For many years, her Sun-Times advice column was syndicated in newspapers nationwide.
In 1995, the Chicago/Midwest Chapter of the Academy of Television Arts & Sciences inducted Dorsey Connors into their prestigious Silver Circle for her pioneering work on local television.
Earlier this year, MCCTV's Rick Klein was at an estate sale and wandered across a 16mm film reel telescope. On that old reel was an entire 15 minute WNBQ-TV broadcast of "The Dorsey Connors Show" from the week of January 28, 1963. This incredible video will also be posted up this weekend on the MCCTV website.
Launched in 2007, the Museum of Classic Chicago Television is not an actual physical, brick & mortar building, but an online museum, filled with thousands of classic Chicago television clips, containing scenes from local TV shows, local TV newscasts, commercials, and most of all, memories. The mission of the Museum is "to further the acquisition, preservation, exhibition, education, and nostalgic enjoyment of Classic Chicago Television broadcasts." The Museum of Classic Chicago Television is a 501(c)(3) non-profit organization.
The MCCTV website recently passed a milestone with its 4,000th classic video clip being posted up for all to enjoy.
Earlier this summer
, the MCCTV restored and displayed an episode of "The BJ & Dirty Dragon Show," which had not been seen publicly since it originally aired on WFLD-TV in 1972.
The newly discovered and very rare Len Johnson and Dorsey Connors videos, as well as thousands of other rare video gems can be seen at the MCCTV website, found at
FuzzyMemories.TV
.
UPDATE: Due to technical difficulties, the posting up of the rare WGN-TV newscast with Len Johnson and "The Dorsey Connors" show on the MCCTV website are running behind schedule. They will be posted up as soon as possible.