Details

Published on Wednesday, 05 September 2012 19:29
Tonight's News & Notes features eleven news items from the Chicagoland media beat, including: Steve Edwards prepares to say goodbye to radio; Charlie Meyerson says hello to Steve Edwards; Buzz Kilman reunites with Johnny B; Allen Pinkett gets two more weeks off; WXRT-FM holds a special fundraising concert; Fred Winston enjoys more time on WLS-FM; Chet Coppock bears down once again; Dan Levy & Jill Urchak are getting hitched; Jason Cornell is blowing tickets to Smithereens; Chicago Tribune blows away its TV insert; and the Nielsen Company expects Chicago's size to shrink. All of the details are just below...
* * Yesterday, WBEZ-FM's Steve Edwards stunned co-workers by announcing he was leaving the radio station. Edwards has accepted the role of Deputy Director of Programming for the University of Chicago's new Institute of Politics. His last day at the station will be on September 21st and he will start in his new role in early October. Steve Edwards is a veteran of the Chicago Public Media-owned radio station, who rose to local prominence as the longtime host of WBEZ-FM's "Eight Forty-Eight" (1999-2007). He was also the Chicago Public Media Content Development Director and has served as Program Director for WBEZ-FM in the past. Since February, he has been the host of "The Afternoon Shift with Steve Edwards," a two-hour show that the station was using as its
cornerstone of new local programming
. A search for a replacement for Edwards is now underway. Details of Edwards' upcoming exit from WBEZ-FM was first made public on the Chicago Sun-Times' website
yesterday afternoon
.
* * Chicago radio news veteran (WXRT-FM, WNUA-FM, WGN-AM, WIQI-FM, others) Charlie Meyerson, along with his son, Chicago Journal Editor Ben Meyerson, will both be the guests of Steve Edwards on his "Afternoon Shift" show tomorrow afternoon at 3:00pm. It will be two Meyersons for the price of one!
(Hmmm... There will soon be a vacancy on WBEZ-FM after Edwards' exit and the talented Charlie Meyerson happens to be between radio jobs... I repeat: Hmmm...)
* * Buzz Kilman, who served as Jonathon Brandmeier's "Newsman/Bluesman" for 16 years (14 at WLUP-FM/AM and two at WCKG-FM) will be reunited with his old friend tomorrow morning. Kilman will be paying a visit to Johnny B at his new radio home, on WGN-AM 720 tomorrow, to share some laughs and maybe even play a song or two with his harmonica. Buzz Kilman was a staple of Chicago personality radio from April 1980 until December 2008. He most recently has had a mostly-weekly reoccurring role on Steve Dahl's daily podcasts.
"Right on, Buzz!"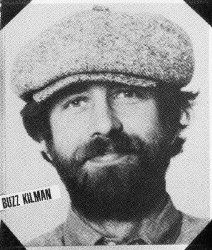 * * Allen Pinkett, the Notre Dame football announcer
who was suspended
from calling the team's season opener last weekend, will be suspended for two more games, making it a total of three weekends without pay. This was all due to an interview Pinkett had on Chicago's WSCR-AM with Dan McNeil and Matt Spiegel, where he said comments about the team's toughness and the school's recruiting style that Notre Dame officials didn't care for. The good news for his many fans is that he gets to retain his job. Pinkett, who played his college career there in the mid-80s and is one of the best running backs in Notre Dame history, has worked as Notre Dame's radio analyst since 2001.
* * Tickets are on sale now for a special concert, that is sponsored by WXRT-FM and has ticket proceeds going toward
The Betty Hemmert Music Scholarship Fund
at Rock For Kids. The concert will be performed by the extremely popular local band Tributosaurus (featuring WSCR-AM's Matt Spiegel on vocals). Tributosaurus performs as a different band each time they put on a show. For this particular concert, the band will do the music of The Beatles. They will do the entire "Sgt. Pepper's Lonely Hearts Club Band" and "Magical Mystery Tour" albums live, backed by a full orchestra. The concert will take place on October 19th at the Copernicus Center Theater (5216 W. Lawrence Ave., Chicago). Tickets and more information can be found
HERE
.
* * While not quite yet an official Cumulus employee, Fred Winston continues to be heard on the WLS-FM airwaves. After his fill-in job on
August 26th
, and his on-air visit
two days prior to that
, Winston also worked a few shifts this past Labor Day weekend on 94.7 WLS-FM. More to come, too...
* * This Sunday will mark the 62nd consecutive Chicago Bears home opener that will be attended by Chicago sports talk legend Chet Coppock. According to Coppock, this annual event of his is "dating back to the days when Ike ran the show." Coppock tells CRM "it's gotta' be a world record... or as my ex-wife says,
'it shows how limited your life really is.'
" For the record, Coppock is predicting a big Bears win against the Colts on Sunday.
* * Congratulations to a pair of Chicago radio veterans: Dan Levy and Jill Urchak! After dating for seven years, Dan finally popped the big question to Jill, who of course said "yes." No exact wedding date set yet, but there are already fears that the bachelor party will be the basis for "The Hangover 3" film... Best wishes to the couple on their engagement!
* * North suburban WXLC-FM is welcoming The Smithereens, as the band returns to town to play a show at Lincolnshire's
Viper Alley on September 21st
. All this week, WXLC-FM's nighttime host Jason Cornell will be giving away pairs of tickets to the concert, along with registering people to win the grand prize: backstage passes and a signed Fender guitar from the band. Cornell will be doing this during the nightly "Totally 80's at 8:00" program.
* * Joining a trend that many other newspapers have done, the Chicago Tribune is discontinuing its free weekly TV insert, "The Guide," as of September 29th. In its place, subscribers will be offered the new "TV Weekly" 44 page magazine, only it will not be for free any more. "TV Weekly" will cost subscribers an additional $35 per year. This is the same television guide magazine that the Chicago Sun-Times went to
last October
, charging subscribers more for it. The Tribune will be giving away free copies of TV Weekly on September 30th and October 7th, hoping to get readers hooked on the costly new magazine insert.
* * Nielsen Company, the marketing research firm most trusted when it comes to television ratings and measurements, released its television market estimates for 2013. The report shows that Chicago, the #3 market nationwide, will drop from 3,493,480 homes in 2012 to an estimated 3,484,800 homes in 2013, a drop of 8,680 households. This is a not just a Chicago problem, though. According to Nielsen's estimates, the entire country will lose 475,620 television households next year, as there is a trend toward watching less traditional television, or in many cases, even owning a television in the home. The full report, showing each markets' estimated number of households, can be viewed or downloaded
HERE
.