Details

Published on Monday, 01 October 2012 08:11
WLS-FM has done more than just
change up its DJ lineup and branding
today. Overnight, they also dramatically changed up their music selection playlist.
Despite being rated in the Top 5 as Chicago's only real Oldies station, Cumulus Program Director Jan Jeffries has decided to shift the music played to a playlist similar to that played on at least three other radio stations in town, WDRV-FM/WWDV-FM, WLUP-FM, and WJMK-FM, not to mention WERV-FM in the suburbs.
Gone from the station are most of the songs considered to be "Oldies." Also gone are non-Rock tracks. No more 60s & 70s R&B/Soul. No more Motown. No more Disco. No more Pop one-hit wonders. Almost no female artists.
In its place are mostly male-sung Classic Rock tracks from the mid-70s to mid-80s.
Unlike the Classic Rock music selection on The Drive or The Loop, WLS-FM's selection tends to be softer, with no harder rock, no deep tracks, and no lesser-known artists. In fact, the station is staying with a limited selection of artists at this point.
Since the new musical direction started in earnest around 2:00am, until just after 8:00am, Elton John had already been played five times. Other repeat artists included Foreigner, Chicago, Tom Petty, Steve Miller, Billy Joel, and The Doobie Brothers. Dire Straits had their 1979 hit "Sultans of Swing" played twice within a few hours.
Even prior to today's change in musical direction, WLS-FM's personalities were barely allowed to talk on the air. Many fans were hoping that with the addition of Brant Miller and Fred Winston to the full-time DJ line-up, that the classic personalities would be allowed to showcase their... personalities. So far, with new morning show host Brant Miller, it would appear that the DJs are still restricted to only speaking for a few seconds a few times an hour -- usually before and after breaks.
As mentioned here on Friday, the station has begin to call itself "Chicago's Classic Hits," instead of its previous branding of "Chicago's Greatest Hits." Makes one wonder if the old WLS-AM/WLS-FM slogan of "The Rock of Chicago" wouldn't have been more appropriate...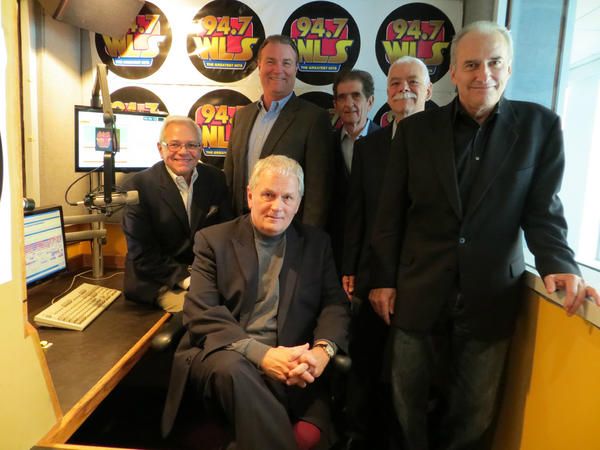 Back row, left-right: Greg Brown, Brant Miller, Dick Biondi, Fred Winston
Front row: Jan Jeffries (seated) and John Landecker
(Cumulus Media Chicago photo)