Details

Published on Tuesday, 09 October 2012 15:13
WJMK-FM/104.3 K-Hits has parted ways with evening host George McFly as of the start of this week. Starting Thursday evening, former WLS-FM morning show host Dave Fogel will take over nights on K-Hits in the interim.
George McFly was
hired as the evening and weekend DJ for 104.3 K-Hits
immediately after the station launched in March 2011. He is the second major exit from the station since it started, as original afternoon host Bo Reynolds was
released in February
.
McFly has been in radio for over two dozen years, with much of his career here in the Chicago area. His very first job was a late night shift on a small radio station in upstate Merril, WI. His big start came from here in the Chicago market. In the late-80's, he was a DJ on far west-suburban WDEK-FM, then known as "Jumpin'" George Edwards. WBBM-FM Program Director Dave Shakes liked the energy he heard from George Edwards, brought him to B96 in 1989, where he used the radio name George McFly. (George McFly was also the name of the father on the popular "Back To The Future" movies in the 1980's.) McFly started in overnights and then evenings at B96. McFly was a huge success with the station's younger demographic, taking the station to #1 at nights and pulling in an amazing 30 share.
After a few years in other markets, McFly returned to WBBM-FM as co-host for its morning show in 1995, pairing him with Frankie "Hollywood" Rodriguez. The results were less than spectacular at that time, as fans just wanted the then-fired Eddie & Jobo back. (Eddie & Jobo returned at the end of the following year.) McFly's run as morning show co-host only lasted a few months. At the same time he was on B96 mornings, he co-hosted the local television dance & music video show "U Dance" on WCIU-TV. Additionally, McFly was a DJ on the short-lived Chicago suburban radio station, WKIE-FM 92.7, when it was the original "Kiss-FM' in town in the late 90's. He attempted to become the morning show host at "Jammin' Oldies" station WUBT-FM 103.5, but WKIE-FM would not let him out of his non-compete contract after exiting the station. McFly had not worked in Chicago since that time, until the WJMK-FM opportunity arose and reconnected him with some of his former B96 co-workers at the new K-Hits.
No specific reason is given for the exit of George McFly.
Replacing McFly, starting this Thursday evening is Dave Fogel, the local radio vet who exited WLS-FM as morning show host
less than two weeks ago
.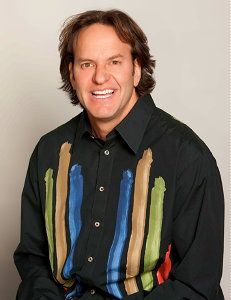 Dave Fogel was
hired as the morning show host
for WLS-FM on February 1, 2010, starting on the air in Chicago on March 1, 2010. Fogel was the third full-time morning show host since 94.7 became an oldies format in September 2005. He was preceded by Scott Mackay and Brant Miller. Upon his exit, WLS-FM brought back Brant Miller.
Fogel's radio career started in college in Kansas City, MO. He then found some work in radio in San Diego, CA and Washington, D.C., before finally making a name for himself in Detroit, MI, where he did afternoons on WHYT-FM from May 1989 until December 1996. In December 1996, Fogel moved to Chicago and started working afternoons at WLUP-FM/The Loop until September 1997, when he moved over to (then) sister-station WTMX-FM/The Mix to do the afternoon shift. (At that time, both stations were owned by Bonneville Communications). He was at The Mix until September 2004. It was September 2004 when he left Chicago to return to Kansas City, MO. There he worked at KMXV-FM, KC's version of The Mix, doing middays until February 2006. Fogel then moved over to Kansas City's KCKC-FM as solo afternoon host and finally moved to mornings there as a co-host in December 2007. He was in that role for three years before getting the call to return to Chicago.
Dave Fogel will be the nighttime host on K-Hits until further notice. However, as of right now, he is officially there in a fill-in basis and not yet an employee of CBS Radio Chicago. Fogel does indeed have an opportunity to have this become a permanent position, although CBS Radio will be adding the job posting to fill the evening vacancy this week and will be looking at qualified applicants.
It should be noted that after Bo Reynolds' exit in February, midday host Gary Spears moved to afternoons and Chicago radio superstar Tommy Edwards filled in on middays on an interim basis, filling that vacancy. A little over two months later, the "interim" tag was removed and Tommy Edwards became officially a full-timer on the air on WJMK-FM.