Details

Published on Wednesday, 17 October 2012 18:57
Eleven more local news items in today's News & Notes, including: Jonathon Brandmeier off the air temporarily; Q87.7 getting into the Christmas spirit already; Eric & Kathy getting into the Halloween spirit; Svengoolie haunts the Brookfield Zoo; Eddie & Jobo give away a car; Lisa Dent helping out a cancer awareness event; Ryan Chiaverini wears a pink tie; Jody Weis joins ABC 7; Matt Tune joins Katz; Bryan Cones exits Chicago; and a new radio station coming to the far northern suburbs. All of the details are here...
* * Due to a private family emergency, WGN-AM's Jonathon Brandmeier will not be on the air for the rest of this week. He hopes to return to his morning show on Monday, although that will depend on the health of this particular Brandmeier family member. Best wishes to his family.
* * WKQX-LP/Q87.7 has announced its first (and possibly last) ever holiday concert, entitled "The Night We Stole Christmas." The Alternative bands taking part will be Awolnation, Morning Parade, Atlas Genius, Youngblood Hawke, and supposedly, one more artist to be announced at a later date. The show will take place at the Aragon Ballroom on December 1st. General admission tickets will cost $32.17 (including Ticketmaster fees) and go on sale to the public on Friday at 5:00pm at this link
HERE
. Ticket pre-sales for Q87.7 website members and Live Nation members are on sale now.
* * WTMX-FM/101.9 The Mix's morning show will throwing a Halloween costume party. "Eric & Kathy's Halloween Fright Night" will take place on Friday, October 26th at 7:00pm at the Fairmont Chicago Millennium Park. The party will feature live performances by Gavin DeGraw and Phillip Phillips. As is usually the case for Eric & Kathy events, tickets sold out almost immediately. For those who missed out, The Mix will be giving away tickets each weekday morning at approximately 7:20am, as well as via the Eric & Kathy Facebook and Twitter accounts.
* * With Halloween around the corner, Chicago's favorite classic horror movie host, Svengoolie is in big demand. Fans of Svengoolie can meet him this Friday night at the Brookfield Zoo from 7:00pm-9:00pm. It is part of the zoo's "Creatures of the Night" celebration. Get there early, as the lines to meet Svengoolie will be long.
* * WJMK-FM/104.3 K-Hits' Eddie & Jobo will be broadcasting their Friday morning radio show live from DuPage Chrysler Dodge Jeep Ram, located at 433 E. North Ave in Glendale Heights. One lucky winner Friday morning will gain a brand new 2013 Dodge Dart. Fans can meet Eddie & Jobo during the live remote from 5:00am-9:00am.
* * WUSN-FM/US99.5 morning show co-host Lisa Dent will be taking part in the Advocate Condell Centre Club Pink Ribbon 5K Run and Walk, happening this Saturday morning, starting at 8:00am. The event will be at the University of St. Mary Of The Lake in Mundelein. Lisa Dent and the US99.5 Rewards Team will be there to greet the participants at the start of the event. Those who wish to join the walk/run can register in advance at this link
HERE
. The proceeds raised from this event will go to benefit the Advocate Condell Medical Center Cancer Services.
* * The Chicagoland Area Affiliate of Susan G. Komen for the Cure -- the Chicago-based fundraising organization who raise needed money for breast cancer cure, prevention and treatment -- have announced their 2nd annual "Pink Tie Guys" event. This gala being held Friday, October 19th will honor a group of men for their efforts in making a difference in the fight against breast cancer. This year, one media celebrity is among the honorees: WLS-TV's "Windy City Live" co-host Ryan Chiaverini. More information about Friday's fundraising event can be found
HERE
.
* * WLS-TV/ABC 7 Chicago announced this week that they have hired former Chicago Police Department Superintendent Jody Weis as the station's "Public Safety Expert," appearing in-studio on newscasts as needed to discuss issues of public security and Chicago's violence problems. Weiss previously did this for WLS-TV for a week in May during the Chicago-held NATO Conferences. Insiders say this is a six-month tryout that could expand longer if it goes well. Weis was Chicago's "Top Cop" under former Mayor Richard M. Daley, exiting that role in March 2011. He previously spent 22 years with the F.B.I.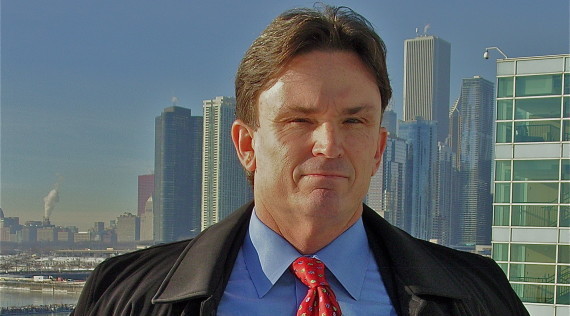 * * Katz Television Marketing, a division of Katz Media Group which creates television campaigns for advertisers, has brought on Matt Tune as its new Director of Sales and Marketing for its Chicago offices. Most recently, Tune had worked for the last two years as the Business Development Manager for WCIU-TV and Weigel Broadcasting in Chicago. Previously, he was a Local Sales Manager for WNUA-FM, a Senior Account Executive for Chicago Fire Soccer, and an account manager for Telemundo Chicago/WSNS-TV. He also is a lifelong Marine, having served for eight years as officer, another year as an Executive Officer, and a manager of the Marine for Life Program for the last eight years.
* * Bryan Cones, who had been with the Chicago-based periodical U.S. Catholic for eight years, and had been its Managing Editor for nearly four years, resigned from the magazine a few weeks ago. He has moved to Massachusetts to return to school. The U.S. Catholic has replaced him with Scott Alessi, who moves up from Assistant Editor.
* * A new lower-powered radio station is hoping to be transmitting from far north suburban Antioch by the spring of 2013. WSFI-FM 88.5 will be broadcasting from studios inside of St. Raphael the Archangel Catholic Church, which is currently under construction in Old Mill Creek. The station will air non-stop Catholic programming to northeastern Illinois and southeastern Wisconsin. The call letters stand for Sports Faith International, which is an organization run by Chicago Bears Senior Director Patrick McCaskey. That organization will supply inspirational sports stories to WSFI-FM, but by no means will this be a sports station. WSFI-FM will be operated by BVM (Blessed Virgin Mary) Helping Hands Inc. Angela Tomlinson is that company's President and will serve as the station manger. It already has not been smooth sailing for the new station, as the FCC has received separate petitions from Chicago Public Media and Faith Evangelical Lutheran Church demanding that BVM Helping Hands not be allowed to have the upgraded signal they are currently requesting, for fears of interference with their own stations.