Details

Published on Thursday, 18 October 2012 12:30
Chicago Tribune announced today that as of November 1st, the newspaper will be charging up to $14.99 per month for full access to its website.
Chicago Tribune reporter Robert Channick broke the story on the Tribune's own
website today
, reporting on his employing company's plans.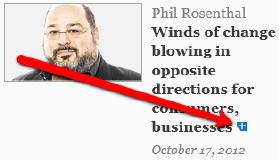 Starting next month, visitors to
ChicagoTribune.com
will be allowed to see five premium content pages before a pop-up window will block their view, informing them they need to subscribe. The home page, section home pages and many news articles will still be allowed to be read freely for now. What is considered "premium content" will be the work of the newspaper's columnists (including columns, blogs, opinion pieces), reviews, special reports and investigative articles, and stories/articles reprinted from other publications. All premium content is marked on the website by a symbol that resembles a blue rectangle with its lower left corner removed and a white plus (+) sign inside of it. (See image to the right.)
Employees of the Chicago Tribune each received a memo this morning outlining the company's plan for charging consumers for online access.
That initial digital pay wall plan looks like this:
* Daily Chicago Tribune (printed version) home subscribers - Free online subscription
* Non-daily (ie: Sunday only) Chicago Tribune (printed version) home subscribers - Additional $2 per month for online subscription
* Non-home Chicago Tribune (printed version) home subscribers - $14.99 per month for full digital subscription
The Chicago Tribune pay wall plan has been expected since much earlier in the year. At
the end of June
, the newspaper announced it was redesigning the website and placing its premium content behind a free subscription wall. To view the premium content, users needed only register with Chicago Tribune website with their names and email addresses. It was just a matter of time before that free online subscription turned into a paid online subscription.
According to the Chicago Tribune today, nearly 230,000 people became digital subscribers since the program began this summer.
In Illinois alone, over 100 newspapers and periodicals have set up online pay walls. Since the summer of 2011, The Daily Herald, Crain's Chicago Business, and all of the Sun-Times Media newspapers, which includes the Chicago Sun-Times and numerous suburban newspapers, all went behind versions of digital pay walls, forcing visitors to subscribe to see the online content.
At $14.99 per month, the Chicago Tribune's cost is somewhat less than that of the Daily Herald (which focuses largely on suburban Chicago news, much of it exclusive), but is more than double that of its closest competitor, the Chicago Sun-Times, and more than triple the cost of Crain's Chicago Business.
Newspaper and magazine websites have been increasingly using pay walls for the last few years. It is done largely to increase revenue for the parent company, to help replace declining income from advertisers and subscribers. It is also done to protect content, and in many cases, done to increase print subscriptions, since deep discounts are given to subscribers. Additionally, newspapers can now count paid digital-only subscribers as part of its total circulation statistics, making the newspaper's reach appear larger to the public and potential advertisers.