Details

Published on Thursday, 18 October 2012 18:22
Sun-Times Media announced late today that the company has hired Jenny McCarthy to be a new weekly print columnist for the Chicago Sun-Times' Splash magazine and a weekday blogger for the Splash website. McCarthy's first blog will appear online this coming Monday, October 22nd and her first Splash column will appear in print on Sunday, October 28th.
Jenny McCarthy is the Chicago native, who first rose to national fame as a Playboy Playmate in 1993, becoming Playboy's Playmate of the Year in 1994. From there, she became a model, comedian, television/movie actress, game/reality show host, activist, and author. She recently relocated back home to the Chicago area, leaving behind her Hollywood lifestyle.
In May, McCarthy was among one of the very first to sign on with the Chicago Sun-Times to pen a monthly charity column for the then-new Splash section. (All of the Splash monthly columnists are not employees of Sun-Times Media and their $1,000 fee for writing the column is donated to a charity of the author's choosing.)
Her new role with the Sun-Times is an outgrowth of the success of the Splash partnership between the Chicago Sun-Times and McCarthy.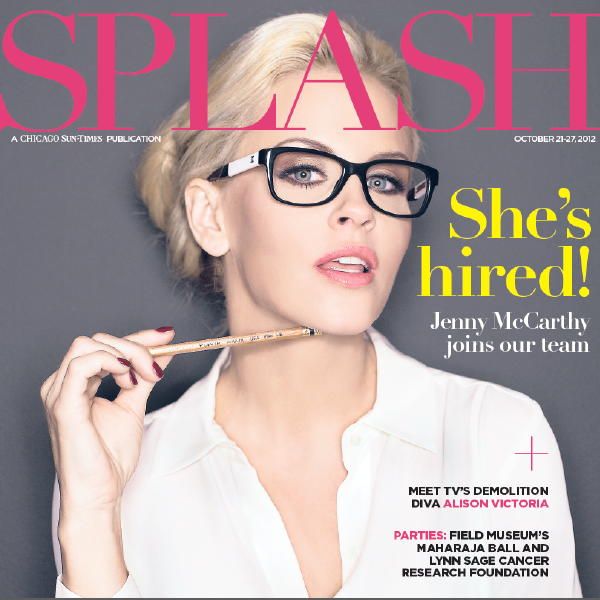 The name of the new weekly print column, which will appear in each Sunday newspaper Splash magazine insert, will be "Ask Jenny." The column will have McCarthy answering readers questions about love, sex, parenting, friendship, fitness and various other subjects of interest to female (and some male) readers. Those with questions for Jenny McCarthy can begin sending them in now to This email address is being protected from spambots. You need JavaScript enabled to view it. .
Her first weekly column will appear a week from this coming Sunday. However, this Sunday's Splash magazine will have a cover story on McCarthy, featuring an interview between her and Splash's Editor, Susanna Negovan. In the story, McCarthy tells Negovan of her excitement about joining the Chicago Sun-Times, saying "I've signed contracts over the past 20 years that were multimillion-dollar deals, but I am more excited about this one than anything I've done since my first deal at 'Singled Out.' Not only is (the Sun-Times) something that I grew up reading, but I just feel honored. I actually feel like it's a privilege to do it."
In addition to her weekly Splash column that will appear on Sundays, Jenny McCarthy will also pen a blog each Monday-Friday, which will appear exclusively on the new
Splash website
and via the free
Splash iTunes download
. According to the Sun-Times, McCarthy's daily blogs will "go in depth on the daily joys, juggle and struggles of being a single mother to her 10-year-old son Evan."
Susanna Negovan said in today's announcement: "When I first began editing Jenny's pieces, I was astounded at how smart and funny her writing was -- she has a natural gift. I can't wait for our readers to discover what I already know: She has a voice that will charm them."
Splash is the daily section within the Chicago Sun-Times, as well as the new weekly 24-page style and society section which is included for free inside the Sunday Chicago Sun-Times, and 33 of Sun-Times Media's suburban newspapers. It also is a digital product, serving as a stand alone website and frequently updated iTunes/iPad/iPhone app.
New employee Jenny McCarthy in the Sun-Times' Splash offices.
(Photo Credits: Anthony Tahlier)