Details

Published on Thursday, 25 October 2012 10:07
WLEY-FM/La Ley 107.9 is revamping its weekday lineup this week, adding new morning and afternoon shows. The changes are effective as of today.
The Spanish Broadcasting System (SBS) and WLEY-FM have announced that they will now air the syndicated morning show by the top-rated Spanish language personality Ricardo Sanchez, aka "El Mandril." The show, entitled "El Vacilon del Mandril," has been an incredibly highly rated program (often coming in at #1) since its launch as an afternoon show on KLAX-FM in Los Angeles, CA a few years ago. Since its move to mornings, the show has only gained in popularity. As of today, the show, which originates from L.A. is heard in 27 markets.
Ricardo Sanchez first became well known as the co-host of the popular morning show "Vacilon de la Manana" with Juan Carlos Hidalgo. Since breaking off on his own, his popularity has continued to skyrocket at a rapid rate.
Sanchez is loved by his millions of fans for his unique sense of humor and funny improvisations, mixed with matter-of-fact advice and guidance for callers. He is a humanitarian who has raised millions of dollars for communities in need worldwide and uses his "laugh medicine" to bring relief to those who are in ill health.
El Mandril's show features an ensemble cast of characters. Joining host Ricardo Sanchez is "Tatiano," Sylvia Yesenia Gonzalez aka "La Toluca," Javier "Burbuja" Cisneros, Primo, Ezequiel "Cumborindio" Santibanez, and Jose "Lite" Cervantes.
While the show is syndicated, WLEY-FM's Frumencio "Shaggy" Acevedo will be heard each morning, delivering local news, traffic, weather, gossip, and special events happening in Chicago.
Starting today, "El Vacilon del Mandril" now airs weekdays from 5:00am-10:00am.
His show may be somewhat familiar to fans of La Ley 107.9, since in April 2009, the station began simulcasting El Mandril's KLAX-FM afternoon show in the late afternoons/early evenings for a while. Today marks a return to La Ley for Sanchez.
In a statement this week, Sanchez said: "This country has given me the opportunity to make my mark on KLAX-FM La Raza 97.FM and in other 26 stations across the country where I've strengthened my career in the States. I want to give my listeners the best radio entertainment available now in Chicago."
Jesus Salas, EVP of Programming for SBS, added: "El Mandril's show fits perfect with our vision and strategy and is what listeners have been asking for in Chicago. The 'El Vacilon del Mandril' show will reflect the local Chicago flavor where Mandril's popularity will connect one-on-one with its listeners."
Albert Rodriguez, COO of SBS, commented: "As 'El Vacilon de El Mandril' attracts new listeners in Chicago, we are confident that audiences will choose this morning program over long time favorites, as he's a loved personality for the Hispanic community. The Hispanic community is growing rapidly and SBS Chicago will continue to provide quality, compelling entertainment to satisfy its listeners."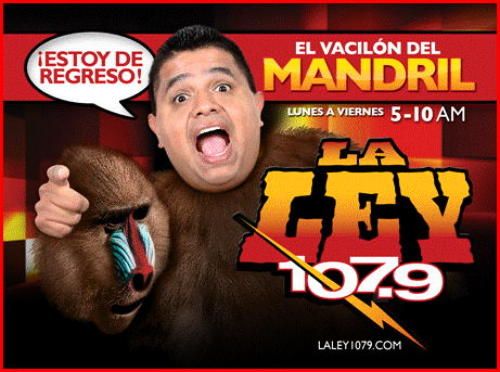 "El Vacilon de El Mandril" replaces the previous morning show hosted by Joaquin "El Chulo" Garcia (who had already departed last April) and Raul "La Bola" Bernal. Fans of that now-former morning show need not be too upset, though. Starting later today, Raul "La Bola" Bernal will now host his show each weekday afternoon, instead of in the mornings.
The new afternoon show with Raul Bernal, entitled "La Bola de la Tarde," will air each Monday through Friday from 3:00pm-7:00pm. Broadcasting live from Chicago, "La Bola" will play music, deliver entertainment news, and interview celebrities. Of course, he will be bringing with him some of his funny characters from the morning show, such as "Dona Mela," "El Sinaloa," "El Celayo," "El Spanki," and "El Choconostle." Joining Bernal on the air each day will be Mary Moreira, Liz Liz "La Dama del Deporte," and Julio "Lobo" Hernandez.
Raul "La Bola" Bernal has been officially working in radio for over 16 years, spending most of that time teamed up with Joaquin Garcia, and heard in numerous markets. Bernal, 35, was born and raised in Los Angeles, CA, and has dabbled in radio since he was just 13 years old, before diving in full-time at the age of 18.
Raul Bernal excitedly said this week: "This is such a unique opportunity. Together with the team at SBS, we are going to build an incredibly entertaining and compelling afternoon show that is 100% live and local in Chicago. I can't wait to get started!"