Details

Published on Tuesday, 23 February 2010 13:10
In today's News & Notes: Richard Roeper spends time with Roe Conn, there's a Telemundo app for that, Lakeshore PTV & their new television program, Magic Johnson will not be spending much time on South Michigan Avenue after all, Mike & Mike's ESPN1000 show turns 10, and where are Pugs & Kelly at?
* * The Sun-Times' Richard Roeper will be a guest on WLS' The Roe Conn Show today at 2:30pm. Even though he does have a couple of radio shows on his resume, it is said that this is not a try-out for a new co-host for Roe Conn.
* * Fans of Chicago's Telemundo, seen on WSNS-TV, who also happen to be fans of iPhones are in for some good news. There is a brand new Telemundo Chicago iPhone/iPod Touch app out now. Telemundo's Television Station Group has launched what they are calling "the very first and only" iPhone app for local Spanish-language TV stations. Telemundo partnered with LSN Mobile, using LSN Mobile's Local Wireless media-to-mobile platform, to bring their "A la Mano" ["On Hand"] content to mobile users. There are a total of nine Telemundo apps, one for each of their "A La Mano" markets, which of course includes Chicago. The new app feature all the A La Mano content, including news, weather, sports, entertainment, photo slideshows, high-quality video, lottery numbers and horoscopes, in addition to Chicago-specific information. The free app for Chicago's Telemundo can be found at this link
HERE
.
* * Northwestern Indiana's Lakeshore Public Television has teamed up with the Chicago Regional Council of Carpenters Labor and Management Committee to produce a new television series called "Built to Last." The 13-episode series is hosted by Chicago's Jana Petersen and will detail professional quality construction projects. For more information on the new show, visit
BuiltToLastTV.com
. Lakeshore Public Television is hosting a special advanced screening on "Built To Last" tonight from 5:00pm-7:00pm at the Rotunda of The Museum of Science & Industry (57th Street & Lakeshore Drive, Chicago). For more information about the screening, email Kathleen Szot at This email address is being protected from spambots. You need JavaScript enabled to view it. .
* * Earvin "Magic" Johnson will not be purchasing Chicago-based publishing company Johnson Publishing after all. Despite long and serious negotiations, the two sides could not to an agreement on terms. It was rumored that Magic Johnson Enterprises was more interested in the valuable archive of rare photos and the Michigan Avenue real estate than the two magazines Johnson Publishing Company puts out, Ebony and Jet. This now leaves Johnson Publishing looking for a new way out of their problems. According to Publishers Information Bureau, Ebony Magazine's advertising revenue declined 38% to $35.5 million last year. Magic Johnson said he will continue to look for other African-American media opportunities, but did not say if there was a specific opportunity in mind.
* * One of the few syndicated success stories in Chicago radio, ESPN1000's "Mike & Mike In The Morning" will be celebrating its 10th Anniversary tomorrow morning. The show will be a live remote from Walt Disney World's newly remodeled ESPN Wide World Of Sports complex. Mike Greenberg -- who got his start in Chicago, working for WMAQ-AM, WSCR-AM, SportsChannel Chicago & CLTV, right after graduating from Northwestern's Medill School of Journalism -- and his co-host Mike Golic, will welcome numerous guest callers and visits during the show.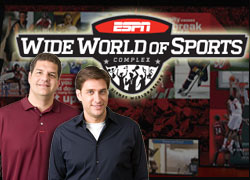 * * Former Chicago radio producer, John "Pugs" Myron is returning to the radio down in Dallas, TX. Pugs, along with his partner Kelly Mohr, another former Chicago radio producer, with whom he worked with at WLUP & WCKG, were a popular duo on the Dallas radio scene for many years since they left Chicago after a controversial disagreement with Steve Dahl. After a pair of long stints at Dallas stations and a couple of quick stints, Pugs & Kelly have been off the air for a little while. Now Pugs, without Kelly, will be heard on KFXR-AM (aka CNN1190), a Clear Channel-owned station. It will be a brokered time talk show. Kelly Mohr has left radio, at least for the time being, moved down to the Texas coast with her husband and is trying to start a family.