Details

Published on Friday, 02 November 2012 15:07
This weekend's gigantic News & Notes features another 16 Chicago media news items, including: Rick Kaempfer says goodbye to his interviews; The Drive cruises down the alphabet; Roe Conn & Richard Roerper say goodbye to their local TV show; Roe Conn grows his charity musical event; US99.5 may be looking at a change; Holiday Lite gets closer to jingling its bells; The Mix gets ready to rock State Street; Jim Moran returns to radio; Scott Straus returns to radio; Dave Benson returns to radio; Radio One Communications celebrates a milestone; Diane Pathieu gets hitched; Susanna Song gets engaged to get hitched; Jay Mariotti is... Jay Mariotti; Tony Hunter is not "Tony Hunter"; and the sad passing of Pat Bruno. All of the details are found below...
* * All good things must come to an end. Rick Kaempfer has hung up his interviewer's hat. The 20 year Chicago radio veteran has been interviewing local radio personalities -- past & present -- for over five years, on his blogsite,
Chicago Radio Spotlight
. However, due to time constraints, the Chicago Radio Spotlight interviews have ended. His publishing company,
Eckhartz Press
, is doing very well and just published its fourth book. Next March, the company will be publishing a biography of a Chicago radio legend. Between Eckhartz Press, the upcoming biography, writing his "
Father Knows Nothing
" column, writing for his own
daily blog
, his family, and various other projects, he's letting the radio interviews go. Kaempfer tells CRM: "It was a fun five and a half years." The over 200 interviews he conducted will remain online for all to enjoy, listed alphabetically on the website for ease of finding.
* * Speaking of alphabetically... As of today, WDRV-FM/WWDV-FM, aka The Drive, is once again doing its popular semi-annual event called "The Drive A to Z." The classic rock station has assembled a list of over 2,000 songs and will be playing them alphabetically by title over the course of several days. This is in sharp contrast to similar stations in Chicagoland who have much smaller and tighter playlists that will see the same song and artists be played & replayed often. A complete list of all songs played so far on the Drive since this on-air event started can be found
HERE
.
* * Last month, NBCUniversal
announced
its plans to end its "Nonstop" digital subchannels, to replace it with a new channel made up of classic television shows and movies, combined with some original programming, called "Cozi TV." That meant many of the local shows that aired on Nonstop would be coming to an end early next year. One show didn't even last that long. At the end of last week, WMAQ-TV canceled the television simulcast of WLS-AM's Roe Conn & Richard Roeper radio show, which aired on Nonstop from 3:00pm-6:00pm. The "Roe & Roeper" television simulcast had been one of the initial programs on the station, when it launched as "Chicago NonStop" on November 1, 2010. There was also rumors at that time started by a local blogger of the NBC station airing a television simulcast of WLS-AM's "Don Wade & Roma Show," which never materialized.
* * In happier Roe Conn news, his third Newsapalooza event, first mentioned
HERE
, is still taking place on November 10th at Chicago's Park West (322 W. Armitage) and ticket sales are strong. In addition to the many Chicago media stars announced as part of the musical lineup in September, the following names have since joined up: WGN-TV's Dina Bair, WBBM-TV's Susan Carlson, WBBM-TV's Megan Glaros, WMAQ-TV's Daniella Guzman, WMAQ-TV/WLS-AM's Anthony Ponce, WGN-TV/WLS-AM's Dan Ponce, WMAQ-TV's Alicia Roman, and WMAQ-TV's Cheryl Scott. Newsapalooza 3 ticket sales will go to benefit Clearbrook, an Arlington Heights-based organization that provides services, programs and support for those with autism, Down syndrome, cerebral palsy and other intellectual/developmental disabilities. More information on Newsapalooza 3 can be found on the website
NP3.tv
.
* * WUSN-FM/US99.5 has quietly been one of the bigger success stories of Chicago radio over the last few years. One of the keys to its success has been its consistent lineup of weekday personalities, all of whom have been in their roles and dayparts for quite a long time. Look for that to change in the coming months, however...
* * WLIT-FM/93.9 Lite FM has not flipped to its all-Christmas format called the "Holiday Lite." However, its website has already made the switch. This morning, the Life FM website was completely made over in Christmas colors and themes. The website is already using the slogan "Chicago's Christmas Music Station," even though the radio station itself is still playing it regular AC/Hot AC playlist with no holiday music... yet. That playlist could change soon, though -- as soon as next week.
* * WTMX-FM/101.9 The Mix has announced its annual holiday concert event "Miracle on State Street" will take place December 14th at the Chicago Theatre (175 N State St, Chicago). The line-up will be Train, Karmin, Ed Sheeran, and Tristan Prettyman. Tickets go on sale to the general public tomorrow morning via Ticketmaster at this link
HERE
. Price ranges are $69.70 to $90.23 (including Ticketmaster fees). A portion of the proceeds go to benefit La Rabida Children's Hospital.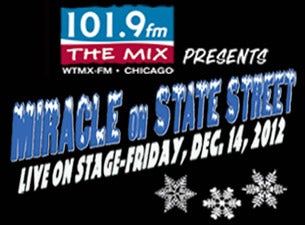 * * Jim Moran was the nine year veteran of Shadow/Metro Traffic, whose voice had been heard on news & traffic reports on such Chicago stations as WBBM-AM, WUSN-FM, WIND-AM, WLS-AM, WZZN-FM/WLS-FM, and NextMedia's suburban stations. He stepped away from his radio work last year when he was elected at Village Trustee for his hometown of Libertyville, IL. However, once radio is in one's blood, it's hard to get it out... Jim Moran is returning to the radio world, only this time in a different capacity. Starting this coming Monday, Moran will be an account executive for WYLL-AM 1160. It is a return to Salem Radio Chicago, where Jim Moran was once the afternoon news voice on sister-station WIND-AM.
* * Also returning to radio for Salem Communications is Scott Straus, who, as of this week, is the new Production Director for WIND-AM and WYLL-AM. Straus was most recently the producer of the short-lived Robert Murphy morning show on WILV-FM, which was
canceled in March
. Prior to that, Straus was the Production Director and more for Clear Channel Chicago's WKSC-FM and WLIT-FM for over 11 years. Before his many years at Clear Channel, Straus was a Producer at WSCR-AM, WRCX-FM, and WXXY-FM.
* * Radio industry veteran Dave Benson has been hired as the new General Manger and Program Director of WNRN-FM, the Alternative/AAA hybrid station in Charlottesville, VA. Local radio fans will remember Dave Benson's many years in Chicago at WMET-FM, WLUP-FM, and WXRT-FM (twice), where he worked as producer, Music Director, and DJ.
* * On Sunday, Radio One Communications will celebrate its 48th anniversary. Their first station, WAYK-AM (now WAKE-AM) signed on at Noon on November 4, 1964. The company, first named Porter County Broadcasting, was founded by Country Radio Disc Jockey Hall of Famer and Country Music Association Charter Member Leonard "Uncle Len" Ellis and his wife Bee. It remains family-owned to this day, now run by Leigh Ellis. Radio One Communications currently operates four radio stations -- WAKE-AM, WLJE-FM, WXRD-FM, and WZVN-FM -- heard throughout northwest Indiana and in the south suburbs of Chicago.

* * Congratulations to WLS-TV/ABC 7 reporter Diane Pathieu. She and her longtime boyfriend were married this past Saturday. Best wishes to the happy couple!
* * Congratulations to WBBM-TV/CBS 2 reporter Susanna Song. She and her boyfriend of three years, Isaac are now engaged to be married. Best wishes on the wedding planning!
* * On his sports media blogsite, the
Sherman Report
this week, former Crain's/Chicago Tribune sports columnist Ed Sherman interviewed former Chicago Sun-Times sports columnist Jay Mariotti. In it, Mariotti was his typical, controversial self. Despite numerous eyewitnesses in numerous locations at different times, who all claimed to have seen Mariotti physically assault his former girlfriend, and pleading "no contest" to numerous charges against him for those assaults, Mariotti still denies he did anything wrong and claims he was the abused one. On the plus side of this interview, Ed Sherman asked tough, direct questions and didn't skirt around any of the controversies, and Mariotti didn't refuse to answer any question, even if he does appear to be in denial about his recent past. The interview can be read at this link
HERE
.
* * On Halloween, somebody decided to pretend to be President and CEO of Chicago Tribune Media Group Tony Hunter, creating a
Facebook account
with Hunter's name and picture. Spending hours posting up links to Chicago Tribune website stories Wednesday morning, the fake Tony Hunter reminded people that the Trib website was going behind a pay wall the next day and provided a link to upgrade to a digital subscription. The fake Tony Hunter then added this paragraph: "
Due to publicity and massive exposure on comments on stories Tribune will go all digital and stop printing its paper edition on December 31, 2012. The main reason Tribune is going all digital is because most people read newspapers content online on various websites, on blogs, and listen to audio podcasts. New media is digital media, and Tribune has followed in the path of the many newspapers and book publishers that have ceased printing the paper and ink edition due to people reading news online because online news is more current.
" (That is a direct quote from the fake Tony Hunter. Misspellings and grammatical flaws reprinted verbatim.) The fake Tony Hunter also posted this quote on other Facebook pages and profiles, as well as on the comments section of Chicago Tribune online articles, which then led to people believing it to be true, flooding the Tribune website's comments section with furious remarks. None of what that fake Tony Hunter wrote was the truth. The
REAL
Tony Hunter wrote the following on
his Twitter account
later Wednesday: "
A user impersonating me posted inaccurate information about Chicago Tribune under my name on chicagotribune.com. Please disregard. Thanks.
" It was not a Happy Halloween for the staffers at the Chicago Tribune, especially in its digital department. By the end of the following day, Facebook had finally removed the fake Tony Hunter page and numerous postings, based on requests from the Chicago Tribune lawyers.
* * Longtime Chicago Sun-Times food critic, Pasquale Bruno Jr., aka Pat Bruno, passed away this week from glioblastoma multiforme, which is an aggressive form of brain cancer that also claimed the lives of Chicago media superstars Gene Siskel and Tim Weigel. Pat Bruno was released from the Chicago Sun-Times after 27 years in September 2011. He also wrote a regular column in a pizza magazine and was the author of five cookbooks. Bruno was 79 years old.