Details

Published on Thursday, 25 February 2010 12:38
In this Thursday News & Notes: Dave Robbins exclaims "I'm going to DisneyWorld!", Geoff Pinkus helps out Veterans in need, WLPR starts up some Cop Talk radio, WXRT shows its Chicago pride, Paul Wertico talks about his incredible careers, Univision Radio in Chicago and nationwide help out some children in need, and Comcast SportsNet helps out White Sox TV fans in need. It is all below...
* * Dave Robbins, the Vice President and General Manager of WUSN-FM 99.5 and WCFS-FM 105.9 for CBS Radio Chicago, is heading south for the winter... to stay. Robbins was today named as the Senior Vice President and Market Manager for CBS Radio's three station cluster in Orlando, FL. Robbins has two days to pack up his Chicago office, as his new Orlando position begins this Monday. This was a position Robbins was seeking, as he and his wife have owned a home outside of Orlando for years. Robbins' Chicago supervisor, Rod Zimmerman will absorb Robbins duties, overseeing US99.5 & Fresh.
* * WIND's Geoff Pinkus will be the Master of Ceremonies for an event this Saturday night benefiting the Center for Homeless Veterans. The event to help Veterans in need will feature concerts by The Bacon Brothers (featuring actor Kevin Bacon), Frank Stallone (Sylvester's musical brother), and Joe Cantafio. The show will take place on the 27th at the Hammond Civic Center (5825 Sohl Ave., Hammond, IN). The doors open at 6:00pm and the show starts at 7:30pm. The donation to see the show is only $35.00, with tickets available the night of the concert or in advance at the Hammond Civic Center box office. All proceeds from this event go to the Center for Homeless Veterans. More information can be found
HERE
. Plus, now you can use Geoff Pinkus' name when you play the "Six Degrees of Kevin Bacon" game. (Don't forget that the Pinker's podcasts with Chet Coppock can be found right
HERE
on this very website.)
* * Speaking of Northwestern Indiana, Lakeshore Public Radio, working with the Lake County (IN) Sheriff's Department, will premiere a one-hour, monthly call-in program this Friday afternoon called "On Patrol with Sheriff Dominguez." The program's host, Sheriff Roy Dominguez, will provide the public with information about Sheriff's Department services and programs and will feature special guests from the Department & its partner agencies. Listeners can call in with questions and comments to 219-769-WLPR (9577). (And... no, calling in cannot help get you out of a speeding ticket.) The show will be this Friday the 26th from Noon to 1:00pm on WLPR-FM 89.1 and online at
TheLakeshoreFM.com
. Make sure you are buckled and come to a complete stop first.
* * This coming Wednesday, March 3rd has been declared "Chicago Day" by WXRT-FM. This annual event has the station paying homage to the Windy City through a whole day of unique programming. Between 9:00am and 9:00pm, XRT will air music by Chicago acts, both past & present, and have spoken word pieces from Chicago musicians, film & television stars, athletes, politicians, and even just regular Chicagoans talking about what makes Chicago so special. Go ahead and plan your lunch of hot dogs & Italian beefs, dinner of stuffed pizza and turn on 93.1 on Wednesday, "Chicahga's finest rahhk," my friend.
* * As mentioned on this website
previously
, Paul Wertico's "Wild World of Jazz" debuted on WFLM 88.7, Chicago's Smooth Jazz station. There is a great article on Paul Wertico, the highly respected musician from Chicago and now, local DJ, on the JazzTimes website. You can read all about Wertico and his new show at this link
HERE
.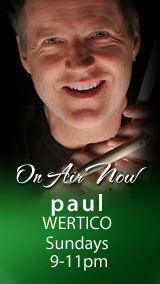 * * Univision-owned radio stations nationwide will host a radiothon next week on March 4th & 5th to help children fighting cancer at St. Jude Children's Research Hospital, one of the world's premier pediatric cancer research centers, based in Memphis, TN. The Promesa y Esperanza (Promise and Hope) radiothon begins next Thursday morning. Radio listeners interested in with the ongoing fight against childhood cancer can become an Angel de Esperanza (Partner in Hope) by pledging to donate $20 per month by calling 1-800-998-VIDA (8432) or visiting
www.promesayesperanza.org
during the two days of the radio event. Univision owns five radio stations in Chicagoland: WOJO-FM, WPPN-FM, WVIV-FM, WVIX-FM, and WRTO-AM.
* * Comcast SportsNet Chicago today announced its 2010 White Sox telecast schedule. CSN will air 101 live regular season games -- all in HD -- including the home/season opener on Monday, April 5th and the road opener on Monday, April 12th. For the second-straight season, each game will be called by the team of Ken "Hawk" Harrelson doing the play-by-play and Steve Stone as game analyst. Chuck Garfien and Bill Melton return as the in-studio tandem before & after most of the CSN White Sox telecasts on the "Feldco White Sox Pre-Game Live" and "U.S. Cellular White Sox Post Game Live."