Details

Published on Tuesday, 27 November 2012 09:37
On Thanksgiving last week, while most Americans were enjoying family, feasts, and football, a major anniversary took place. November 22, 2012 was the 25th anniversary of the greatest occurrence of television piracy in history, which occurred here on the Chicago airwaves. It has been called most often as "The Max Headroom Incident."
On Sunday night, November 22, 1987, pirates hijacked the signal of not one, but two major Chicago television stations over the period of just over hours. The main video pirate wore a cheap rubber Halloween mask of the television character Max Headroom.
For those who may not remember, "Max Headroom" was the name of a television show and its main character of the same name, who was supposed to be a computer-generated TV host. The popular character was also used in commercials, including a series of ads for Coca-Cola.
Chicago's "Max Headroom" pirate did a cheap imitation of the Hollywood Max Headroom while stealing the broadcast of stations.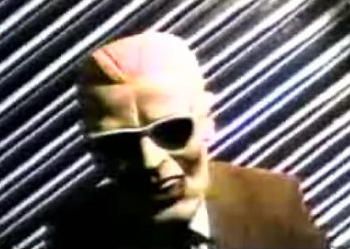 The hacking of Chicago's airwaves on 11/22/87 started at around 9:14pm. The WGN-TV evening newscast was beginning to show video clips of the Chicago Bears victory over the Detroit Lions from earlier that day, with sports anchor Dan Roan describing the action. During that segment, WGN-TV's broadcast suddenly changed. The screen went dark for a couple of seconds, followed immediately by the young man in the Max Headroom mask, wearing a tan suit, white dress shirt and black tie, with a crude moving striped background, meant to simulated the computer-generated background used by the Hollywood version of Max Headroom. He can be seen speaking and moving about, however the pirates were not able to properly get the audio feed working, just the video transmission. The audio was nothing more than a low-level buzzing. After about 24 seconds, alert WGN-TV technicians were able to cut their transmitter and switch it to a back-up transmitter and signal, thus throwing the fake "Max Headroom" off their airwaves. A confused Dan Roan was back on camera, saying "Well, if you're wondering what's happened... (*chuckle*), so am I..." He then proceeded to finish off his sports segment as best he could.
That wasn't the end of the television piracy that evening, though.
Two hours after the first attack, the "Max Headroom" pirate returned, this time on WTTW-TV. Unfortunately, in November 1987, WTTW-TV did not have the ability to quickly cut away from the pirates and were forced to leave it on the air, helpless to stop the hijacking of their airwaves.
The second incident occurred during an airing of an episode of the BBC serial "Doctor Who," entitled "Horror of Fang Rock." At 11:15pm, the "Doctor Who" show suddenly stopped, replaced by the "Max Headroom" imitator. For 1.5 minutes, "Max" proceeded to do a bizarre act of performance art that stunned viewers.
While the broken audio feed was fixed from the previous WGN-TV attack, it was still slightly garbled, thanks to the pirated transmission, and not helped any by the faked voice being used and the heavy mask over the "star's" face & mouth. In this twisted skit, "Max" makes fun of WGN, the Chicago Tribune (WGN's parent company), sportscaster Chuck Swirsky, Coca-Cola (which the Hollywood Max Headroom promoted) & Pepsi, and sings bits from the Temptations' "(I Know) I'm Losing You" and the "Clutch Cargo" theme song. There is also plenty of fake laughter and moaning throughout. It ends with a strange segment where "Max" has his pants pulled down and being spanked by a flyswatter by a female assistant. At that point, his mask was off and simply held up to the camera, but his face was off camera and not able to be seen. The face of the female assistant was also not able to be seen. Outside of both on camera people being clearly Caucasian, there was no other easy way to identify either party.
Even now, 25 years later, it is not entirely sure all that was said within the distorted audio of this 90 second video. Here is a best guess transcription of the famous video pirate incident of WTTW-TV: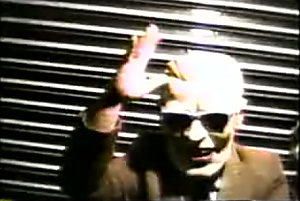 "That does it... He's a freakin' nerd. (Hee-hee-hee)"
"Yeah, I think I'm better than Chuck Swirsky."
"Frickin' Liberal..."
"Oh, Jesus."
(Laughs and moans.)
"Yeaaaah..."
(Laughs and shows a can of Pepsi.)
"Catch the wave?"
(Throws can of Pepsi forward.)
(More laughs and moans. Picks up a marital aid, brings it toward the camera, and drops it. Picks up can of Pepsi again.)
Sings "Your love is fading..."
(Drops can again. More distorted laughs by "Max." He then mimics the opening theme song to the "Clutch Cargo" cartoon show.)
"I still see the X."
(More mimicking of the "Clutch Cargo" theme song.)
"Ohhhhh-hooo... My files..."
(More laughs and moans)
"Oh, I just laid a giant masterpiece for all the Greatest World Newspaper nerds."
(More laughs and moans. He picks up an old, dirty, over-sized glove.)
"My brother is wearing the other one."
(Puts on glove on his left hand.)
"But it's dirty."
(Pulls off glove, throws it forward)
"Looks like it's got blood prints on it!"
(The scene then cuts away to "Max" leaning to his right with his pants pulled down, exposing his left buttock. Instead of wearing the Max Headroom mask, he is now holding it at his side facing the camera, with a marital aid protruding from the mask's mouth. A girl whose face cannot be seen, stands behind him holding a wire flyswatter.)
"They're coming to get me!"
"Bend over, bitch."
(The girl pretends to spank the top of his rear end with the flyswatter while he moans and screams.)
"Oh, do it!"
(More screams from "Max.")
The video then cuts out. For a couple of seconds, the video goes black, while the audio is a high hum, before finally returning back to the "Doctor Who" broadcast of WTTW-TV.
Here is the video of the WTTW-TV incident, courtesy of the Museum of Classic Chicago Television:
Exactly how these pirates were able to pull off the overriding of WGN-TV and WTTW-TV's signals is not yet known for certain, although a few theories have been put forward. The most probable way of achieving what they did was by use of highly sophisticated and expensive microwave equipment, used at extremely high power levels. The pirates were most likely located in a very tall building in downtown Chicago, somewhere between the John Hancock building, where the WGN-TV transmitted from, and the Sears (now Willis) Tower, where WTTW-TV transmitted from. Within that tall building's location, the pirates would then have to aim their microwave dishes at the transmitting antennas in order to overpower them. The pirates would have to been well versed in how to use this large, commercial-grade equipment and would have required and incredible amount of electricity to make it work. It would take more than just a young prankster to make the piracy work. These culprits would need to posses a great knowledge of broadcasting mechanics, signal flow, power levels, and microwave technology.
A similar theory has the pirates not in a tall building, but in a van or large vehicle that could have driven near the Hancock Building and Sears Tower, had a clear visual shot of the transmitters and aimed their microwave transmissions at the building's antennae. What is not known is how they would be able to power the equipment to do this from the van.
It would also appear that the pirates had a grudge against WGN-TV and its owner. The first attack was against the airwaves of WGN-TV. The video mentions Chuck Swirsky, who at the time worked for WGN-TV. It also mentioned the "Greatest World Newspaper," a twisted version of "World's Greatest Newspaper," the meaning behind the WGN call letters. The cartoon "Clutch Cargo" was previously played on children's shows on WGN-TV, such as "Garfield Goose."
However, after WGN-TV was able to switch transmitters, blocking out the pirates, they may have decided to then attack WTTW-TV instead, using the same anti-WGN video. WTTW-TV may very well have just been a secondary choice after their first choice didn't work for them, and was not any type of vendetta against the public broadcasting station.
What was seen on WGN-TV and WTTW-TV was not live. Both times, the visuals were the same, only WTTW-TV's was far longer. The visuals show glitches common with 1980's VHS tapes, leading most to believe that "Max" performed his stunts in advance, taped them on a home VHS cassette, and readied that VHS tape for his broadcast via microwaves.
A very small amount of people would have the knowledge and abilities to pull off a broadcast hijacking stunt like this. Even with clues to who may have done this and how they would have done it, the pirates have never been identified and never caught. The F.B.I. and the F.C.C., in cooperation with the Chicago Police Department, all searched for these pirates in vein. The case remains unsolved to this day.
Many have suspected University of Chicago or Columbia College students of being behind the video piracy -- perhaps an unhappy broadcast engineering student who was an intern with WGN-TV.
Another theory points to the late performance artist Eric Fournier, who often would dress as the gender-bending character "Shaye Saint John" and use a similar voice as "Max." Fournier passed away in 2010, but supposedly told friends he was the "Max Headroom" pirate. Even if he truly did privately say he was behind the incident (there is only hearsay evidence of this), that does not mean he actually
was
the video pirate. He would often say and do things just for the attention. Fournier was in downstate Indiana at that time and could have potentially traveled three hours north to Chicago to hack into the TV signals. However, he would have had no real connection to WGN-TV or Chicago, or knowledge of much of the subject matter talked about in the video, making him an unlikely subject.
Yet another highly unlikely theory was tossed out on the Internet last year by a person on the social media website Reddit,
who claims
it was a pair of teenage suburban brothers, one of whom was autistic, who did the "Max Headroom" attack. However, he offers absolutely no proof of how two young suburban boys would be able to hack into downtown Chicago television signals from their mother's suburban basement. It does not say if they had any connection whatsoever to WGN-TV, Chuck Swirsky, Max Headroom, or any other verbal or audio part of the incident. It offers little more than a person thinking that the incident was something these boys
might
consider doing, if they could. The Reddit posting has already been dismissed by experts.
The statute of limitations on the crime has now passed, so the hackers could come forward without fear of fines or imprisonment, if they chose to do so. Unless "Max Headroom" decides to openly admit his 1987 crimes, he and his partners will seemingly not ever be revealed. The people behind it, and the message they tried to deliver in their own bizarre fashion, may never be fully known.
Since Chicago's pirated airwaves on November 22, 1987, there has not been another major signal interruption by a video pirate in the United States.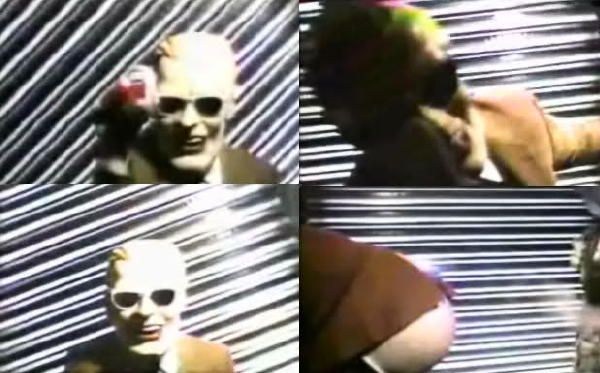 Bonus videos:
The signal interruption incident made national news the following day, and of course, was mentioned on all of the local Chicago news broadcasts as well. Here is a YouTube video compilation of most of the local broadcasts:
A few days later, then-WMAQ-TV sports anchor Mark Giangreco spoofed the Max Headroom incident by splicing in bits of Sunday night's video hijacking into his sportscast and then blaming it on former WMAQ-TV sportscaster (and personal friend of his) Chet Coppock):
(Note: All of the above videos require Adobe Flash Player to work properly. If videos do not play, please update your Flash Player software.)