Details

Published on Thursday, 29 November 2012 14:42
Today's huge News & Notes features 15 local media news items, including: WLS-TV gets a new marketing boss: WTTW-TV looks back to the 70s & 80s; Andy Friedman loves NY; Phil Duncan loves retirement; Milt Rosenberg is podcast king; The Drive goes "Live" this weekend; K-Hits' Gary Spears and Eddie & Jobo are working weekends; WSCR-AM & WGN-AM have college pigskin planned; Garry Meier celebrates Christmas; WXRT celebrates its new CD; Peter Van de Graaff is the new WFMT PD; Alan Cox is the new "fly jock"; Me-TV & Me Too celebrate Larry Hagman's sitcom past; WGN-TV celebrates its live web stream; and the IBA wants Silver Dome entries. All of the details are just below.
* * WLS-TV's new President and General Manager John Idler, who came back to the station
this June
after working for five years at WTVD-TV in Raleigh, NC, has made one of his first big hires. Curtis Miles has been hired as the new Vice President of Creative Services and Local Programming. He, too, comes to WLS-TV from Raleigh-Durham's WTVD-TV, where he served as the Director of Creative Services for eight years. He begins in his new job in his new city on January 1st. Curtis Miles replaces Tom Hebel, a 14 year veteran of WLS-TV, who was forced out at the start of last month.
* * On Monday of this week, WTTW-TV premiered the latest in its "Remembering Chicago" documentaries, this one focusing on the 1970s and 1980s. Disco Demolition, the humble Chicago TV beginnings of Oprah Winfrey, ChicagoFest, the elections of Jane Byrne and Harold Washington, the '85/'86 Super Bowl Bears, the construction of the Sears Tower, and more landmark events are all covered in this documentary. For those who missed this acclaimed special, it will be re-airing this coming Sunday, December 2nd at just past 7:00pm. It can also be streamed online and on demand (in four parts) at this page
HERE
. Additionally, "Remembering Chicago: The '70s & '80s" can be obtained on DVD for a donation of $60 to WTTW and this page
HERE
.
* * Andy Friedman has been hired as the new Head of Content Operations for AOL Patch. He will be responsible for overseeing the online content-related systems across the entire Patch network. His job will be based in New York, while he will continue to live in suburban Chicago and commute back & forth. Andy Friedman was the Vice President of Interactive Content & Programming for Merlin Media in Chicago, overseeing the launch and operations of WWWN/WIQI-FM, aka FM News 101.1. He was among the many who lost their jobs when Merlin Media
abruptly pulled the plug
on the radio station, flipping it from a news/talk format to a music format in July. Prior to that, Friedman was Vice President of Interactive Content for Tribune Company for over three years and a previous News Director at WBBM-AM.
* * Last week, after 17 years as WUSN-FM/US99.5's Production Director, Phil Duncan retired. Prior to his many years with CBS Radio, Phil Duncan was the Production Director and part-time DJ for WLS-AM from 1989-1993. In fact, Phil Duncan was the last DJ that played music on WLS Musicradio before the station flipped to its current 24/7 talk format. (A little nugget for the radio trivia lovers out there...) Prior to that, he was a longtime host on WCLR-FM/WPNT-FM as "Doctor Duncan." Although he has retired from US99.5, he will still be doing some freelance production work and property managing. He will just now have more free time to spend at the health club and with his wife & dogs.
* * Not only is WGN-AM's Milt Rosenberg a top-rated host on the radio each weeknight, but he also rules the Internet. WGN's statistics for their October podcasts shows that out of the top 30 podcasts, 26 belonged to Milt Rosenberg. (#18, #24, #25, and #30 belonged to Nick Digilio.) In the past, Milt Rosenberg's podcasts, which have always been popular, rarely achieved even 50,000 downloads in a month. This October, 21 podcasts were downloaded over 100,000 times, including one that eclipsed 510,000 downloads. (This was the show which followed the first Presidential debate in early October.) Of the 9,543,492 downloads WGN Radio's website had in October, the majority of downloads belonged to Milt Rosenberg shows. Rosenberg, a 39 year veteran of terrestrial radio is far outpacing the younger hosts in the younger digital world.
* * WDRV-FM/97.1 The Drive is having a very special "Live Drive Weekend." In times past, when the Drive did a "Live" weekend, it was full of live classic tracks and songs heavily mixed in to the regular playlist. With this weekend's special presentation, WDRV-FM will be playing 60 minute concerts from some of the biggest rock bands in history. These concerts are ones that have not been released (legally) on albums, and the majority of them are recordings from Chicago area venues. The "Live Drive Weekend" kicks off on Friday at 6:00pm with a concert by the Rolling Stones from 1978 at Chicago's Soldier Field. The special concert weekend programming continues on through late Sunday night. For a complete list of which artists and which concerts will be playing at what times, visit this link
HERE
.
* * This Saturday, December 1st, WJMK-FM/K-Hits 104.3's Gary Spears will be broadcasting live from PAWS Chicago (1997 N. Clybourn, Chicago) from 10:00am-2:00pm. In addition to meeting Spears, those who stop by will be able to meet the weekday morning team of Eddie & Jobo, who will be there. Just to be safe, Jobo will be locked in a cage the entire time. (Really!!!) Those who come by can also register to win ticket prizes from Gary Spears and K-Hits.
* * A pair of big college football games will air on local radio this Saturday. WSCR-AM/670 The Score will air the SEC Championship Game, as the Alabama Crimson Tide take on the Georgia Bulldogs. The winner of this game could very well take on Notre Dame in the National Championship. The broadcast begins with a pre-game show at 2:30pm. Following the conclusion of that game, flip over to WGN-AM, where AM 720 will be airing the Big Ten Championship Game, with the Nebraska Cornhuskers taking on the Wisconsin Badgers. That pre-game show begins at 6:30pm.
* * WGN-AM's Garry Meier will once again be hosting his annual holiday party, "A Very Garry Christmas." It will be taking place on December 12th at The Signature Room on the 95th floor of the John Hancock Building, where Meier and company will be broadcasting live on the air from 3:00pm-7:00pm. Twenty listeners will get passes for two to join Garry Meier for this live broadcast. Guests will get appetizers, cocktails, and be able to win one of numerous prizes. Those who wish to register must do so by early next week at this link
HERE
.
* * WXRT-FM will release its charity CD, "
ONXRT: Live from the Archives Volume 14
" on this coming Tuesday, December 4th at Chicagoland Target stores. The following evening, Wednesday, December 5th, 93XRT will have a special CD release party at 5:30pm at a secret Chicago location, featuring a live performance by JD McPherson. Those who wish to attend can try to win tickets at this link
HERE
.
* * This week in an internal memo to staffers and on their Facebook page, WFMT-FM announced that they have finally found a replacement for Peter Whorf,
who resigned
as the classical station's Program Director and Vice President of Content in mid-July of this year. Taking over as Program Director starting this coming Monday, December 3rd will be Peter Van de Graaff, who has been with the station since 1988. In addition to being the station's PD, Van de Graaff will continue as the host of "WFMT Through the Night" and as Program Director of the Chicago-based, nationally syndicated Beethoven Satellite Network.
* * Former Chicago radio star Alan Cox continues to be a rising star elsewhere. His highly-rated afternoon radio show on Cleveland's WMMS-FM was renewed for another two years at the start of this month. In addition, starting this coming Monday, December 3rd, Alan Cox will be the new morning show host on Detroit's WDTW-FM, live (not voice-tracked!) from 6:00am-10:00am. He will be based in Cleveland, but will often be doing shows live from Detroit. He plans on commuting back and forth between the two markets. (Not quite as far as Tom Joyner's old Chicago/Dallas daily commute, but still impressive.) Cox, who began his radio career as an intern & producer for Jonathon Brandmeier's WLUP-FM radio "showgram," was the morning show host on WKQX-FM/Q101 from August 2006-August 2008. He is also among the many interviewed about the former Q101 radio station in the
new book
by James VanOsdol, "
We Appreciate Your Enthusiasm: The Oral History of Q101
."
* * Me-TV, the Chicago-based classic television network will have a salute to the actor Larry Hagman, who passed away last week at the age of 81. Long before he became famous as the dislikeable character J.R. Ewing on the TV show "Dallas," Hagman was known for being the lovable character of Major Anthony Nelson on the sitcom "I Dream of Jeannie." Me-TV will air a four episode/two hour marathon of "I Dream of Jeannie" this Sunday starting at 5:00pm. Me-TV can be seen over-the-air on WCIU-TV's digital subchannel 26.3, as well as on most cable & satellite systems. The day before that, Me-TV's local-only sister-station, Me-Too will have an eight episode/four-hour marathon of "I Dream of Jeannie" episodes. Saturday's salute to Larry Hagman will air from Noon-4:00pm. Me-Too can be seen in the Chicagoland area over the air on WCIU-TV 26.4, or via cable on Comcast Xfininty 247/358, RCN 22 & WOW 171.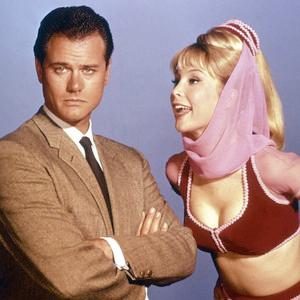 * * WGN-TV has announced that their website's live news stream has surpassed the one million mark, as of October. It reached 1.4 million video views. The WGN-TV website first started live streaming their newscasts last year.
* * The Illinois Broadcasters Association (IBA) will be opening up its Call for Entries starting Saturday, December 1st for those looking to win an IBA Silver Dome Awards Call for radio & television excellence. This year, there are several new categories and many newly renamed categories. Entries must be received by February 14th. The winners will be announced at the IBA2013 conference, which will be held in East Peoria, IL on June 19, 2013.