Details

Published on Tuesday, 04 December 2012 18:53
Today's gigantic News & Notes has plenty of news items for those who follow Chicago media, including: Possible major changes coming to both WFLD-TV & Merlin Media; Jonathon Brandmeier heads north of the border; Roe & Roeper head east of the border; WCRX-FM helps feed the hungry; Julian Nieh helps with a fitness & fashion show; Clark Weber returns to WIND-AM; Zander returns to Saturday nights; David Berner writes a new book; Rick O'Dell returns to the Brunch; Jill Urchak has a new online home; Chicago Sun-Times has a new online policy; Men's Journal salutes some Chicago Men; Bozo goes nationwide; L.J. Tabano gets promoted; and "Mob Wives Chicago" gets rubbed out. All of the details are right here...
* * There is strong "buzz," due to some inside company leaks that point to a couple of major changes happening to Chicago media soon. The first could see Phyllis Schwartz exiting just over a year before the end of her contract as Vice President and News Director for WFLD-TV. That change could/should happen this month. The second big change would be the end of Merlin Media in Chicago. According to those in the know, negotiations between Cumulus Media and Merlin Media's investment group GTCR, have gone well. Look for Cumulus to take over operations of WLUP-FM and WIQI-FM in the very near future. Do not look for WIQI-FM to stay a 90s/00s AC station or flip to Country, though. It appears that Cumulus & CBS have an agreement to place the new syndicated CBS Sports Network on 101.1 FM. (That is very good news to fans and employees of 104.3 K-Hits, who could have lost the station otherwise!) We will have to see how these developments work out this month...
* * Jonathon Brandmeier will be hosting his second-ever live remote for WGN Radio's Hometown Voices Tour this coming Friday morning. Normally, the WGN Radio Hometown Voices Tour brings one of its personalities to a Chicago suburban location once a month to do a live remote and learn more about the town. For Johnny B's turn at hosting, the Tour is going north... way north... 20 minutes over the border north. Friday's Hometown Voices remote broadcast will be coming from the Brat Stop in Kenosha, WI (located at 12304 75th Street, on Hwy 50, just west of I-94). Brandmeier, along with Buzz Kilman, sports director Dave Eanet, producer Hector Soriano, and others, will be live on the air from 6:00am-9:00am. There will also be special guests and live polka music. The event is free to attend (until capacity is reached), but visitors are encouraged to bring new or gently used coats, sweaters, hats, mittens and other warm clothing items to donate to the Wisconsin Department of Tourism's "Big Bundle Up" winter campaign. Ya-Hey-Der!
* * WLS-AM's Roe Conn & Richard Roeper will once again be doing their annual Christmas show for charity. This Friday's program will be "The Roe & Roeper Toys For Tots Holiday Show," a live remote from The Venue at Horseshoe Casino in Hammond, IN. There will be special guests and live music from Chicago's own The Ides of March. Attendees are asked to bring a new, unwrapped toy to benefit the Toys for Tots campaign. Those looking to win tickets to the event can do so
HERE
.
* * WCRX-FM 88.1 and the Radio Department at Columbia College Chicago will be hosting the 10th Annual "Holly Jolly Trolley" Food Drive & Auction for the Greater Chicago Food Depository this Thursday, December 6th, from 9:00am-5:00pm. The "Holly Jolly Trolley" will be in Chicago, parked the southwest corner of Congress & Wabash and WCRX-FM will be broadcasting live from the 33 E. Congress lobby. Anybody can stop by the live broadcast and get a look at the many special guests who will be visiting that day. Among those scheduled to make an appearance are WLS-TV's Steve "The Hungry Hound" Dolinsky, actor Nick Rush, IL Lt. Governor Sheila Simon, IL Secretary of State Jesse White, and others. Everybody coming by is asked to please donate a nonperishable food item, as well as look at the many items donated by local businesses and make a bid on them for the silent auction.
* * Thursday night will be the 2012 Celebrity Fitness Fashion Show taking place at the Nikki Nightclub (1543 N Kingsbury, Chicago) from 5:00pm-2:00am. The event was created to inspire Chicagoans to achieve optimum health and fitness and introduce attendees to various fitness clothing lines. The emcee for the evening will be attorney, author, and frequent Chicago radio/TV guest Corri Fetman. Celebrity guest hosts include (
now-former
) WBBM-FM morning show host Julian Nieh, WGBO-TV news reporter/anchor Paula Gomez, media personality/author/speaker Lisa Lockwood, and many others. Tickets at the door cost $20 and come with two hours of free hors d'oeuvres, two hours of free Hennessy drinks, and a drink ticket. Profits will go to charities, including Give A Little Does A Lot, Special Kids Network, I Am 4 Kids, and American Chamber Opera.
* * Aging Info Radio, which broadcasts every Saturday morning from 6:00am-7:00am on WIND-AM, has a very special guest on the show this weekend. Chicago radio legend Clark Weber talks with host Sue Zawacki, sharing stories from his over 50 years in local radio. In addition to fun stories of his years at WLS, WIND, WCFL, and elsewhere, Clark Weber offers up advice to listeners, saying they should work in a career they love. Said Weber on the show: "It won't be just a job, but something that brings you joy." The Aging Info Radio show entitled "The Gift of Clark Weber" will air this Saturday at 6:00am and be repeated again on December 22nd on AM 560-WIND. Podcasts can also be found at
AgingInfoRadio.com
.
* * As of this past weekend, "The Rockin' 80's" has moved to Saturday nights at 10:00pm on WERV-FM/95.9 The River. The show, hosted by Zander, has been airing on The River on Sunday nights since April 2011. "The Rockin' 80's" on WERV-FM is not the nationally syndicated show with the same name & host heard in over 50 other markets. The River's version is exclusive to the station and much closer to the the original "Rock of the 80's" show that Zander launched on WCKG-FM in 1997. (Versions of this show of Zander's were also heard in years past on WXXY-FM and WLUP-FM.) In addition to national and international artists of the 1980s, this weekend program on WERV-FM also gives extra focus to Chicago area bands of that time.
* * David Berner, the reporter/anchor for WBBM-AM and Associate Professor at Columbia College Chicago, has released his latest book. The new short story is from Little Big Man Publishing and is entitled "Knowing What To Steal." It's the story of a gifted young journalist who instead uses his writing skills to commit a crime. The book is available in Kindle form right now for only $1.99 at this link
HERE
.
* * With the fantastic
return of Rick O'Dell
and the launch of his
SmoothJazzChicago.net
, this also means the return of the live remote "Smooth Jazz Sunday Brunch." This Sunday will be the annual Christmas Sunday Brunch. It will be taking place once again at The Parrot Cage Restaurant, located at the South Shore Cultural Center, 7059 S. South Shore Drive in Chicago from 10:30am-2:00pm. The whole Smooth Crew will be on hand, as will Santa Claus, who will talk with the children. The adults will get to listen to live music from the Harold Washington College Jazz Ensemble. O'Dell will be giving away concert tickets and CDs to some lucky brunchers. To make reservations, call 773-602-5333. Come hungry!
* * Chicago radio's Jill Urchak's 60 minute Internet show, "Rockback with Urchak," can now be heard on demand on the new website for displaced radio professionals, Aircheck.us, at this direct link
HERE
. This is in addition to be heard regularly on
"The Choice" channel of Zecom Radio
.
* * While the Chicago Sun-Times may have dropped its paywall recently, it has added a new registration system, asking online readers to register with the newspaper and log in to read many of the columns, features and articles. Additionally, the website has added a new commenting system, offering online readers a way to leave their thoughts under stories. To comment, visitors can log in via their social media accounts or SunTimes.com registration. Other upgrades and changes to the Sun Times Media websites are expected over the next few months.
* * As it did last year, the magazine Men's Journal will open up a temporary pop-up shop on Chicago's Magnificent Mile to capture holiday shoppers. The pop-up shop will be set up within The Shops at North Bridge, located at 520 N. Michigan Avenue. The shop will be open starting Friday morning, December 7th through December 23rd. The male-targeted temporary gift shop will have hundreds of items for men and an interactive retail showcase of 2012's hottest items, including the magazine's "Gear of the Year." On Thursday night, the shop will be open for a special "sneak peek" party, in which they will name Men's Journal's 2012 Chicago Men of the Year. Among the many honorees this year include Chicago media stars WLS-TV's Mark Giangreco, WMAQ-TV's Stefan Holt, and WFLD-TV/Chicago Sun-Times' Bill Zwecker.
* * As most everybody knows by now, WGN-TV will be airing
"Bozo's Circus: The Lost Tape"
this coming Sunday at 7:00pm. The station was planning on re-airing the special on Christmas morning at 11:00am. It was also planned that the special would not be aired nationally via WGN America or Antenna TV. Due to popular demand, that has now changed! The rebroadcast of "Bozo's Circus: The Lost Tape" on December 25th has been later by one hour, now starting at Noon. Additionally, that showing will also air on WGN America, so the whole country may enjoy it. Merry Christmas from WGN-TV.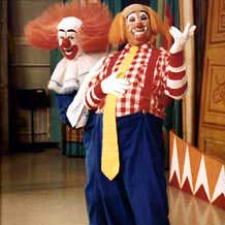 * * L.J. Tabano has been promoted from CLTV News Producer to Senior Producer for WGN-TV News. He has been with WGN/CLTV/Tribune Broadcasting since August 2004 and producing television since 1997. Tabano is also a co-founder and reporter for the website
ChicagosMMA.com
.
* * "Mob Wives Chicago" is no more. It wasn't a Mafia-ordered hit that took out the television show, it was a lack of ratings and interest. VH-1 announced last week that there will be no second season of "Mob Wives Chicago." The 11-episode reality show was a Midwestern spin-off of sorts to VH-1's New York-based "Mob Wives." It was filmed entirely in and around Chicago earlier this year and all episodes aired this summer. The show did not have the attraction of the original, so it's been "whacked."