Details

Published on Thursday, 04 April 2013 17:05
Fred Winston, afternoon DJ on WLS-FM and one of the most famous radio personalities in Chicago history, was released by Cumulus Media late yesterday. Station staffers confirmed the shocking news early this morning.
In August of last year, Fred Winston returned to WLS-FM as a weekend and fill-in jock. By the end of September, he had been promoted up to full-time, taking over the afternoon shift of 2:30pm-6:00pm,
beginning on October 1st
. Just over seven months after coming back to WLS-FM, he is out -- for no obvious reason.
At the same time Fred Winston was promoted to full-time afternoon DJ, the station changed it musical direction somewhat. It abandoned its slogan of "The Greatest Hits - 94.7 WLS" and began branding itself as "Chicago's Classic Hits." Gone were most songs from the 1960s, many songs from the 1970s, most songs sung by female artists, most songs sung by artists of color (including Motown acts, former a staple of WLS-FM), and any song considered to be an "Oldie." Instead, the music took a decidedly Classic Rock shift and shrunk its playlist down to only a handful of artists, playing only their most recognizable songs -- and doing so repeatedly. One of the biggest changes was filling the station's roster with some of well-known names from WLS-AM's Musicradio heyday, including Fred Winston, but then not allowing them to talk for more than a few seconds at a time, and only a few times per hour. Cumulus Media had hired some of the most talented DJs in America, and then would not let them use their incredible talents.
These decisions were made by Jan Jeffries, Cumulus Senior Vice President of Programming and WLS-FM Program Director. This was done, in theory, to raise ratings, and thus raise revenue.
As expected by most everybody outside of WLS-FM and Cumulus Media, the station's ratings suffered due to these managerial decisions.
In the most recent Arbitron radio ratings for the February period, WLS-FM had one of its best ratings in months, with a 3.2 share in the all ages numbers. However, that number is still well below the 3.8 share it had in February 2012. Even more to the point was that the reason for the change in the WLS-FM playlist was to greatly improve the station's 25-54 demographic numbers. That did not happen. In the most recent Arbitron radio ratings for the February period for the Persons 25-54 demographic, WLS-FM had only a 2.2 share, good enough for a ranking of only #20. In comparison, for the February 2012 ratings period, WLS-FM had a 3.9 share and was tied at #9. That is a 1.7 share loss in its most important demographic in one year. WLS-FM is also down in the demos of Women 25-54 and Men 25-54. Making matters worse, the station's top rival, WJMK-FM/104.3 K-Hits, is well ahead of WLS-FM in the 25-54 demographics, playing a very similar playlist, and seeing its ratings rise from 2012 to 2013.
In the most recent Arbitron radio ratings for the February period for the Persons 25-54 demographic, Winston's afternoon shift was doing slightly better than WLS-FM as a whole, earning a 2.3 share. It appears that frustration is sinking in at WLS-FM, and unfortunately for Fred Winston, that frustration cost him his job. He was doing exactly what he was asked to do by his superiors, but that must not have been enough for Cumulus Media. This appears to be an all-too familiar radio situation where on-air talent are pushed out for programming mistakes made by those above them.
For the record, WLS-FM and Cumulus Media have not given a public reason for the ouster of Fred Winston. Donna Baker, Cumulus Chicago Vice President & Market Manager, has not responded to requests for comments on this situation today.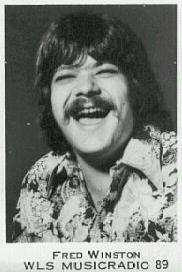 Fred Winston has also chosen to keep mum for now.
Winston, 67, is a Chicago radio legend, who began his career on Chicago radio as an afternoon DJ spinning the hits on WLS-AM in 1971. After almost six years there, he started his trek all across the Chicago radio dial, with stops at WMAQ-AM, WFYR-FM, WCFL-AM, back to WLS-AM, WJMK-FM, WLUP-FM, WPNT-FM, WXXY-FM, and WJMK-FM/WJMK-HD2. His time in radio came to an end after CBS Radio decided to remove the entire staff at Oldies 104.3 to make way for Jack-FM, and sent all of the big name talents to do Oldies radio on the WJMK-HD2 station. A year later, in July of 2006, CBS Radio fired all of the DJs from the HD-2 station. Since then Fred Winston did some freelance work for WGN-AM and filled in at WLS-FM, until getting the call to rejoin the station in the summer of last year.
Additionally, Fred Winston also lends his distinctive voice to a pair of AccuRadio's
ChicagoRadioOnline
web-only radio channels: "Chicago's Best Oldies" and "Classic Hits Chicago."
Winston now splits his time between Chicago and his ranch in southern Michigan. One of his artistic hobbies is his incredible photography. Many of his shots can be seen on his blogsite,
The Fred Winston Poltroon
.
Last May, Winston underwent quadruple bypass surgery on his heart. He recovered well enough from the serious operation by the end of summer to join WLS-FM. On the air he sounded as energetic as ever.
In talking with many insiders today, nobody saw this change coming. Certainly, Fred Winston didn't.
Also not known yet is if this release of Winston is the start of even more drastic changes for WLS-FM.
In the meantime, with Winston gone as of today, WLS-FM weekend personality Danny Lake has begun filling in. He will remain until a decision has been made on a replacement in a few weeks. Some believe that weekend voice and former WLS-AM personality Jeff Davis may be a likely replacement, either in Winston's previous time slot, or in middays, moving Greg Brown back up to afternoons where he was prior to last October's big change.