Details

Published on Thursday, 25 March 2010 12:44
It's a humongous News & Notes today! Grab a comfy seat and enjoy news items about Q101's big summer party, the Sun-Times' Joe Cowley signing contracts, Big John & Amy's new website, Pat Tomasulo's new website, Mark Baggio & Mark Breta's new podcast, Jill Urchak's new blog, Geoff Pinkus' new video hook-up, Lise Dominique's book signing, Ginger Zee's yummy dish, Lou Manfredini's Saturday schedule, David Kaplan's basketball jones, Tera Williams' wedding ring, and even more!
*Whew!!!*
* * Like so many other stations will soon be doing, WKQX has announced their big summer concert, Q101's Jamboree 2010. The concert will be on Saturday, June 5th, starting at 12:30pm, and held at the First Midwest Bank Amphitheatre in Tinley Park, IL. The line-up (so far) includes, Three Days Grace, Seether, Hollywood Undead, Papa Roach, Puddle Of Mudd, Saliva, Janus, Story of the Year, Flowbots, Crash Kings, and AM Taxi. Members of the Q101 Club can order pre-tickets now. Public sale of tickets starts Saturday morning at 10:00am at this link
HERE
. Prices are $101 for the upfront "pit," $29 for pavilion seating and $10.11 for lawn seating. Prices include the parking fee, too. More information on the big show, artists, after parties, and more can be found on a special website set up for this event, which is at this link
HERE
.
* * Joe Cowley, the Chicago Sun-Times Baseball reporter specializing in the Chicago White Sox beat, has signed a new contract to stay on with the paper, reporting & blogging on the SouthSide ball club. He may have one more contract to sign soon, too, this time from a Chicago sports radio station high up on the AM radio dial...
* * To celebrate WIND's new morning show starring John Howell and Amy Jacobson, which premiered yesterday morning, the station has launched a new website,
BigJohnAndAmy.com
. The site features information on the hosts, podcasts and plenty of conservative agenda news items.
* * WGN-TV's morning sports anchor and goofy video maker, Pat Tomasulo launched his new personal website today, the appropriately named PatTomasulo.com. It contains videos from his WGN skits, his national TV work and more, along with everything you could every want to know about the man. You can check out the new website at this link
HERE
.
* * Mark Baggio, Producer for WBBM-FM, and Mark Breta, Producer for WMBI-FM, have a new podcast together. Once a week, the two break into an unused B96 studio and record a funny one-hour show. They now have five episodes of "The Mark and Mark Show" under their belts. You can check out all of the episodes at this link
HERE
.
* * Jill Urchak, the veteran traffic reporter currently heard each weekday afternoon on WLS-AM & WLS-FM, has a new blog on the ChicagoNow website. You can check out the initial blog on the "In Check With Urchak" page at this link
HERE
.
* * Everybody knows that Geoff Pinkus' "Livin' Large" radio show can be found on WIND-AM on Sundays between 5:00pm-7:00pm. Now people can do more than just listen to the show on the radio. "Livin' Large" is now televised! Fans can watch the show live as it happens via a special webcam. The live show and recordings of the past Sunday's show can viewed on the Pinker's website at this link
HERE
. Last Sunday's show with guests Chet Coppock and Margaret "RadioGirl" Larkin is currently up now.
* * Speaking of Pinker & Coppock, they had to take a week off from doing their podcasts because Geoff had a bad case of the sniffles, but a pair of brand new shows are up now on the CRM Podcast page. Check them out
HERE
.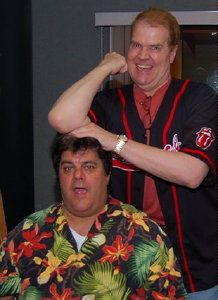 * * WLS-AM radio's fill-in (for now) news anchor, Lise Dominique, along with her main man, Harvey, will both be at The Dog House of Long Grove (405 Robert Parker Coffin Road, Long Grove) on this Saturday from 1:00pm-4:00pm. They will be autographing (or in Harvey's case, "paw"tographing), copies of their new book,
"The Adventures of Harvey the Wonder Dog: Harvey the Hungry Dog"
that afternoon. Stop by and say "hi!"
* * Fans of NBC5's Ginger Zee will be happy to know that they can not only meet her next month, but be served by her. Ginger Zee will be behind the counter serving up some healthy chilled yogurt dishes at the Berry Chill location at 635 N State Street in Chicago on Tuesday, April 13th, from 5:00pm-7:00pm. 100% of purchases and tips from her sales go to the Leukemia and Lymphoma Society, a charity she is very passionate about. For other ways you can help Ginger Zee raise funds for her charity, visit her special Leukemia & Lymphoma Society website here:
TeamGZ
.
* * As mentioned
HERE
a few weeks ago, Lou Manfredini's giant party at the Arlington Park Racecourse is this Saturday. For those interested in attending "WGN Radio's Ultimate Learn-It-Yourself Day" featuring WGN's Mr. Fix-It himself, you can print out a PDF of the detailed schedule, showing all of the dozens of events going on that day at this link
HERE
.
* * There is talk of his WGN nightly show going away, but for now, David Kaplan keeps plugging away and doing the best he can on Sports Central. Starting one week from today, on Thursday April 1st, Kap will be live from Indianapolis to get ready for the NCAA Final Four tournament that kicks off a couple of days later. Some of the greatest college hoops coaches of all time will be his guests. David Kaplan's Sports Central airs weeknights on WGN-AM 720 from 7:00pm-9:00pm.
* * Congratulations to WFLD-TV reporter Tera Williams! This weekend, she and former WFLD-TV anchor Mike Barz are getting married. This will be her first marriage and Barz's second. His first marriage ended a couple of years ago in a rather public way, amid unconfirmed rumors of personal misconduct and inappropriate behavior, which led to his dismissal from Fox32.